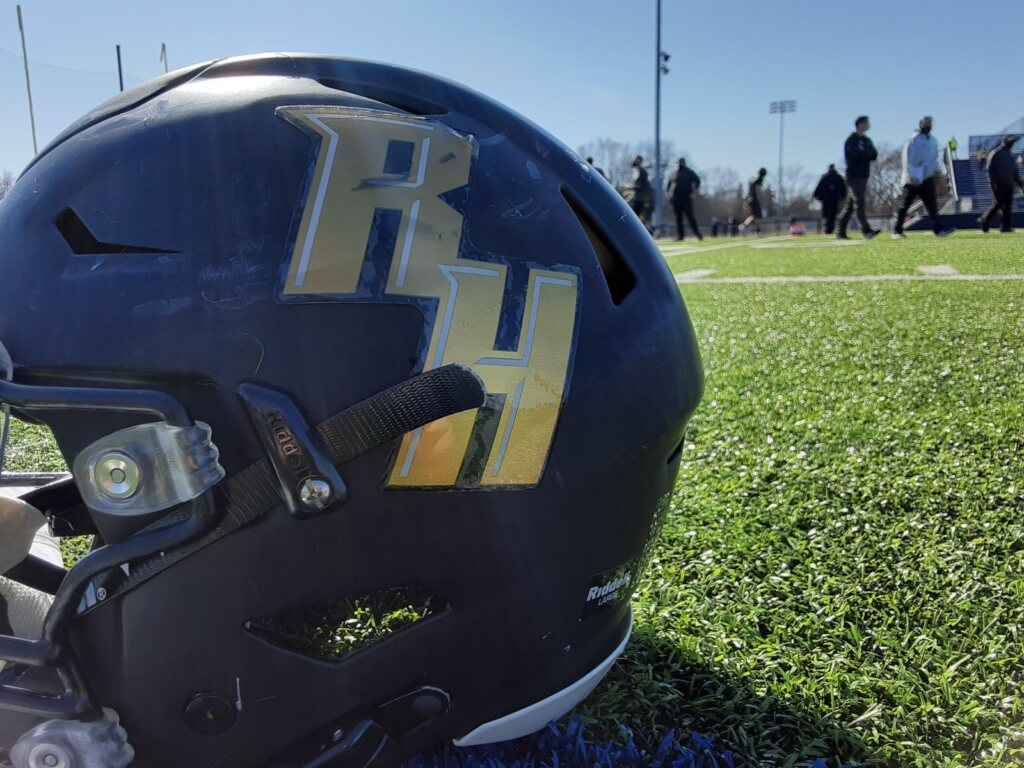 By TIM IRVING
When Rush-Henrietta junior Jayden Scott took a hand-off on the first play from scrimmage 70 yards for a touchdown, it looked like it might be an easy day for the Royal Comets against Fairport.
Instead, the Royal Comets had to hold off a Red Raiders rally and won 27-24 in the football season opener for both teams.
Scott, a four-time defending Section V Champion wrestler scored three times in the game and ran for a bulk of his 108 yards on the first play of the season.
Fairport responded with some help from a snap over the head of the punter for a safety and then junior quarterback Braden Consaul scored from four-yards out on a fourth down conversion and the Red Raiders led 9-7 heading to the second quarter.
Royal Comets sophomore quarterback Jamari Johnson, like Scott, just coming off his winter sports season, got the chains moving with a 24-yard run and a fourth down pass to Geshaun Gibson.
Johnson then pump faked over the middle and tucked it in for 12 yards to put R-H back on top 14-9.
Coach Jason Collins says, "the best thing about him is his poise and confidence and he had a very good game for his first start here."
Special teams came up with a turnover for the Royal Comets as a fumbled punt left them in Fairport territory. Johnson hit Zion Powell with a quick-hitter and then Scott scored from seven yards out for a 20-9 lead.
Fairport didn't fold up the tents. Consaul hit Andrew Smith for a big gain, one of only three completed passes for the Raiders in the first half.
On fourth down from the 16 yard line with 19 seconds left in the half, Kaevon Rice blasted up the middle for the touchdown and the lead was 20-16 at the break.
In the third, Fairport started to establish their running game with Rice and Joey Giggle (pronounced Gigi) but couldn't pound it into the end zone.
Still 20-16 midway through the fourth, Scott converted another fourth down with a one-yard run to extend the R-H lead to 27-16.
Consaul then marched the Raiders down the field and found Abbas Hamidullah over the middle for 28 yards, Tyler Bernarduci jarred the ball loose but Smith fell on it in the end zone. The two-point conversion left a 27-24 score.
Rush-Henrietta then drove down the field, Johnson hitting Gabe Wright for a big gain, the senior with seven catches for 75 yards in the game.
On fourth down with under two minutes to play, Johnson hit Powell for what looked like a game-clinching score but a penalty negated it.
Another attempt to Powell fell incomplete and Fairport got the ball back at their own 20. Consaul hit a series of short sideline passes to Smith and Matt Scarpelli to get inside R-H territory with under a minute to play but a sack by Jordan Walker forced Fairport to clock the ball, setting up a fourth down.
Consaul's pass for Giggle fell short and the Royal Comets locked it up.
Johnson went 16-for-27 for 140 yards passing and got protection up front, which they haven't been able to practice much.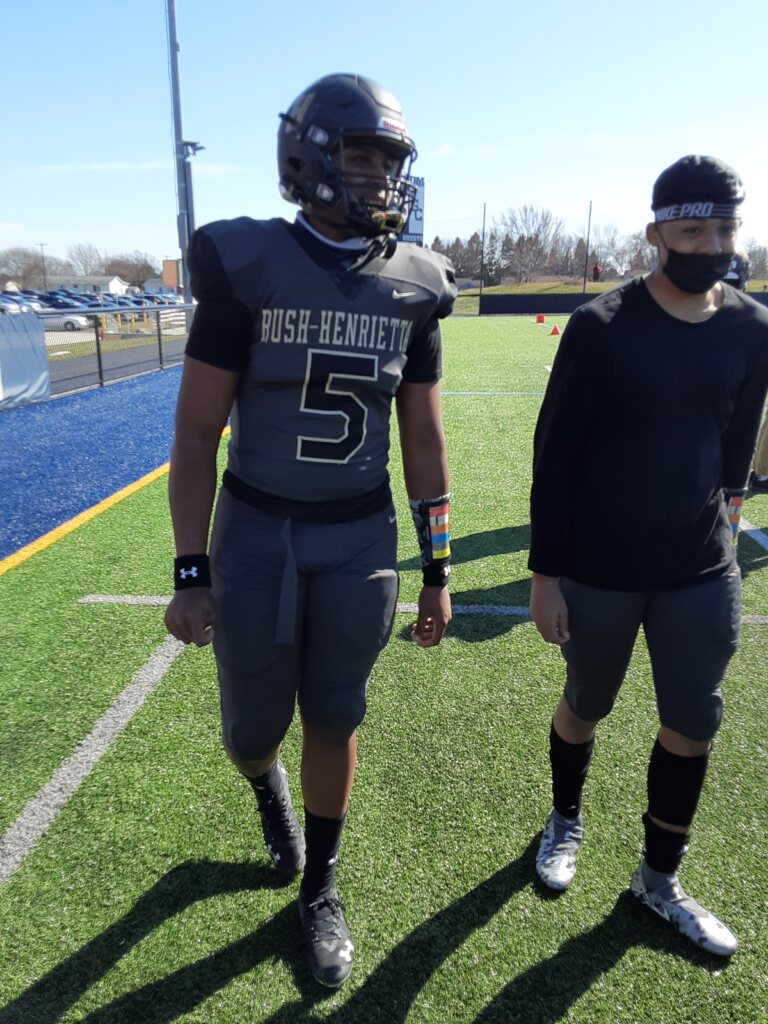 "This week, we got all our players back from winter sports and we were able to get some continuity up front in practice and it really started clicking," Collins said.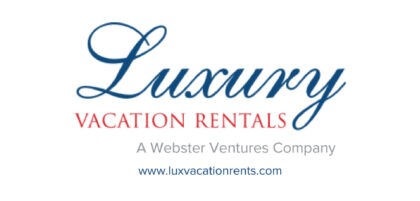 The game was played at Gates Chili because Rush-Henrietta has a grass field and can't play in their stadium but all things considered, Collins couldn't have been happier.
"March 1st, walking out on that practice field was pretty emotional and this is a great one, any time in Class AA you can get a victory, it'll be well earned. I've been a part of some memorable games as a player, an assistant coach and a head coach and this is one I'll never forget."