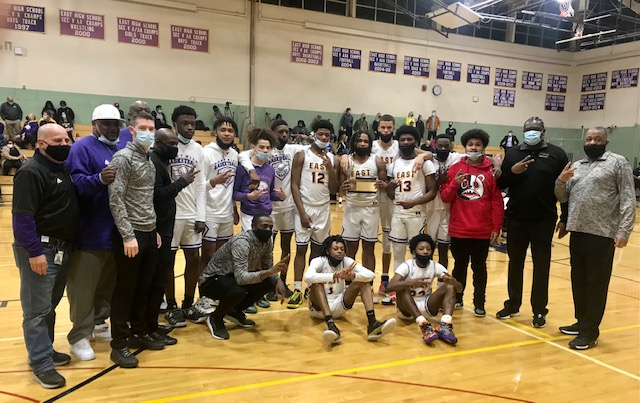 By PAUL GOTHAM
ROCHESTER, N.Y. — An injury prevented Justus Ross-Simmons from playing during East High's championship run a year ago.
On Saturday night, the junior guard more than made up for his absence.
Ross-Simmons scored 10 of his team-high 17 points in the fourth quarter and East held off Honeoye Falls-Lima for a 67-58 victory in the 2021 Section V Class A2 championship game.
"Coach told me I had to score somehow," the 6-foot-4 guard commented. "He said I had to 'get contact and finish.' That's what I did."
Ross-Simmons connected four times from the floor during the quarter and converted on two-of-three free throw attempts.
And East needed every one of those points.
HF-L cut a 17-point halftime deficit to eight when Nolan Smith finished at the rim on the first possession of the final eight minutes. Less than a minute later, the East lead was seven.
Ross-Simmons scored the next six points for the Eagles, and his and-one pushed the lead to 10 at 61-51.
"I started being more physical, and people just started moving out of my way. Easy layups after that."
Ross-Simmons led four Eagles in double figures.
"Justus in the second half was unbelievable," head coach Darrell Barley said.
Putback Justus Ross-Simmons. HF-L 8 East 7 pic.twitter.com/IZekTHfq7m

— Paul Gotham (@PickinSplinters) March 13, 2021
The win was the sixth straight for East which finished the season with 13 wins and two losses.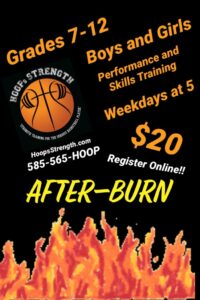 The championship was the second straight and eighth under Barley.
"It's not easy," Barley said of the championship. "It's difficult to win championships.
"Honeoye Falls came to play. They weren't just going to roll over. They're well-coached. They get after it. It's never easy to win a championship."
For a stretch of time in the second quarter, it looked like East might make light work of the Cougars.
The Eagles forced five turnovers during the frame and opened the quarter with a 10-1 run before outscoring HF-L 11-2 over the final 2:47 heading into halftime.
"East is a heckuva team," HF-L head coach Kevin Neenan said. "A good team beat us today. That's for sure.
"We had to make a few adjustments to handle their pressure and traps. It was a matter of slowing ourselves down."
Kai McCullough and Damani Barley opened the second quarter with back-to-back and-ones. After McCullough converted a pair of free throws, the junior guard scored in transition for a 22-13 East lead.
Kai McCullough on the break. East starts second on 10-1 run, leads 22-13. pic.twitter.com/jKgHHlS4oi

— Paul Gotham (@PickinSplinters) March 13, 2021
Damani Barley and Clinique Jackson sparked the surge to end the quarter with back-to-back triples. McCullough completed another old-fashioned 3-point play and Shamir Caruthers finished in the open floor.
Damani Barley connects East 64-54 pic.twitter.com/xSNkXycn8I

— Paul Gotham (@PickinSplinters) March 14, 2021
East led 39-22 after 16 minutes of play.
Jackson hit three 3-pointers in the game and finished with 15 points.
"Can't say enough about Clinique," Barley commented. "Clinique is a beast. He's tough as nails. He was a catalyst during the whole sectionals. He does all the little things. He fills up the stat sheet."
Ball finds the open man. Clinique Jackson buries his second triple. East 34-20. pic.twitter.com/sljOVTz5cV

— Paul Gotham (@PickinSplinters) March 13, 2021
HF-L's Smith scored 11 of his game-high 24 points in the third quarter. The 6-foot-5 sophomore accounted for five straight midway through the stanza. His catch-and-finish in traffic made it a single-digit game at 47-38.
Nolan Smith had 11 in the third including this spin move in the lane and HF-L which trailed by 17 at half has cut it to 10. Going to the 4th East, 48-38. pic.twitter.com/q73tNqTOLK

— Paul Gotham (@PickinSplinters) March 14, 2021
"I thought the kids did an outstanding job in the second half and really fought back," Neenan said. "That's what this team's done all year – shown resilience, battled and I'm just so proud of their effort to come back."
Patrick Lustyk scored 13 for HF-L (9-5) and Joshua Vogt added 11. Mason Wanzenried had nine points. JT Killenbec contributed a free throw.
Nolan Smith has 14 including this on the feed from Patrick Lustyk but HF-L trails 41-29. pic.twitter.com/SOoewfwOWI

— Paul Gotham (@PickinSplinters) March 13, 2021
McCullough scored 16 points for East. Damani Barley had 14. Darren Blocker, Jr. contributed three points.
With the championship, Darrell Barley moves into a tie on the all-time list with late McQuaid head coach Joe Marchese. Lyons High School's Dean Schott leads all coaches with 10 sectional championships. Late East High coach Sal Rizzo and Batavia-Notre Dame's Mike Rapone have nine titles.