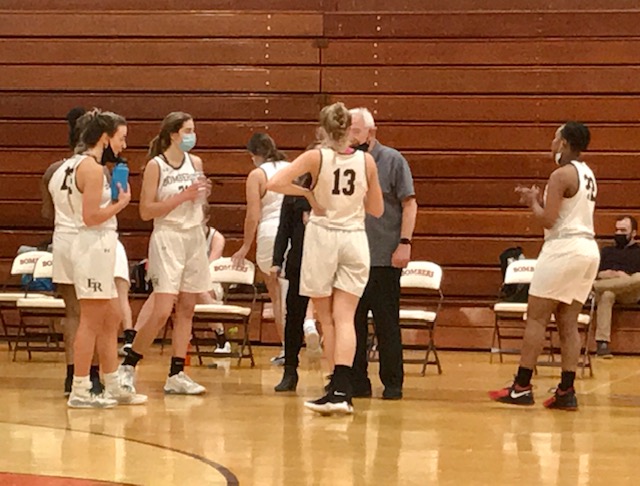 By PAUL GOTHAM
EAST ROCHESTER, N.Y. — The East Rochester girls' basketball team claimed one title Thursday night. Now the Bombers will turn their attention to the next prize.
Sam Lewis and Zoe Zutes combined for 34 points to lead East Rochester past North Rose-Wolcott, 57-29 in the 2021 Wayne County Athletic Association girls championship.
The Bombers raced to a 19-1 lead and did not allow North Rose-Wolcott to threaten for the remainder of the contest.
Opening tip Wayne County Championship: @ERBombers waste no time. Sam Lewis on the finishing end. pic.twitter.com/eeYStfNZnD

— Paul Gotham (@PickinSplinters) March 5, 2021
"We came out ready to win," Lewis said. "We came out with intensity, played defense and shared the ball."
Lewis scored seven points in the opening surge. Zutes added six.
The Bombers forced seven turnovers in the first quarter and converted those miscues into eight points and a 23-4 advantage.
"A lot of our game stems from our defense," Lewis explained. "If we're having a good defensive game, we're able to run the floor. We get those quick breakouts and then we play better offense.
"We try not to rush it in the half court. That's one of the things that trips us up sometimes. When we're able to hustle on defense, get those steals and breakaways that's when we play our best."
ER improved to 10-1 on the season with its fifth straight win. The Bombers only loss came at the hands of Our Lady of Mercy (Class A).
The win also secured the top seed in the upcoming sectional tournament. Precautions surrounding COVID-19 have dictated that higher seeds will host games in the tournament which begins Monday. Top eight seeds in each class qualify for the post-season.
"They're looking forward to the challenge," East Rochester head coach Mark Florack said. "I'm very excited about this group."
The Bombers continued their intensity in the second half. Leading 40-16 heading into the third quarter, ER outscored NR-W 15-3 over the next minutes.
"We've been able to get off to some really good starts," Florack said. "We always talk about the first four minutes of the third quarter. When you're ahead, you can either put the game away or you can let a team hang around."
Zutes finished with 18 points and 14 points to go with five steals, three assists and two blocks. Lewis added 16 points, 10 rebounds, five assists and and four steals. Lily Funk accounted for eight points, four assists and three rebounds.
Sam Lewis grabs the board and goes the length of the floor for a 10-1 @ERBombers lead. pic.twitter.com/2IDZpSzmdH

— Paul Gotham (@PickinSplinters) March 5, 2021
Lebria Hickman (3), Zarriah Eldridge (3), Paulina Lexer (2) and Nevaeh Johnson (2) each contributed to the scoring.
Sam Lewis in the early going including this 3 with an assist from Lily Funk. @ERBombers 15-1 pic.twitter.com/e0iH99Wcgo

— Paul Gotham (@PickinSplinters) March 5, 2021
"This is a great group of young ladies," Florack noted. "They've worked so hard to for the last several years. Forget about the basketball piece. They're good students and great kids. This is a fantastic group."
Elissah Waterman paced North Rose-Wolcott (7-3) with seven points. Eva Norris and Alexis Countryman added six apiece. Mercedes Crum and Emma Grace Humbert both scored five. The Cougars currently hold the fifth seed in Class B2.