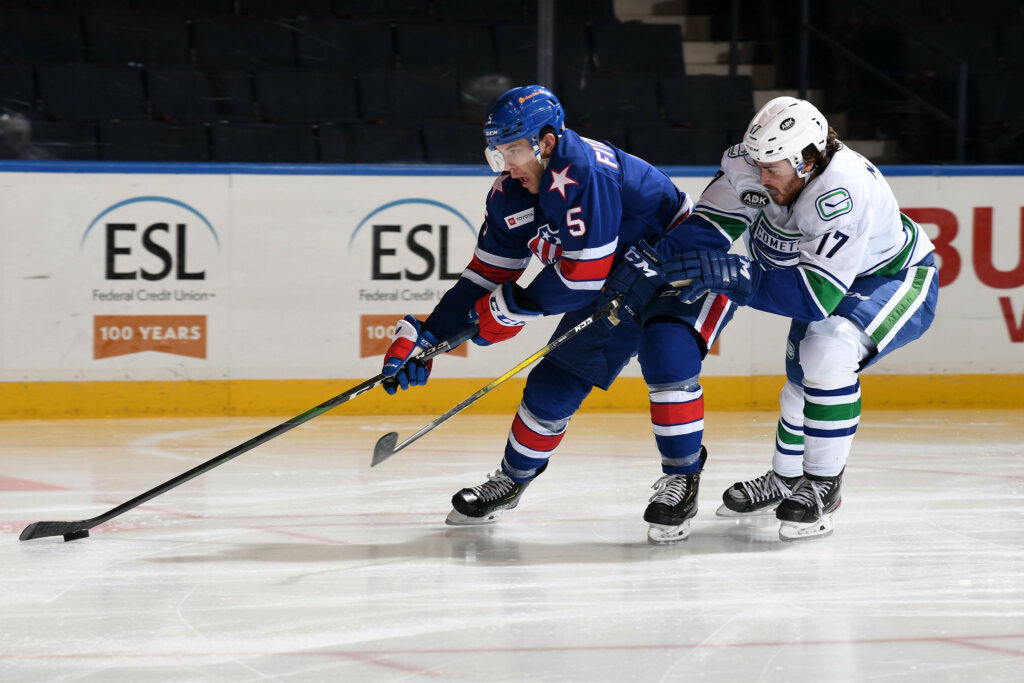 By KEVIN OKLOBZIJA
He has gone from part-time player without a full-time position to a mid-season look-see at what the NHL is all about.
Not a bad one-year progression for Casey Fitzgerald.
And while Fitzgerald wasn't added to the Buffalo Sabres active roster during his six-day stint on the taxi squad in late February, he did at least end up with a stronger sense that he belongs.
"It's a step in the right direction," the second-year defenseman said. "All I can really control is to take it one step at a time."
He showed more signs of his progression on Wednesday night, when he scored two goals and provided snarl in the defensive zone as the Rochester Americans defeated the Utica Comets 4-2 at Blue Cross Arena at the War Memorial.
The goals were his first of the season, and matched his total from 2019-2020, when he scored twice in 39 games as a sometimes defenseman, sometimes forward.
This year he knows he'll be playing on the blue line, and that he'll play as long as he's performing well.
"I think every player, you're going to go through that adversity, unless you're a superstar," the 24-year-old Fitzgerald said. "I was never doubting myself. We had a great roster last year; it was a tough roster to crack."
Amerks first-year coach Seth Appert said it was evident that trying rookie season provided motivation for workouts in the summer and fall.
"You have to remember where Casey was last year," said Appert, whose club improved to 5-3 while Utica dropped to 5-2-0-1. "He was a healthy scratch of injured or, when he did play, they played him at forward.
"He's got so much pride and competitive spirit that I can only imagine how hard he worked this offseason to prove to this organization that he's an NHL prospect."
There was actually a lot of hard work by the Amerks on Wednesday, especially in the defensive zone. As a team they blocked 21 shots.
"When you have a collection of players, especially this year when there's not a Calder Cup to play for," Appert said, "it's an incredible message these guys are sending to each other, how much they care for each other."
The Comets did have at least eight great scoring chances on their 33 shots on goal, but goalie Ukka-Pekka Luukkonen was terrific.
Fitzgerald's first goal of the night tied the score at 17:47 of the first period, then he scored a short-handed goal just nine seconds into the second period to give the Amerks the lead.
Brett Murray's rebound goal at 15:07 of the second period extended the lead to 3-1. With Fitzgerald in the penalty box for high sticking, the Comets pulled within a goal with 7:23 to play on a power-play goal by Jack Rathbone but Arttu Ruotsalainen's empty-net goal with 40 seconds to play secured victory.