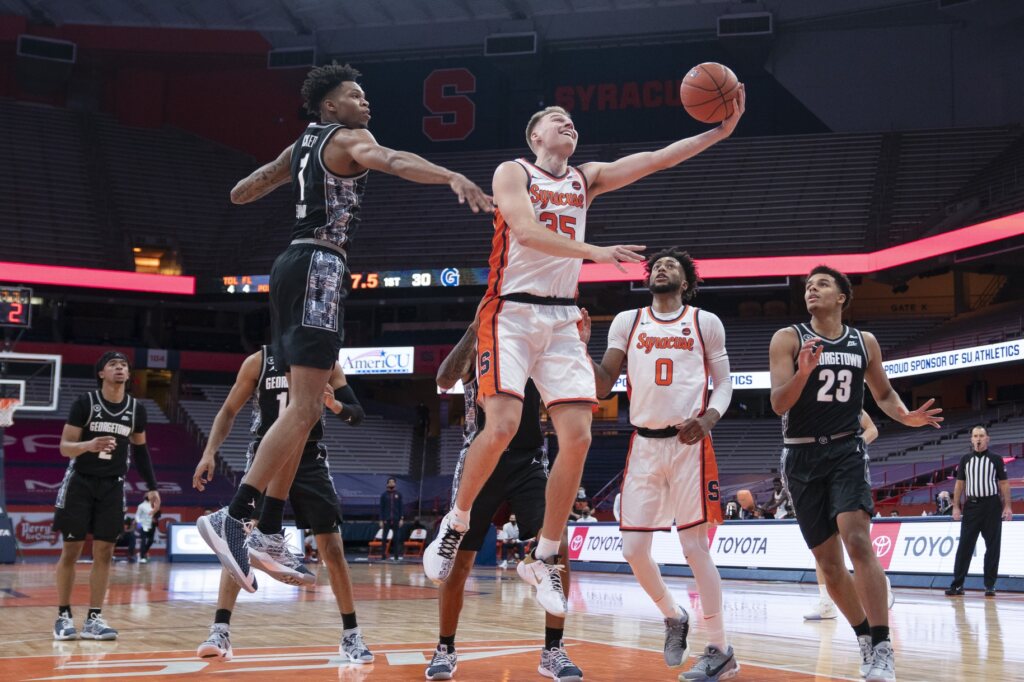 By PAUL CIFONELLI
Buddy Boeheim knocked down his fourth three of the second half with 7:36 left to give Syracuse a 62-60 lead during the midst of a 29-5 run. The Orange never surrendered the lead and won 75-67 over Notre Dame, extending their win streak to three.
Boeheim scored 20 of his game-high 29 points in the second half, including five of his six made threes. Marek Dolezaj, Quincy Guerrier, Kadary Richmond and Alan Griffin all added to the deciding run as well.
Notre Dame took a double digit lead in the first half thanks to an early 17-7 run. Trey Wertz and Juwan Durham combined for 14 of the Fighting Irish's 17 points over that span.
Dolezaj was the only other Syracuse player in double figures, scoring 18 points to go with six rebounds and four assists. Guerrier came close to another double-double, adding nine points and 14 boards. Richmond (6), Griffin (5), Joe Girard III (5) and Robert Braswell (3) rounded out Syracuse's scoring.
Wertz paced Notre Dame with 17 points, but Nate Laszewski had a double-double and Prentiss Hubb came a basket away. Laszewski scored 11 points and grabbed 12 rebounds, while Hubb had eight points and 10 assists. Dane Goodwin and Durham also went into double digits, netting 13 and 10, respectively. Cormac Ryan (6) and Nikola Djogo (2) also found the bottom of the net for the Fighting Irish.
Syracuse's next game is on Monday, when the Orange travel to Duke for a 7 PM tip. Notre Dame will look to get back in the win column Tuesday at Louisville.