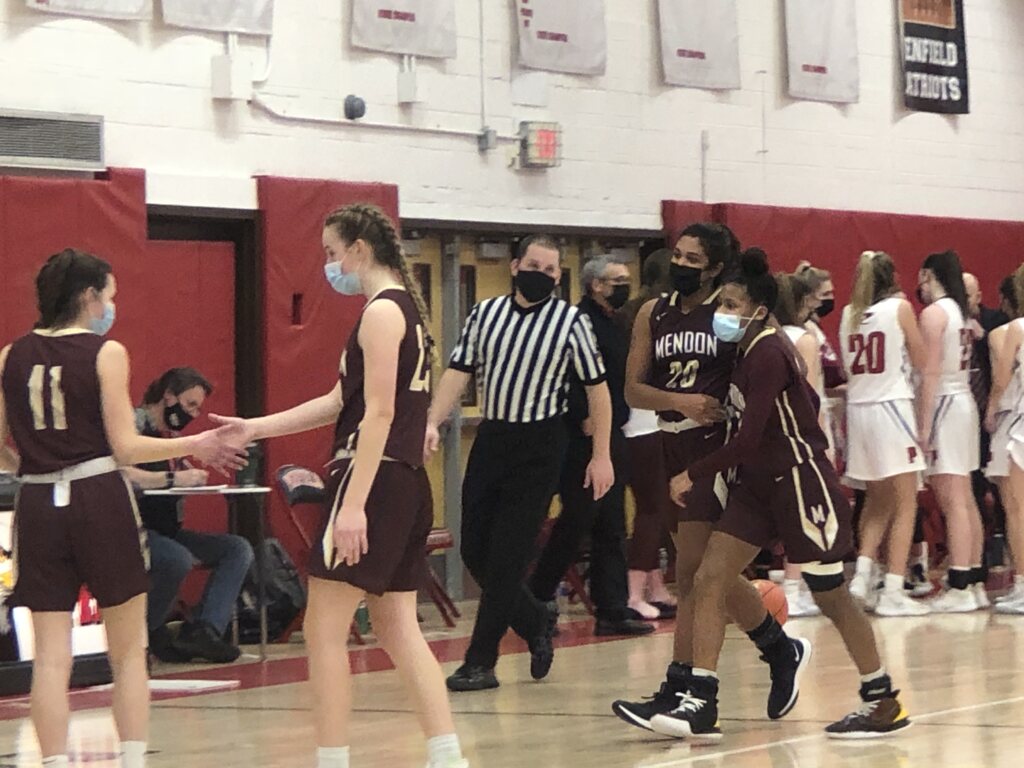 By BILLY HEYEN
PENFIELD, N.Y. — Each of the past two seasons, Penfield has gotten the better of Pittsford Mendon, but Wednesday night, the Vikings' postgame scenes were different.
Dani Strauf hopped off the court toward her teammates. Lexi Green and Anaya Coleman embraced. Mendon has won a lot of games the past five seasons, but it was obvious Wednesday meant a little extra.
"It felt awesome," Green said. "Penfield, they're a great team, we've always had a rivalry since forever, and just having lost the past two years, it felt pretty awesome."
It took overtime, but Pittsford Mendon outlasted Penfield, 60-52. The Vikings were led by 21 points from Green, 17 from Coleman and 12 from Strauf. That trio ensured that Mendon (4-0) stayed undefeated while handing the Patriots (3-1) their first loss. The meeting of two of Section V's premier girls basketball programs didn't disappoint.
"Wish we could play Penfield 10 times a year," Mendon head coach Todd Julien said. "I've got a lot of respect for Mark Vogt and his kids." 
MORE: Churchville-Chili wins on Senior Night vs. Brighton
The Vikings have won four consecutive sectional championships, but they hadn't beaten Penfield since the 2017-18 season. The Patriots brought a new-look team to the floor for the latest meeting, having graduated stars Baylee Teal and Nyara Simmons. Mendon returned stalwarts like Green, Strauf, Coleman and Bridget Miller while adding Lily Kennedy, a transfer from the Cincinnati area, to replace the graduated Katie Bischoping. 
Neither had encountered much opposition in their opening three games — Mendon entered with an average margin of victory of 28 points, while Penfield's margin was an average of 29 points. Something would have to give Wednesday night.
"They always play tough," Julien said of Penfield, "and they're always really talented."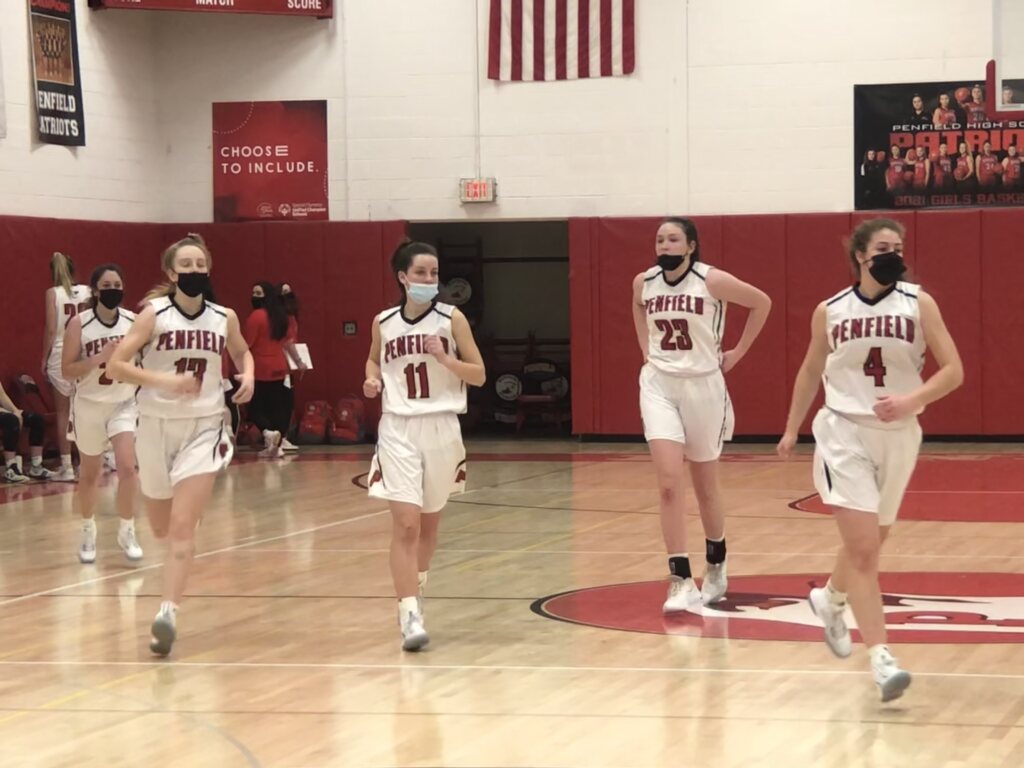 Early on, Penfield's defense caused the Vikings major problems. Well, except for Green. Coming off a dominant showing Saturday in Honeoye Falls-Lima, the Cornell basketball commit picked up right where she left off.
Two foul shots were followed by a transition bucket, three post scores, another free throw and a 3-pointer for Green, who totaled 14 points in the first half (and 14 of the Vikings' first 20). Green's 3-pointer gave Pittsford Mendon a 20-19 lead in what otherwise could've been a dominant Penfield first half.
"It was our only scoring option that was working in the first half," Julien said. "Lexi had to do some stuff on her own. Penfield played great defensively. They're so long, they're so active."
Triple for @lexigreen_20, who has 14 of @mendongvbb's 20 for a 20-19 lead in the second. @PickinSplinters pic.twitter.com/0reQhkj8Cl

— Billy Heyen (@BillyHeyen) February 18, 2021
Julien knew Mendon would need adjustments, so he shifted Strauf off the ball at times to allow Coleman to run the point. That also set Strauf up to be open on drive-and-kick 3s, of which she nailed four.
An overall emphasis on ball movement helped the Vikings' offense as well, Julien said. Green only scored once in the third quarter, but Strauf hit two 3-pointers and Coleman banked one in, as well.
"I didn't want it to go off the glass," Coleman said, laughing, "but I was happy it went in."
Stepback 3 for @anaya_c3 and it's 37-30 @mendongvbb in the third. @PickinSplinters

(The bank is open!) pic.twitter.com/9bD0myf1Zx

— Billy Heyen (@BillyHeyen) February 18, 2021
Penfield rattled off the first seven points of the fourth to take a five-point lead. Its defense again looked problematic for the Vikings, including a double team sent at Green that forced a timeout. 
The stoppage settled Mendon, which cut the lead to two thanks in part to a no-look dish from Green to Lily Kennedy.
No-look dish from @lexigreen_20 to @lilykennedy04 and it's a two-point game with a minute and 25 seconds to play.@mvogtpenfield leading @mendongvbb, 49-47. @PickinSplinters pic.twitter.com/iaOQ2C8QXe

— Billy Heyen (@BillyHeyen) February 18, 2021
Then Coleman, with Strauf positioned in the corner as a threat and Green rolling to the basket, got enough space to nail a right-wing jumper and send the game to overtime.
"(Coleman's) awesome," Green said. "She's big time. We know we can count on her."
Tie game.@anaya_c3 from the wing, a 2, and It's 49-all with 43.3 seconds to play. Coleman has 13. @PickinSplinters @mendonGVBB pic.twitter.com/x7faL08Jez

— Billy Heyen (@BillyHeyen) February 18, 2021
The Vikings controlled proceedings in overtime, starting with a Strauf 3 to go with four points each from Coleman and Green. The veteran team hadn't needed a rah-rah speech — they just embraced the mentality that overtime was a brand new ballgame and handled matters from there.
After the initial exuberance from the Vikings heading toward their bench, though, it quickly became all business. Green and Coleman, minutes after the final buzzer, both were already thinking about a rematch of these teams scheduled for March 2 at Mendon.
And Julien certainly won't mind another chance to face off with Vogt and Penfield. He knows the return matchup will be yet another chance for his players to improve.
"It's always great to play Penfield," Julien said. "It makes both of us walk out of here, we'll both be better teams tomorrow."
Scoring totals
Pittsford Mendon: Lexi Green (21), Anaya Coleman (17), Danielle Strauf (12), Lily Kennedy (8), Bridget Miller (2)
Penfield: Kennedy Cone (12), Emma Blumenstock (12), Haley Emmick (9), Elisa Faklaris (9), Jackie Funk (4), Summer Cisco (2), Grace Alexander (2), Eva Elliott (2)