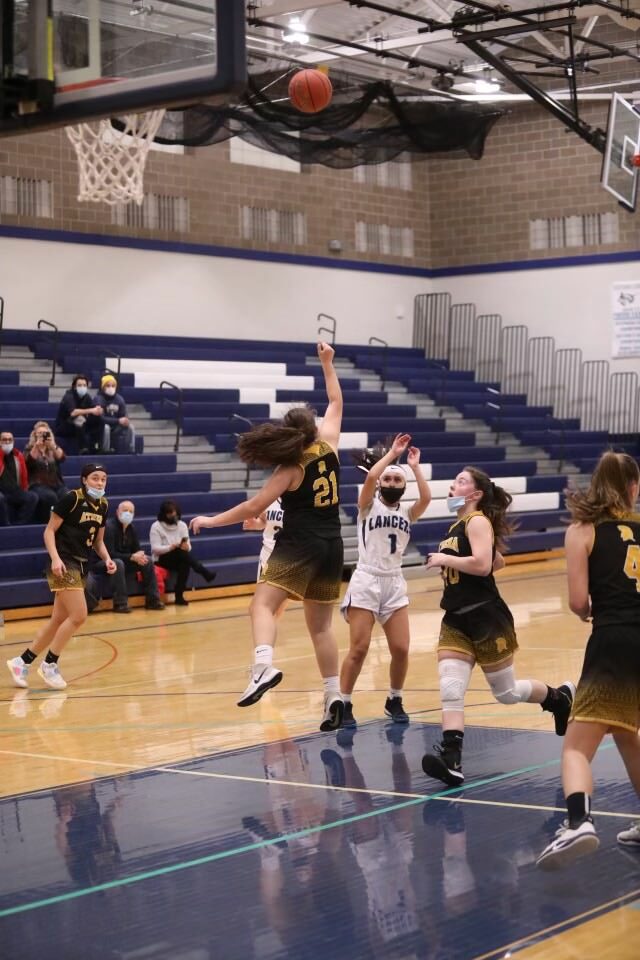 BOYS
WEBSTER SCHRODER (0-1) 52
MCQUAID (1-0) 58
Keith Warren scored 30 points, and McQuaid held off Webster Schroeder for a 58-52 season-opening win. READ MORE.
BISHOP KEARNEY (1-0) 61
SCHOOL OF THE ARTS (0-1) 48
Colin Gentile connected on four long-range shots as part of his 14 points to lead a balanced Bishop Kearney attack. Edmari Binion contributed 12 points. Xavier Gissendanner added 10. For School of the Arts, Ethain Clarke-DeSouza and Reggie Smith both scored 15 points. Ke'Vion Mitchell netted all 13 of his points after intermission. Other scorers – Bishop Kearney: Zacarr Johnson II (9), Wilfredo Sanchez (7), Chris Taggart (5), Shawn Anderson (4); School of the Arts: Keshaun Chatman (5)
CHESTERTON (0-1) 57
NORTHSTAR CHRISTIAN (1-0) 87
Junior guard Turner Harris scored 29 points to lead Northstar Christian in the season opener. Ryan Garwood netted 24 points and dished out six assists. For Chesterton, Joey Marchand poured in a game-high 37 points.
NORTH ROSE-WOLCOTT (0-1) 45
LYONS (1-0) 90
Justin Smith, Jr. produced 34 points as Lyons began its sectional title defense with a victory. The senior forward netted 14 in the third quarter as the Lions outscored the Cougars, 33-13. Smith had six, nine and five points, respectively, in the other periods. Senior guard Nathaniel Henry added 17 points in three quarters. Jayden Lopez scored 10 of his 12 points in the final period. For North Rose-Wolcott, Quintin Norris scored his 1,000 career varsity point. Overall, the senior forward led with 19 points. Nolan Sears added 11 points. Other scorers – North Rose-Wolcott: Christian Scarborough (7), Evan Scarborough (6), Coby Stubbe (2); Lyons: Horace Betts IV (9), Ahmir James (7), Quintin Franklin (4), Jerell Petty (3), Jaylen Battle (2), JC Walker (2)
WHEATLAND-CHILI (0-1) 49
CALEDONIA-MUMFORD (1-0) 63
Kyle Wade poured in a career-high 34 points, including 16 in the second quarter, as Caledonia-Mumford won its season opener. The junior forward corralled 12 boards, swiped five steals and swatted three shots as well. Senior guard Mason Nusbickel had 10 points. Junior forward Scott Essig chipped in eight points and six rebounds. Senior center Nathan Howard contributed four points and seven boards. Junior forward Mark Poles-Harrison added three points and four rebounds. For Wheatland-Chili, junior forward Aaron Lund led with 19 points. Brendan Moore finished with 15 points. Brian Napier had seven points and Jahmere Cooper five.
CHARLES G. FINNEY (0-1) 74
VERTUS (1-0) 84
HORNELL (1-0) 50
WELLSVILLE (0-1) 40
WILLIAMSON (0-0)
EAST ROCHESTER (0-0)
CLYDE-SAVANNAH (0-0)
SODUS (0-0)
MARION (0-0)
GANANDA (0-0)

GIRLS
WEBSTER SCHROEDER (1-0) 60
GATES-CHILI (0-1) 57
Webster Schroeder opened its 2021 season with a three-point win at Gates Chili thanks to double-doubles from Mariah and Anya Watkins. READ MORE.
CHURCHVILLE-CHILI (1-0) 39
WEBSTER THOMAS (0-1) 28
Sophomore Sydney Postell scored nine of her game-high 19 points in the second quarter as Churchville-Chili opened the girls basketball season with a 39-28 win at Webster Thomas. READ MORE.
CANANDAIGUA (1-0) 37
IRONDEQUOIT (0-1) 27
Freshman guard Kyleigh Chapman scored 13 points to lead Canandaigua to a season-opening road victory. Sophomore guard Mya Herman added 12 points. For Irondequoit, junior guard Amiyah Nunn netted a game-high 15 points. Other scorers – Canandaigua: Kayla Taylor (6), Abbey Herod (4), Kate Stocker (2); Irondequoit: Leah Memmott (4), Maeve Brennan (2), Leila Rosario (2), Hannah Smith (2), Colleen Tytler (2)
GREECE ATHENA (1-0) 38
EASTRIDGE (0-1) 33
Junior guard Kali Johnson led Greece Athena with 14 points. Kiera Osier produced 11. Other scorers – Greece Athena: Mariah Freeman (6), Lauren Branagan (3), Victoria Henchen (2), Jamie McConnell (2)
BATAVIA (0-1) 40
PITTSFORD SUTHERLAND (1-0) 44
Senior guard Maley Garcia netted 14 points, snatched seven rebounds and swiped a steal as Pittsford Sutherland grinded out a win. Ellie Bergin and Leora Cook both scored 12 points. Cook grabbed eight boards and Bergin five. Other scorers – Pittsford Sutherland: Annie Dodge (4), Abby Cappotelli (1), Brooke Pestorius (1)
GREECE OLYMPIA (0-1) 41
HONEOYE FALLS-LIMA (1-0) 62
Senior guard Hannah Selke scored 13 of her team-high 19 points in the opening period as Honeoye Falls-Lima raced to a 26-5 advantage and cruised to victory.  Junior center Teagan Kamm finished right behind her with 18 points. For Greece Olympia, senior forward Taylor Jung led with 19 points of her own. Other scorers – Greece Olympia: Giana Dimora (8), Elazja Miller (7), Tehilyah Murray (3), Nnondja Nelson (2), Teneja Scott (2)
CHESTERTON (0-1) 20
NORTHSTAR CHRISTIAN (1-0) 40
Bria Danesi netted 18 points as Northstar Christian surged to a 20-5 halftime lead and the win. Freshman forward Alayna Garwood posted a double-double of 13 points and 20 boards.
KENDALL (1-0) 30
HOLLEY (0-1) 19
Junior forward Alezya Brown paced Kendall with eight points, nine rebounds, three steals and two assists. Julie Coble and Elizabeth Snyder both chipped in seven points. Snyder hauled in 10 boards, swiped six steals and accumulated three blocks. Coble added four rebounds, two assists and a pair of steals. Other scorers – Kendall: Lauren Pilon (4), Emma Allen (2), Grace Robinson (2)
VICTOR (0-1) 37
FAIRPORT (1-0) 43
Sophomore guard Bella Pucci scored 22 points as Fairport defended home court in the season opener. Other scorers – Fairport: Ella Meabon (8), Abigail Smith (5), Ne'vaeh Buntley (2), Riley DeRue (2), Rachel McCoy (2), Megan Thurley (2)
LYONS (0-1) 49
NORTH ROSE-WOLCOTT (1-0) 61
Junior forward Lissah Waterman procured a game-high 24 points to lead North Rose-Wolcott. Eva Norris followed up with 13 points. Junior guard Mercedes Crum chipped in 11. For Lyons, eighth-grade guard Jayla Bell netted 11 points, collected seven rebounds, handed out a pair of assists and swiped two steals. Abby Gravino and Caitlyn McDonald both scored 10 points. McDonald corralled nine boards and Gravino had two rebounds, two steals and an assist. Other scorers – Lyons: Alicia Morrison (7), Jenna Stone (6), Imani Harder (3), Riley Decola (2); North Rose-Wolcott: Emma Grace Humbert (8), Abby Nelson (5)
EAST ROCHESTER (1-0) 56
WILLIAMSON (0-1) 36
Senior forward Zoe Zutes netted 19 points as East Rochester dominated for the season-opening road victory. Junior guard Samantha Lewis finished with 16 points. For Williamson, Kate Campbell, Paige Jordan and Cadie Newby all scored seven points. Other scorers – East Rochester: Lily Funk (9), Leah Griffith (2), Lebria Hickman (2), Nevaeh Johnson (2), Paulina Lexer (2); Williamson: Annie Alexander (6), Reagan Mangos (6), Cayleigh Newby (3)
ELBA (1-0) 50
NOTRE DAME BATAVIA (0-1) 38
Senior guard Brynn Walczak paced Elba to the win with a team-high 20 points. Taylor Augello and Leah Bezon both contributed 10 points. Other scorers – Elba: Dakota Brinkman (5), Kennedy Augello (3), Maddie Muehlig (2)
CALEDONIA-MUMFORD (1-0) 36
WHEATLAND-CHILI (0-1) 26
Eighth-grade forward Hazell Nickerson stuffed the stat sheet with 14 points, six rebounds, three blocks, two assists and two steals for Caledonia-Mumford. Other scorers – Caledonia-Mumford: Maddy DeVore (9), Taylor Mills (6), Marissa Roides (4), Gracie Boudreau (3)
SPENCERPORT (0-1) 28
PITTSFORD MENDON (1-0) 64
Junior guard Anaya Coleman led three players in double figures with 20 points for Pittsford Mendon. Senior guard Lexi Green scored 15 while Danielle Strauf added 13. Other scorers – Pittsford Mendon: Lily Kennedy (7), Ellen Henry (5), Bridget Miller (5), Jess Robinson (3), Caroline Miller (2), Kiera Niemi (2), Ella PPeyre (2)
HILTON (1-0) 40
RUSH-HENRIETTA (0-1) 33
Sophomore forward Avery Roberts posted 20 points for Rush-Henrietta. Other scorers – Rush-Henrietta: Cassidy Pearce (4), Michaela Neelin (3), Ava Santiago (3), Alison Utter (3)
BRIGHTON (0-1) 34
PENFIELD (1-0) 73
Junior guard Eva Elliot scored a game-high 19 points as Penfield rolled to an Opening Night victory. Sophomore guard Jackie Funk netted 13 points. Junior guard Elisa Faklaris chipped in 12. For Brighton, senior guard Rory Baker recorded 14 points, two rebounds, one assist and a steal. Other scorers – Brighton: Katie Hardie (6), Kaiya Larkins (6), Sydney Carr (3), Ellen Lavonas (2), Lucy Lederman (2), Allie McInroy (2), Sadie Scott (2) Penfield: Kylie Bell (6), Kennedy Cone (6), Summer Cisco (6), Emma Blumenstock (4), Etta Herman (3), Katie Baumer (2), Sarah Baumer (2)
SODUS (0-1) 21
CLYDE-SAVANNAH (1-0) 74