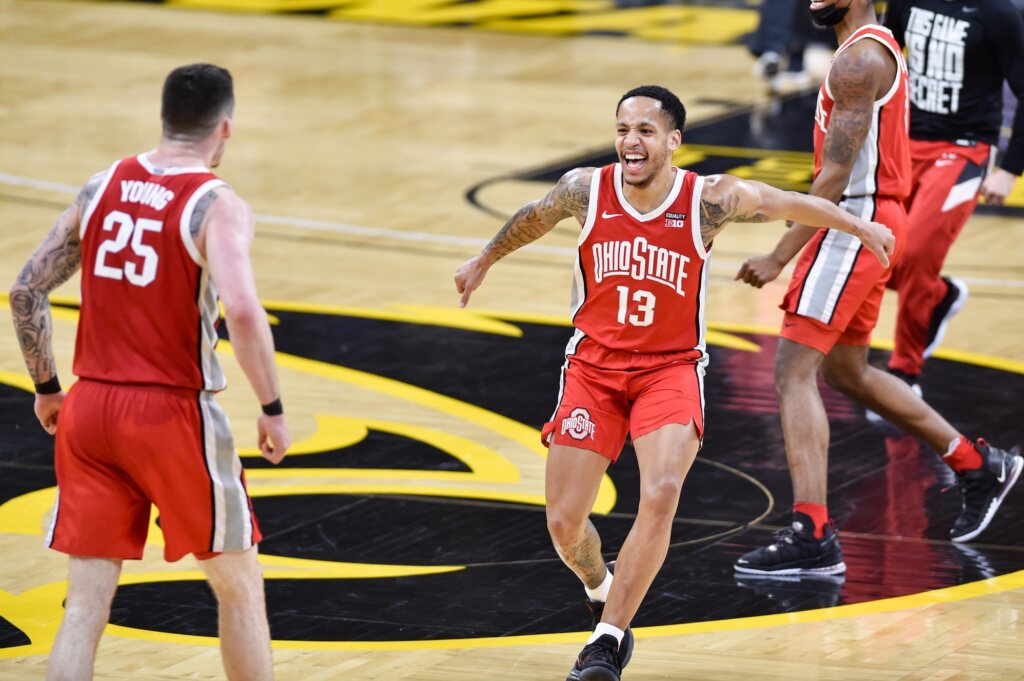 No. 7 OHIO STATE (15-4) 89
No. 8 IOWA (13-5) 85
Ohio State went on a 23-9 run in the second half to turn its 11-point deficit into a lead it didn't surrender. The Buckeyes went into the halftime break down 45-42, but lost the first five and a half minutes 16-8 to get into that hole. Ohio State continued to expand the lead, with it getting as high as seven with 2:39 left in the game.
Duane Washington Jr. and E.J. Liddell led Ohio State in scoring during the big run. Washington scored eight points on two threes and Liddell notched six with two free throws. Patrick McCaffrey scored four of Iowa's nine points to keep the Hawkeyes afloat.
After the Buckeyes had the lead, Justin Ahrens scored all nine of his points on three made triples to keep his team ahead.
Washington, Liddell and Kyle Young all scored 16 points to lead Ohio State's offense. Justice Sueing recorded a double-double for the Buckeyes with 12 points and 11 boards. Ahrens and Zed Key came within a bucket of double digits, scoring nine and eight, respectively. Key also added seven rebounds.
Joe Wieskamp's 17-point, 10-board double-double paced Iowa. Wieskamp, Jordan Bohannon and Jack Nunge all made four shots from deep apiece. Bohannon and Nunge both turned that into 18 points. Naismith Player of the Year contender Luka Garza was held to 16 points, 10 below his season average.
No. 1 GONZAGA (18-0) 76
PACIFIC (5-5) 58
Gonzaga outscored Pacific 45-26 in the second half to stay unbeaten. The Bulldogs shot 56 percent (14-for-25) from the field in the second half. Drew Timme powered the outburst by shooting 6-for-8 from the field and scoring 15 points in the half.
Pacific held a 32-31 lead at the end of the first half, making it the second team to take a lead into halftime over Gonzaga. The Tigers' biggest lead was 9-3, but they held a slim lead for a majority of the half.
Gonzaga won the game at the free throw line, making 22-of-29 attempts. Pacific committed 23 fouls and only went 7-for-15 from the line. Also, the Tigers grabbed 12 offensive rebounds that led to 61 total field goal attempts, but the Bulldogs still made one more shot from the floor despite taking 50 shots.
Timme was Gonzaga's leading scorer with 21 points. The 6-foot-10 forward went 8-for-12 from the floor in the game. Jalen Suggs and Corey Kispert were the other two Bulldogs to score in double figures, notching 19 and 14 points, respectively. Suggs also pitched in a team-best nine rebounds. Joel Ayayi also contributed eight points and eight boards.
Pacific's offense was led by the trio of Daniss Jenkins, Pierre Crockrell II and Jordan Bell. Jenkins had 13 points, Crockrell scored 12 points and dishes out six assists and Bell recorded an 11-point, 10-rebound double-double.
Other Scores:
MINNESOTA 72
RUTGERS 76
ARIZONA 58
UTAH 73
WASHINGTON 71
OREGON STATE 91
STANFORD 70
CALIFORNIA 55
WASHINGTON STATE 74
OREGON 71
CINCINNATI 63
TEMPLE 60