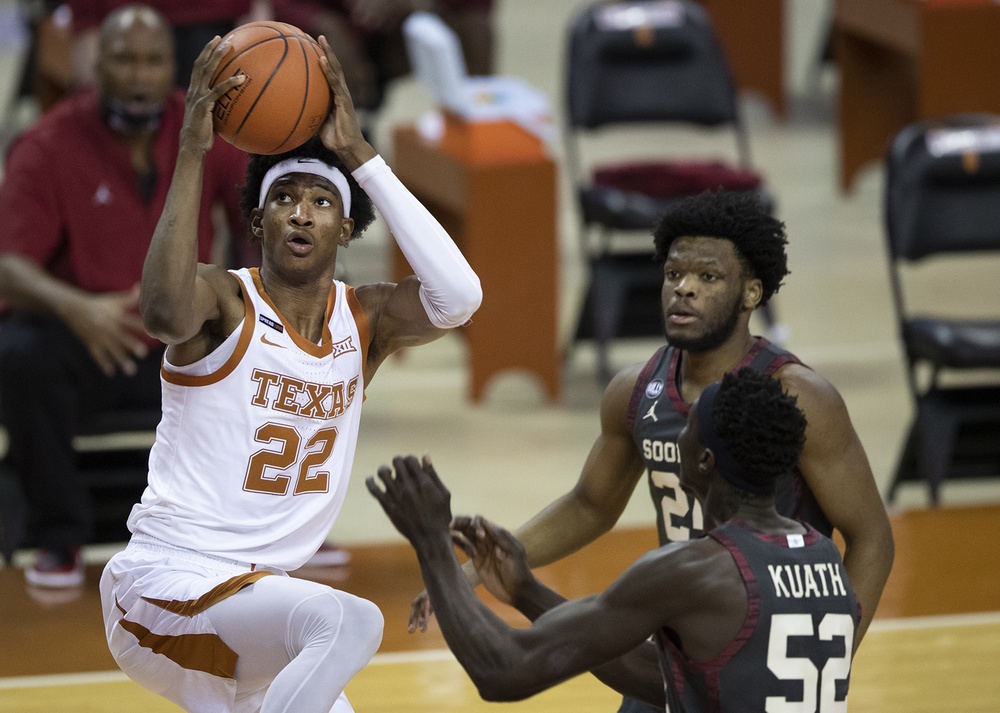 NO. 24 OKLAHOMA (10-4) 80
NO. 5 TEXAS (11-3) 79
Austin Reaves tallied a game-high 23 points as Oklahoma hung on for the upset. Reaves grabbed six boards and dished out four assists in the game.  Umoja Gibson scored 12 points off the bench. De'Vion Harmon totaled 13 points and six rebounds on 6-of-10 shooting, and Elijah Harkless scored a season-high 11 points and recorded three steals.
Sophomore Kai Jones posted his first double-double of the season with a team-high 15 points and 10 rebounds. Jones was one of five Longhorns to score in double-digits. Greg Brown had 14 points and eight rebounds, Matt Coleman III and Andrew Jones each pitched in 13 points, and Donovan Williams added 11 off the bench. The Longhorns were without head coach Shaka Smart due to COVID-19 protocols.
KENTUCKY (5-10) 59
NO. 9 ALABAMA (14-3) 70
Jaden Shackelford scored a game-high 21 points in Alabama's 10th straight victory. Shackelford shot 5-of-13 from the field and 10-of-10 from the charity strike. Herbert Jones flirted with a triple-double as the senior forward totaled 13 points, nine rebounds, eight assists, and collected two steals and two blocks. Joshua Primo and John Petty Jr. both chipped in 10 points.
Dontaie Allen, Davion Mintz, and Olivier Sarr each finished with 12 points for the Wildcats. Kentucky struggled keeping Alabama off the free-throw line as the Crimson Tide shot 28 free throws.
MISSISSIPPI STATE (9-8) 53
NO. 18 TENNESSEE (11-3) 56 
Santiago Vescovi converted two decisive free throws with 12 seconds left sealing the win for Tennessee. Vescovi totaled seven points alongside seven rebounds and four steals. Yves Pons led the Volunteers in scoring with 13 points on 6-of-9 shooting. No other Volunteer scored in double-figures.
Tennessee smothered Mississippi State holding the Bulldogs to 17-of-52 from the floor and 3-of-13 from three. Iverson Molinar scored a game-high 16 points. D.J. Stewart Jr. added in 11 points on 4-of-13 shooting.
DAYTON (9-4) 76
NO. 22 SAINT LOUIS (7-2) 71
Jalen Crutcher scored 14 points in the final four minutes to hand Saint Louis a loss in its first game in 34 days. Crutcher finished with a game-high 27 points on 8-of-14 shooting alongside three assists. Ibi Watson complimented Crutcher with 18 points of his own. Elijah Weaver was the only other Flyer in double-figures with a season-high 12 points.
Javonte Perkins led Saint Louis with 20 points to go along with four rebounds and three assists. Hasahn French totaled a season-high 16 points on 6-of-8 shooting and senior guard Jordan Goodwin recorded his seventh double-double of the year with 11 points and 11 rebounds.
NO. 12 MISSOURI (10-3) 82
AUBURN (10-7) 88 
Freshman phenom Sharife Cooper continued his dominance in SEC play scoring 28 points in the home upset of Missouri. Cooper shot 5-of-12 from the field and 18-of-21 from the charity stripe. The guard made as many free throws as the Missouri for the game. Cooper also grabbed eight boards and had seven assists.
JT Thor added 12 points alongside five rebounds, Allen Flanigan and Chris Moore both chipped in 11 points. The Tigers attempted 44 free throws and made 36 in the game.
Jeremiah Tilmon and Dru Smith both led Missouri in scoring with 21 points.  Tilmon blocked six shots and grabbed 10 rebounds on top of his scoring while Smith had three steals and three assists. Javon Pickett was the only other Tiger in double-figures with 12 off the bench.
Also:
WESTERN MICHIGAN (2-10) 58
OHIO (9-6) 81
Miles Brown (Northstar Christian Academy) finished with two points, one rebound, and one assist in Ohio's second straight win.
Other scores:
RICHMOND 79
SAINT JOSEPH'S 56
NORTH CAROLINA 75
PITTSBURGH 65
GEORGIA TECH 68
DUKE 75
BUTLER 51
UCONN 63
SMU 72
MEMPHIS 76
TULSA 67
TEMPLE 76
LSU 78
TEXAS A&M 66
TOLEDO 90
MIAMI (OH) 81
EASTERN MICHIGAN 65
AKRON 86
DRAKE 68
MISSOURI STATE 61