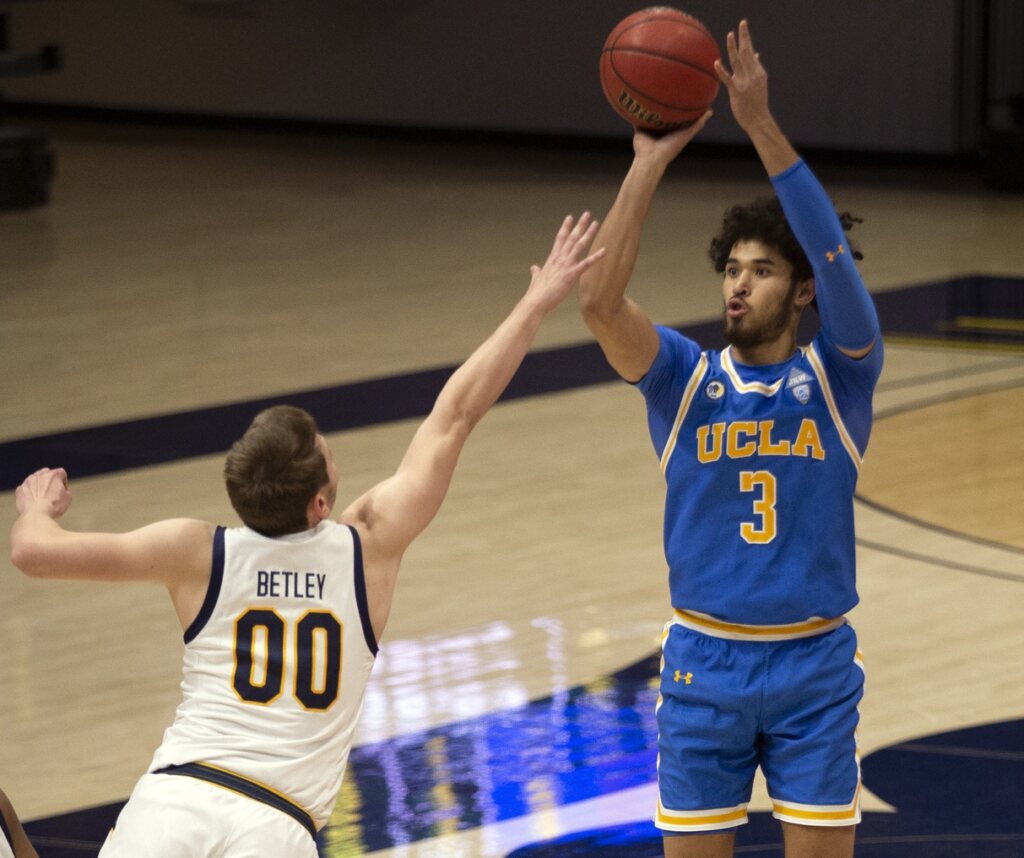 No. 24 UCLA (12-2) 61
CALIFORNIA (7-9) 57
In a game that had eight lead changes and six ties, a three by Jules Bernard with two minutes left gave UCLA a four-point lead that it didn't surrender. No team scored after that three until a made layup by Jarred Hyder, but Johnny Juzang sank two free throws to protect the lead.
The largest lead of the game for both teams was six. UCLA's came with the score at 9-3, while California had that advantage twice right before halftime.
The Golden Bears took a 36-32 lead into halftime thanks to a 15-5 run over a six minute stretch near the end of the half. UCLA responded with a 16-7 run to begin the second half.
Cody Riley led UCLA with 13 points. Bernard finished with 11, Juzang had nine and Tyger Campbell and Jaime Jaquez Jr. notched seven apiece. Bernard and Jaquez Jr. grabbed seven boards and Campbell dished out eight assists.
Grant Anticevich was the only player in double figures for California with 21 points. Ryan Betley had five points and seven boards, Hyder scored nine points and Makale Foreman tallied eight.
INDIANA (9-6) 81
No. 4 IOWA (12-3) 69
Indiana used a 23-3 second-half run that spanned nine minutes to turn a seven-point deficit into an 11-point lead. Trayce Jackson-Davis paced the Hoosiers the entire game and scored the first six points of the Indiana sprint. Iowa's only points scored during that time were Luka Garza free throws.
Jackson-Davis helped Indiana dominate the second half scoring 15 of the Hoosiers' 50 points in the frame. Rob Phinisee and Al Durham also netted 10 apiece in the second half. The Hoosiers also locked up defensively in the final 20 minutes, holding Iowa to 26.5 percent (9-for-34) from the floor. Indiana, meanwhile, shot 60 percent (15-for-25).
Jackson-Davis finished with 23 points and seven rebounds. Phinisee was close behind with 18 points on four made triples, Durham netted 14 with nine made free throws and Armaam Franklin scored 11.
Garza and Joe Wieskamp both had double-doubles for Iowa, but only four other Hawkeyes scored. Garza recorded 28 points and 12 rebounds, while Wieskamp posted 16 points and 12 boards. The duo combined for over half of the team's scoring and rebounding output in the game.
Also:
EASTERN MICHIGAN (4-6) 77
BUFFALO (6-5) 92
Jeenathan Williams (UPrep) went for 24 points, six rebounds and five assists to help Buffalo snap a two-game losing streak. Williams scored his 24 points on an efficient 10-for-16 from the field, which included one make in three tries from behind the arc. The 6-foot-5 forward did most of his damage in the second half, scoring 18 points after the intermission.
MOUNT ST. MARY'S (5-5) 67
CENTRAL CONNECTICUT (2-9) 57
Nigel Scantlebury (Greece Athena) scored eight points off the bench for Central Connecticut. Scantlebury made just two of seven field goals, but converted on all three of his foul shots. The guard also racked up three assists.
Other Scores:
BOWLING GREEN 77
MIAMI (OH) 96
CENTRAL MICHIGAN 67
AKRON 81
RUTGERS 67
PENN STATE 75
ARIZONA 84
ARIZONA STATE 82
UTAH 71
WASHINGTON STATE 56
WICHITA STATE 52
MEMPHIS 72