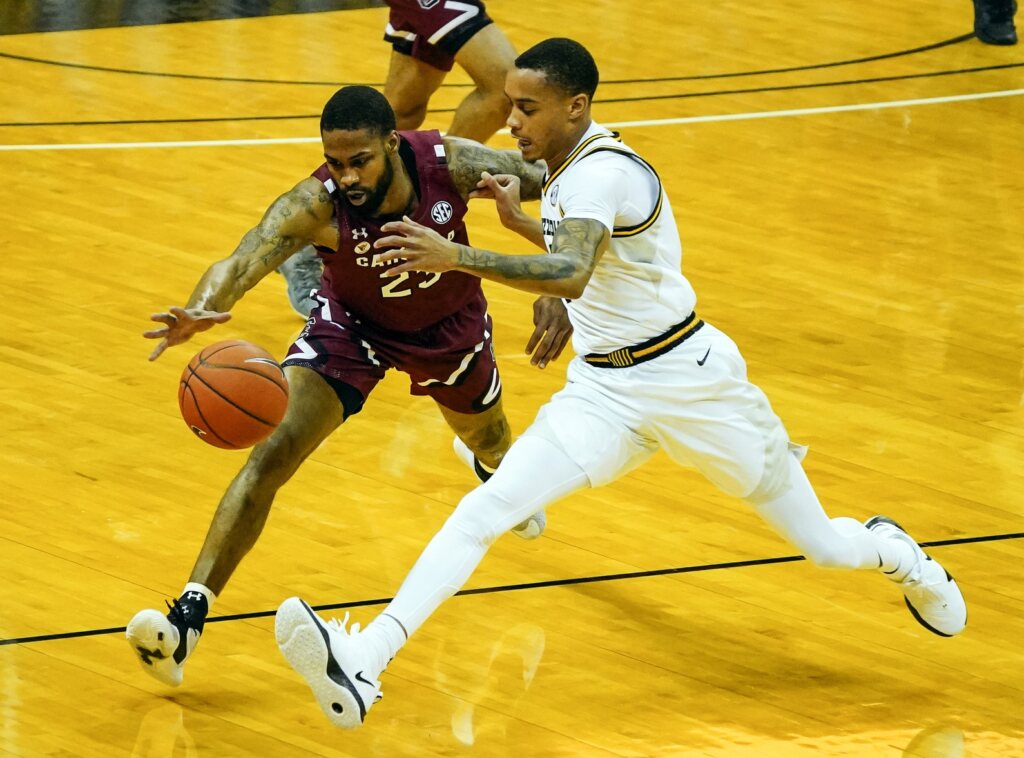 SETON HALL (9-6) 74
NO. 3 VILLANOVA (9-1) 76
Villanova survived an upset bid on two free throws made by Cole Swider and Jeremiah Robinson-Earl with one second remaining. Senior Collin Gillespie scored a team-high 22 points on 6-of-10 shooting and made all eight free throw attempts. The Wildcats got a big boost off the bench from Jermaine Samuels who had a season-high 20 points and nine rebounds.
Seton Hall's starters scored 66 of the teams 74 points. Sandro Mamukelashvili paced the offense scoring 23 points, grabbing nine boards, and recording five assists. Jared Rhoden added on 19 points alongside four assists and four rebounds. Myles Cale and Shavar Reynolds each pitched in 11 points.
Villanova played its first game in 27 days after a layoff caused by COVID-19 protocols.
NO. 6 TENNESSEE (10-2) 49
FLORIDA (7-4) 75
Florida dominated Tennessee at home holding the Volunteers to 29.3 percent shooting from the field, and 16.7 percent shooting from three. Tennessee did not help themselves at the charity stripe shooting 12-of-25.
Florida scored with a balanced attack having four scorers reaching double-figures. Noah Locke led the team with 14 points, Tyree Appleby had 13 points with seven assists and four rebounds, Tre Mann added on 12 points on 6-of-11 shooting, and Ques Glover scored 10 points and collected three steals off the bench.
John Fulkerson scored 15 points alongside five assists and four rebounds. No other Volunteer scored in double-figures.
MARYLAND (8-7) 63
NO. 7 MICHIGAN (12-1) 87
Isaiah Livers scored a game-high 20 points to help Michigan bounce back from its only loss of the season. Livers shot 5-of-8 from the field including four makes from three. Franz Wagner stuffed the stat sheet grabbing six boards and recording three assists to go along with his 15 points.
Mike Smith made three threes which helped the Wolverines shoot 50 percent from beyond the arc. Brandon Johns Jr. totaled a season-high 11 points off the bench.
For Maryland, Donta Scott paced the offense by scoring 13 points. Eric Ayala  pitched in 12 points off the bench, and Aaron Wiggins also scored in double-figures with 11 points.
Michigan fell to Minnesota in its most recent outing.
PURDUE (11-5) 67
NO. 15 OHIO STATE (11-4) 65
Jaden Ivey drained a step-back three with four seconds remaining, and Purdue handed Ohio State its first home loss of the season. Ivey finished with 15 points, four rebounds, and two assists off the bench.
The Boilermakers outscored the Buckeyes by eight points in the second half behind 34 second half points from Ivey, Trevion Williams and Sasha Stefanovic. Williams scored a team-high 16 points and Stefanovic totaled 15 points in the game.
Duane Washington Jr. scored a game-high 21 points for Ohio State alongside six assists. Justin Ahrens added in 12 points and E.J. Liddell chipped in 11 points and seven rebounds.
NO. 18 ALABAMA (12-3) 105
LSU (10-3) 75
John Petty Jr. and Alabama set an SEC record 23 made threes in a game. Petty finished with 24 points on eight made threes to go along with four rebounds and three steals. Joshua Primo and Jahvon Quinerly each finished with 22 points on six made threes.
Cameron Thomas led LSU with 21 points and collected two steals. Ja'Vontae Smart chipped in 12 points and four assists. Trendon Watford was the only other Tiger to score in double-figures with 11 points and he grabbed eight rebounds.
The record was previously held by Auburn with 22 made threes.
SOUTH CAROLINA (3-4) 70
NO. 19 MISSOURI (9-2) 81
Jeremiah Tilmon recorded his fourth double-double of the season leading Missouri to its second-straight win. Tilmon finished with a game-high 19 points and 10 rebounds. The Missouri starting backcourt of Mark Smith and Dru Smith combined for 34 points. M. Smith scored 18 points, and D. Smith scored 16 points alongside four rebounds and three assists.
The Gamecocks received most of its scoring from the bench. The bench totaled 45 of the teams 70 points. Keyshawn Bryant led the team with 19 points and Trey Anderson had a season-high 17 points. Justin Minaya finished with 10 points, 11 rebounds and five assists. Minaya was the only starter to reach double-figures.
PENN STATE (3-6) 65
NO. 22 ILLINOIS (10-5) 79
Kofi Cockburn and Illinois jumped out to a 14-point first half lead behind Cockburn's 11 first half points. Illinois never looked back and held the lead for the whole second half. Cockburn ended with 21 points, 12 rebounds and four blocks. The starting backcourt of Ayo Dosunmu and Trent Frazier scored 13 apiece.
Myreon Jones and Seth Lundy led a two headed attack for Penn State. Jones scored a team-high 20 points, and Lundy finished with 13 points and five rebounds.
Also:
BUFFALO (5-5) 81
KENT STATE (7-3) 84
Jeenathan Williams (UPrep) scored 20 points for Buffalo on 8-of-19 shooting. Williams grabbed eight boards and dished out two assists. Williams and Buffalo fell just short of the comeback as the Bulls outscored Kent State 55-37 in the second half.
Other scores:
MIAMI 57
SYRACUSE 83
DUKE 73
PITTSBURGH 79
BUTLER 67
DEPAUL 53
CENTRAL MICHIGAN 72
TOLEDO 89
BALL STATE 71
MIAMI (OH) 81
AKRON 69
BOWLING GREEN 57
KANSAS STATE 50
OKLAHOMA 76
USC 56
OREGON STATE 58
OLE MISS 64
MISSISSIPPI STATE 46