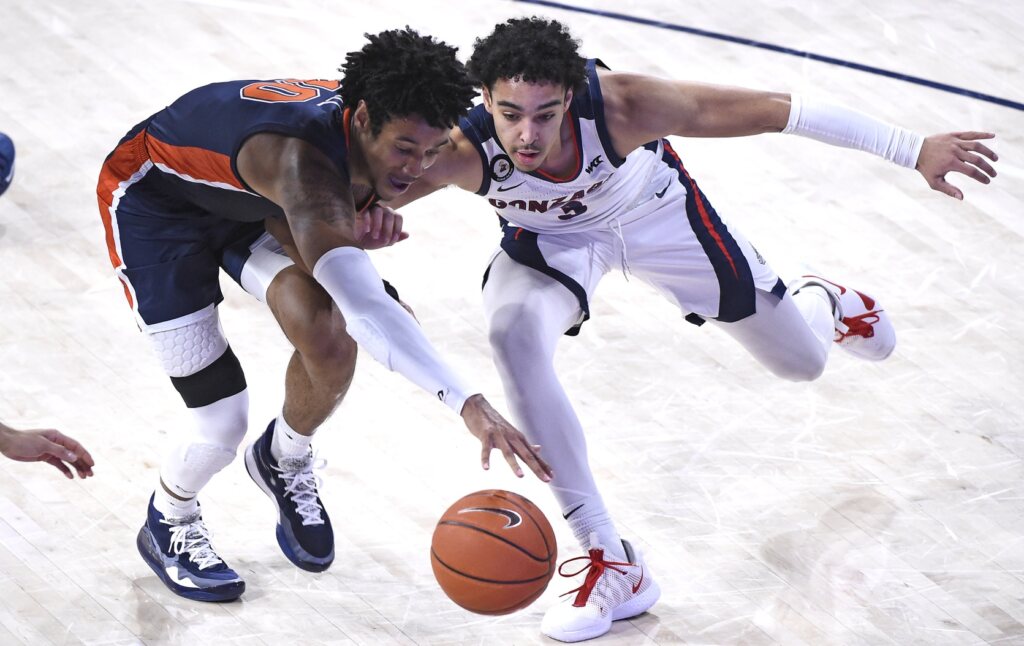 PEPPERDINE (4-5) 70
No. 1 GONZAGA (13-0) 95
Gonzaga went on a 14-4 run during the middle of the second half to create separation from a pesky Pepperdine team. The Bulldogs went from a 56-48 advantage to a 70-52 lead, one which grew steadily for the remainder of the game.
Pepperdine only trailed by four at halftime behind a balanced scoring attack. Robbie Heath led the attack with nine points for the Waves. The half ended with a 9-2 Pepperdine run, but Gonzaga used the halftime break to gets its footing back and open up a big lead.
Four players scored in double figures for Gonzaga, with all of them either eclipsing 20 points or finishing within a bucket of that mark. Corey Kispert led the way with 23 points. He went 7-for-13 from the field and made six triples to go with eight rebounds. Drew Timme added in 20 points and seven boards. Joel Ayayi scored 19 points and Jalen Suggs had 18 to power the Bulldogs.
Kessler Edwards paced Pepperdine after Heath was held scoreless in the second half. Edwards scored 14 points in the game. Kene Chukwuka was the only other Wave in double digits with 11 points.
Gonzaga outrebounded Pepperdine 47-28. The Bulldogs had 15 offensive rebounds to Pepperdine's 22 defensive boards. Additionally, the Zags had 18 assists compared to the Waves' 11.
Also:
CENTRAL CONNECTICUT (2-8) 48
SACRED HEART (4-4) 65
Nigel Scantlebury (Greece Athena) grabbed four rebounds in Central Connecticut's defeat. Scantlebury only scored two points off the bench in a rough shooting night. The guard went 0-for-6 from the field but made his only two free throw attempts.
Other Scores:
CALVIN 56
EASTERN MICHIGAN 67
PURDUE 81
INDIANA 69
CALIFORNIA 60
COLORADO 89
STANFORD 65
UTAH 79
WASHINGTON STATE 61
UCLA 91
WASHINGTON 68
USC 95
ARIZONA 98
OREGON STATE 64
UCF 55
TEMPLE 62