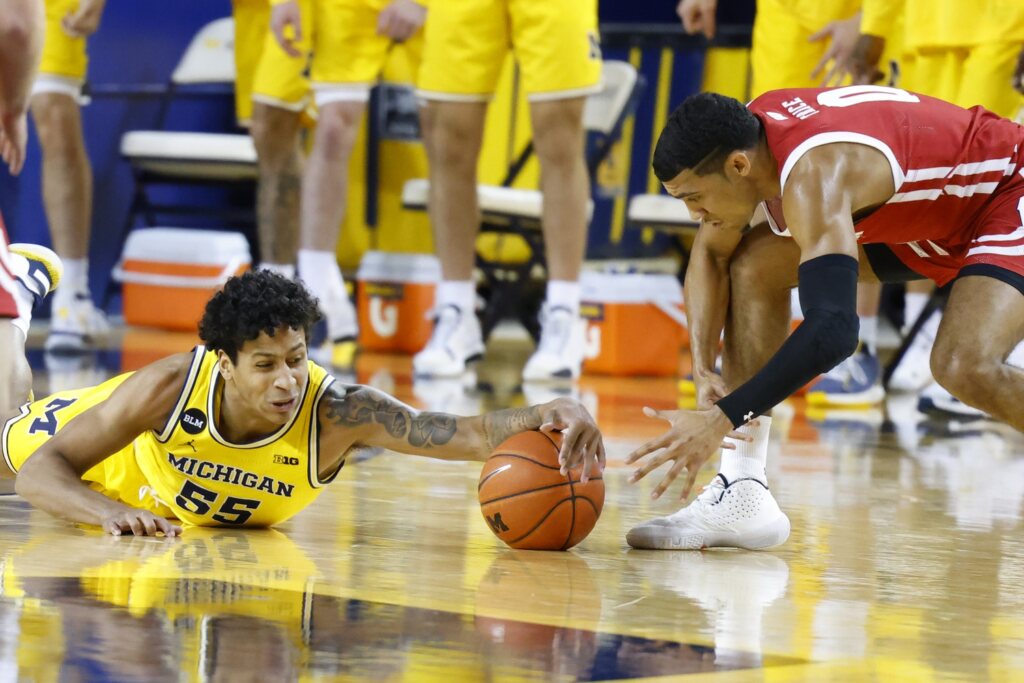 NO. 9 WISCONSIN (10-3) 54
NO. 7 MICHIGAN (11-0) 77
The Michigan Wolverines became the first team in NCAA history to win three straight games over ranked opponents by 19 or more points. Mike Smith totaled 16 points, Franz Wagner scored 15 points, Isaiah Livers added in 13 points, and Hunter Dickinson scored 12 points in the balanced starting lineup.
Michigan went on a massive 43-6 run beginning at the 5:27 mark in the first half, and ending at the 10:43 mark in the second-half. During the run, Michigan shot 69 percent from the field and 5-of-8 from three. Wisconsin was held to 2-of-20 shooting and had six turnovers in that stretch.
For Wisconsin, D'Mitrik Trice led the Badgers offense scoring 20 points on 7-of-13 shooting. Micah Potter chipped in 12 points and six rebounds. On the game, Wisconsin shot 30.8 percent from the field.
NO. 19 DUKE (5-3) 67
NO. 20 VIRGINIA TECH (10-2) 74
Tyrece Radford and Keve Aluma paced the Hokie offense to its sixth win in the last seven games. Radford scored a team-high 18 points while also grabbing 12 boards and dishing out five assists. Aluma pitched in 17 points and seven rebounds in 35 minutes of work.
Jalen Cone was pivotal coming off the bench scoring 14 points including three makes from deep. Virginia Tech shot 50 percent from the field and 42.9 percent from three.
Duke received 61 of 67 points from its starting lineup. Freshman Jeremy Roach led the Blue Devils with a game-high 22 points. Matthew Hurt recored his second double-double of the year scoring 20 points and collecting 11 rebounds. DJ Steward added in 14 points with three rebounds.
NO. 6 KANSAS (10-3) 70
OKLAHOMA STATE (9-3) 75
Cade Cunningham led Oklahoma State with 18 points creating the home upset over Kansas. The Cowboys jumped out to an 11-point lead at half thanks to Cunningham's 14 first-half points. Avery Anderson III and Bryce Williams each scored 10 first half points.
Kansas stormed back taking a three-point lead with 1:22 left on a David McCormack two-point bucket. Oklahoma State finished on an 8-0 run sealing the victory. Williams finished with 17 points and three steals, Anderson ended with 14 points alongside three rebounds and three assists, and Isaac Likekele chipped in 10 points and six assists.
McCormack had a game-high 24 points with 12 rebounds for the Jayhawks. Ochai Agbaji and Marcus Garrett were the only other Jayhawks to finish in double-figures. Agbaji had 14 points and four rebounds, while Garrett tallied 12 points. The Jayhawks had won 11 straight Big 12 road matchups.
Also:
BUFFALO (5-3) 85
WESTERN MICHIGAN (2-8) 69
Jeenathan Williams (UPrep) paced the Buffalo offense scoring a game-high 25 points. Williams shot 10-of-17 from the field and 2-of-5 from beyond the arc. The junior collected a career-high 14 rebounds alongside three assists and one steal. Williams now averages 19.8 points per game and 8.8 rebounds a game.
Other scores:
SAINT JOSEPH'S 66
DAVIDSON 80
SYRACUSE 75
NORTH CAROLINA 81
MIAMI 62
BOTON COLLEGE 84
PROVIDENCE 69
MARQUETTE 79
BUTLER 57
ST. JOHN'S 69
AKRON 65
NORTHERN ILLINOIS 67
KENT STATE 94
CENTRAL MICHIGAN 85
BALL STATE 88
BOWLING GREEN 64
MIAMI (OH) 61
OHIO 78
EASTERN MICHIGAN 63
TOLEDO 96
TCU 46
OKLAHOMA 82
UC RIVERSIDE 62
USC 67
ALABAMA 85
KENTUCKY 65
OLE MISS 63
FLORIDA 72