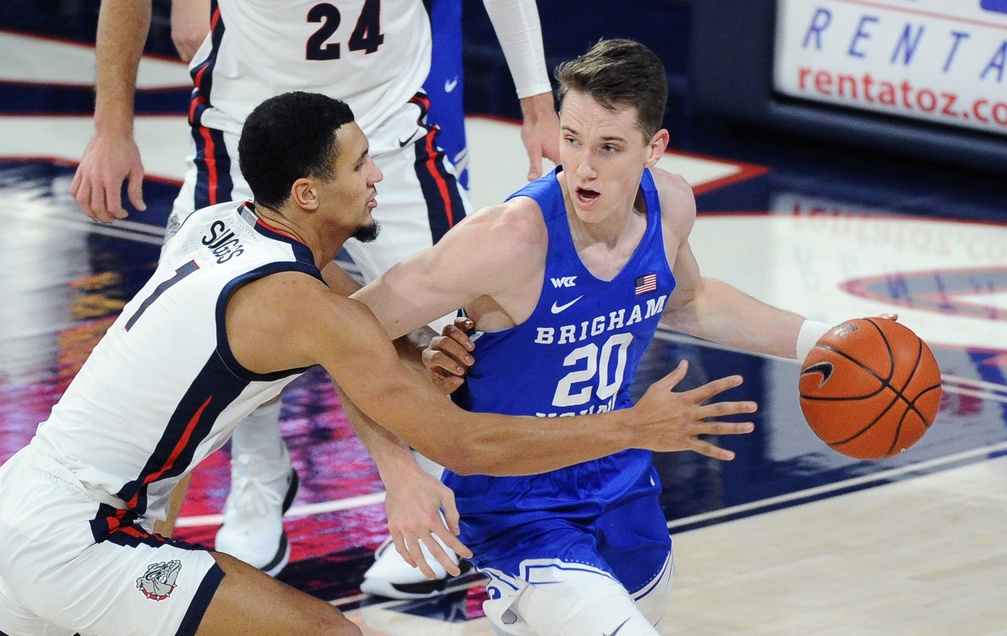 BYU (9-3) 69
No. 1 GONZAGA (11-0) 86
Gonzaga got out to a 23-2 lead to start the game and never looked back as the Bulldogs collected their 10th double-digit win of the season. Of Gonzaga's 11 wins, four have come against top 20 teams.
Corey Kispert and Drew Timme led the initial surge, with Kispert scoring seven and Timme eight in the run. The Bulldogs held BYU to 1-for-10 to start the contest with six turnovers.
Kispert finished the game with 23 points on nine of 16 shooting. Timme had 12 points on five made twos and two free throws. Jalen Suggs and Andrew Nembhard also scored in double figures with 16 and 12, respectively.
Matt Haarms and Caleb Lohner both scored 13 points to lead BYU's offense. Richard Harward added 12 and Gideon George tallied 11 for the Cougars.
No. 17 OREGON (8-2) 72
COLORADO (8-3) 79
Colorado got 14 points and five rebounds from McKinley Wright IV in the second half as the Buffaloes never trailed in the final 20 minutes. D'Shawn Schwartz also scored 10 of his 12 points in the second half. Wright finished the game with a 21-point, 10-rebound double-double.
After a back-and-forth first half, Colorado took the lead for good with 1:22 left before halftime. A reason the Buffaloes control was a 19-11 advantage in the rebounding category during the second half. Colorado outrebounded Oregon 40-28 for the whole game.
Evan Battey also notched a double-double for Colorado with 12 points and 10 rebounds. Jeriah Horne also scored 17 points on three made threes.
Oregon got a game-high 27 points from Chris Duarte, who went 10-for-17 from the field. Eugene Omoruyi added 18 points for the Ducks, while LJ Figueroa also had 10.
Oregon committed 14 turnovers to Colorado's 13, but the Ducks scored 21 points off the turnovers and the Buffaloes only had 14. Additionally, Colorado outscored Oregon on fast break points, 26-11.
No. 5 IOWA (10-2) 89
MARYLAND (6-6) 67
Luka Garza continued his torrid start to the season with 24 points and seven rebounds as Iowa moved to 4-1 in Big Ten play. Garza went 9-for-14 from the field and 2-for-4 from the three point line. The 6-foot-11 center also had four assists.
Maryland took a 17-7 lead to start the game, then Iowa finished the first half on a 34-9 run to end the first half in complete control. Keegan Murray scored eight points during Iowa's barrage and ended with 12.
The Hawkeyes shot 53.7 percent (36-for-67) from the field and 50 percent (13-for-26) from behind the arc. Additionally, Iowa only committed 11 turnovers.
Jordan Bohannon was the Hawkeyes' second-leading scorer with 18 points on six made triples. Bohannon was 6-for-9 from three. Connor McCaffrey added six points and 10 assists and Patrick McCaffrey scored 10 points.
Aaron Wiggins paced Maryland with 17 points. Eric Ayala pitched in 11 points with three threes and Donta Scott had 13 points and eight rebounds. Hakim Hart also went into double figures for the Terrapins with 10 points.
INDIANA (7-5) 73
No. 8 WISCONSIN (10-2) 80 2OT
Wisconsin outscored Indiana 11-4 in the second overtime to claim its seventh win in its last eight contests. D'Mitrik Trice made a game-tying jumper for the Badgers at the end of regulation and the first overtime to extend the game.
Trice's basket at the end of regulation came with 22 seconds left, while his bucket in the first overtime period was with 12 seconds remaining. Trayce Jackson-Davis missed a potential game-winning layup in regulation. Brad Davison made a steal with a second left in the first overtime.
Trice scored 21 points for Wisconsin and also added seven assists. He played a team-high 47 minutes without committing a foul. Nate Reuvers scored 14 points, Tyler Wahl netted 12 and Micah Potter had 10.
Jackson-Davis led Indiana with a 23-point, 12-rebound double-double. He and Al Durham, who scored 15 points, both logged 49 minutes for the Hoosiers. Jerome Hunter contributed 12 points and seven rebounds, while Rob Phinisee had 10 points and six assists in 48 minutes.
Wisconsin relied on its defense to gut out the win, as it had 10 steals while only committing 14 fouls over 50 minutes. The Badgers also committed only seven turnovers.
No. 12 ILLINOIS (9-3) 81
NORTHWESTERN (6-4) 56
Kofi Cockburn had a double-double in the second half alone as Illinois outscored Northwestern 53-13 in the frame to secure the comeback victory. Cockburn scored 13 points and ripped down 10 boards in the half, while Ayo Dosunmu helped him with 11 points.
Illinois went on a 25-2 run from the 14:11 point in the second period to the 5:36 mark. The Fighting Illini were down 43-28 at halftime, but with 5:36 remaining Illinois was up 66-50.
Cockburn led Illinois with 18 points and 12 boards. Dosunmu added 15, while Trent Frazier and Adam Miller scoring 14 apiece. Andre Curbelo led the team with seven assists, while Dosunmu had six.
Robbie Beran was Northwestern's only player in double figures with 11 points. Boo Buie, who averaged double figures during Northwestern's six wins, was held scoreless. He is now averaging less than one point per game during the Wildcats' four losses.
Also:
CENTRAL CONNECTICUT (2-6) 68
BRYANT (8-2) 93
Nigel Scantlebury (Greece Athena) filled the stat sheet with 10 points, seven assists and six rebounds in 29 minutes during Central Connecticut's loss. Scantlebury made four of nine field goal attempts, including two threes. The 6-foot-1 guard scored eight of his points in the second half.
Other Scores:
WASHINGTON 75
STANFORD 91
USC 87
ARIZONA 73
WASHINGTON STATE 71
CALIFORNIA 60
UCLA 81
ARIZONA STATE 75 OT
CINCINNATI 76
SMU 69