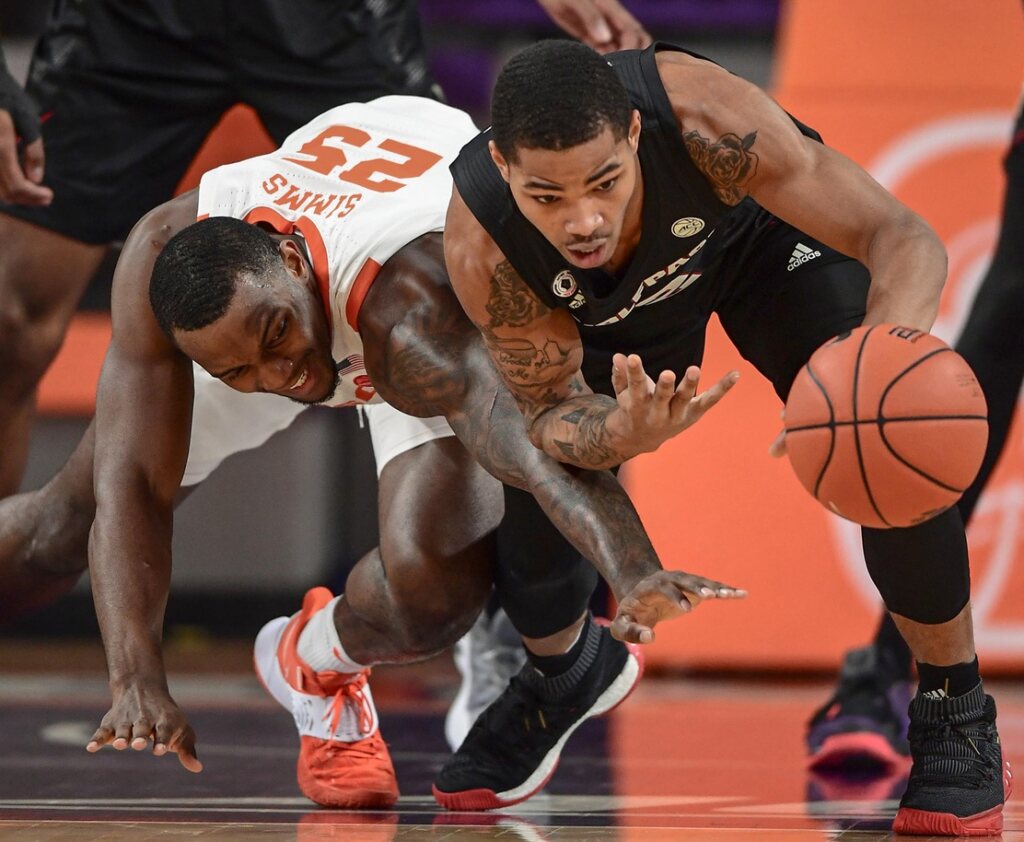 IOWA STATE (2-6) 72
NO. 4 TEXAS (9-1) 78 
All five starters scored in double-figures, and Texas won its third straight in BIG 12 play. Andrew Jones had a game-high 23 points to go along with six rebounds and four assists. Freshman Greg Brown posted a stat line of 15 points with eight rebounds, and Matt Coleman III added 13 points alongside five rebounds and four assists. Both Courtney Ramey and Jericho Sims added 10 points. The starting lineup scored 71 of the Longhorns' 78 points.
Javan Johnson had a team-high 21 points on 9-of-17 shooting. Solomon Young had an all-around game scoring 13 points, eight rebounds, and two assists with two blocks. Rasir Bolton and Jalen Coleman-Lands both had 10 points.
NO. 6 KANSAS (9-2) 93
TCU (9-3) 64
Kansas bounced back from its loss to Texas with its third-highest scoring outburst of the season. David McCormack led the charge scoring a team-high 20 points along with eight rebounds. Ochai Agbaji was not too far behind McCormack as he scored 19 points with three rebounds and three assists.
Freshman Jalen Wilson had an all-around game collecting 16 points, eight rebounds, and six assists. Tristan Enaruna had his season-high 12 points off the bench. The Jayhawks shot 56.5 percent from the field and 40 percent from beyond the arc.
TCU was led by Chuck O'Bannon Jr.'s 18 points off the bench. The forward shot 6-of-9 from the floor and 4-of-6 from deep. RJ Nembhard chipped in 14 points and six assists as he was the only starter to reach double-figures for the Hornfrogs.
NO. 13 MISSOURI (7-2) 63
MISSISSIPPI STATE (7-4) 78
D.J. Stewart Jr. and Mississippi State handed Missouri its second loss behind a dominant second half. Stewart had a game-high 24 points with four assists and three rebounds. Stewart's partner in the starting backcourt Iverson Molinar complimented Stewart with 20 points, three rebounds, and two assists.
Mississippi State outscored Missouri by 27 in the second half. The Bulldogs shot 68 percent from the field in the second half and 92.3 percent from the free-throw line. Allowing 39 points in the first half, Mississippi State tightened up its defense allowing just 24 points on 39.3 percent shooting from the field and just 22.2 percent from three in the second half. Sophomore Tolu Smith added 15 points and nine boards for the Bulldogs.
For Missouri, Jeremiah Tilmon led the team in points with 16 and had a team-high six rebounds. Xavier Pinson chipped in 13 points and eight assists for the Tigers.
NO. 15 RUTGERS (7-3) 45
NO. 23 MICHIGAN STATE (8-3) 68
Michigan State used a big second half to win its second straight BIG 10 game after dropping its first three. The Spartans outscored Rutgers by 17 in the second half taking control of the game. Junior Aaron Henry scored a game-high 20 points to go along with eight rebounds. Rocket Watts and Joshua Langford each added on 11 points.
Michigan State made the difference at the foul line shooting 16-of-19 while the Scarlet Knights shot a mere 6-of-17 from the charity stripe.
Ron Harper Jr. had a team-high 13 points for Rutgers. Jacob Young was the only other Scarlet Knight in double-figures with 11.
KANSAS STATE (5-7) 71
NO. 18 TEXAS TECH (9-3) 82
Terrence Shannon Jr. scored 22 points off the bench in a bounce-back win getting Texas Tech back to .500 in BIG 12 play. Shannon collected six rebounds to go along with his season-high in points. The sophomore took control of the Red Raider offense in the second half scoring 16 of his 22 points.
Georgetown transfer Mac McClung was second in scoring on Texas Tech putting up 16 points and four rebounds. Marcus Santos-Silva added on 14 points.
For Kansas State, Nijel Pack and Selton Miguel each scored 17 points. Davion Bradford and Mike McGuirl both scored 10 points. The Wildcats' starting lineup scored 61 of the teams 71 points.
NC STATE (6-2) 70 
NO. 19 CLEMSON (9-1) 74 (OT)
Clemson outlasted NC State in overtime for its fourth straight win behind 21 bench points from Nick Honor. Down three with 38 seconds left, Honor nailed a three-point shot on an assist from Aamir Simms to tie the game.
Simms struggled from the field shooting 3-of-11 for the game but scored four points in overtime. Clyde Trapp had the second-most points for Clemson, he scored 11 points and collected seven rebounds.
DJ Funderburk and Devon Daniels were a one-two punch for the Wolfpack. The two combined for just over half the team's points. Funderburk had a team-high 20 points paired up with seven boards. Daniels posted a double-double with 18 points and 10 rebounds.
Also:
NORTHERN ILLINOIS (1-8) 73
OHIO (6-4) 64
Miles Brown (Northstar) scored six points on 2-of-5 shooting off the bench. The guard had one rebound and one assist in 16 minutes of work. Ohio has now won back-to-back games.
DAVIDSON (6-4) 61
DUQUESNE (2-3) 48
Legendary coach Bob McKillop won his 600th career game behind 13 points from each Kellan Grady and Carter Collins. Coach McKillop becomes the 111th college coach all-time to have 600 or more wins.
McKillop joins the names of Mark Few, Jay Wright, Steve Alford, Tubby Smith, Kelvin Sampson, Greg Kampe, Tom Izzo, Lon Kruger, Jim Larrañaga, Rick Pitino, Dana Altman, Bill Self, Rick Barnes, John Calipari, Richard Schmidt, Cliff Ellis, Bob Huggins, Roy Williams, Jim Boeheim, and Mike Krzyzewski as the only current head coaches with 600 or more wins.
Other scores:
DAYTON 54
FORDHAM 55
NORTH CAROLINA 67
MIAMI 65
UCONN 65
MARQUETTE 54
HOLY CROSS 68
BOSTON UNIVERSITY 66
CENTRAL MICHIGAN 69
BOWLING GREEN 90
TOLEDO 84
KENT STATE 82
VANDERBILT 74
KENTUCKY 77
FLORIDA 71
ALABAMA 86