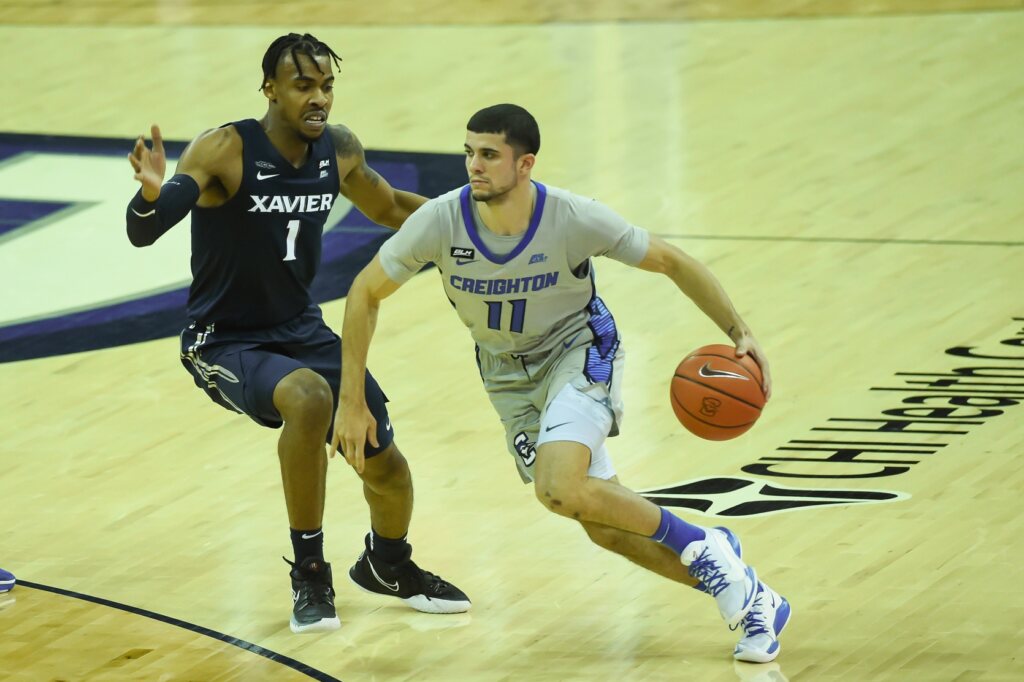 No. 22 XAVIER (8-1) 61
No. 13 CREIGHTON (7-2) 66
Creighton went on a 20-6 run to end the first half with a lead, one it didn't surrender at all in the second half. Antwann Jones scored eight of his team-high 13 points over that stretch and star guard Marcus Zegarowski didn't score any of the 20 points. Both teams shot 35 percent from the field had over 40 rebounds.
The main difference came at the charity stripe, where Creighton went 14-for-20 and Xavier went 5-for-7.
Zegarowski did score 10 points but made just two field goals. Denzel Mahoney, like Jones, led Creighton with 13 points. Mahoney, Jones and Mitch Ballock made two threes apiece. Ballock finished with seven points. Christian Bishop was the final Bluejay to reach double figures with 10 points. He paced the team with seven rebounds, while Damien Jefferson and Zegarowski both had six. Jefferson (5), Alex O'Connell (4), Shereef Mitchell (2) and Ryan Kalkenbrenner (2) also scored for Creighton.
Nate Johnson and Paul Scruggs were the only two Musketeers to score in double digits, with Johnson netting 12 and Scruggs scoring 11. The duo combined for five of Xavier's eight made triples. Ben Stanley added nine points, Zach Freemantle and Adam Kunkel both had seven and Jason Carter and KyKy Tandy scored six apiece. Colby Jones scored three points to cap off Xavier's scoring output, but he grabbed a team-high six rebounds.
SOUTH CAROLINA UPSTATE (0-8) 60
No. 8 TENNESSEE (6-0) 80
Tennessee went on a 12-2 run midway through the second half to pull away from South Carolina Upstate and remain unbeaten. Victor Bailey Jr. scored four points during the run.
Bailey finished with a team-best 18 points for Tennessee. He made eight of 12 field goal attempts and the Volunteers shot 56 percent (28-for-50). Josiah-Jordan James added in 11 points and John Fulkerson added 10. James also grabbed eight rebounds and dished out five assists. Santiago Vescovi, Olivier Nkamhoua and Jaden Springer had nine points apiece, with Vescovi also dealing out eight assists. Yves Pons (5), E.J. Anosike (5) and Keon Johnson (4) also scored for Tennessee.
Tommy Bruner led S.C. Upstate in scoring with 18 points on four made threes. Bruner also dished out six dimes. Everette Hammond also went into double figures for the Spartans with 13 points. Bryson Mozone buried three triples for nine points, Nevin Zink pitched in eight and Khydarius Smith contributed five. Jatayveous Watson rounded out S.C. Upstate's scoring with two points.
No. 11 RUTGERS (6-1) 68
No. 23 OHIO STATE (7-1) 80
Ohio State trailed by as much as 16 during the second half, but outscored Rutgers 25-7 over the last seven minutes to win the game. The Buckeyes were only down six when the run began and held a 14-point lead with 35 seconds left.
Ohio State outrebounded Rutgers 45-25 and went 22-for-29 from the free throw line. The Scarlet Knights made 10 of 17 free throws.
E.J. Liddell and Duane Washington Jr. both scored seven points during the late rally. Liddell notched 21 on the day, while Washington scored a game-best 22 points that included all four of the Buckeyes' made threes. Kyle Young had a double-double with 17 points and 12 boards. Musa Jallow (8), Seth Towns (4), Zed Key (4), CJ Walker (2) and Justice Sueing also contributed to Ohio State's offensive effort.
Ron Harper Jr. scored 10 points and made two threes in each half to lead Rutgers' offense. Montez Mathis and Jacob Young also went over 10 points for the Scarlet Knights, scoring 16 and 12, respectively. Geo Baker scored eight points and Paul Mulcahy added seven. Young and Mulcahy both had five assists. Mamadou Doucoure (3) and Myles Johnson (2) rounded out Rutgers' scoring.
No. 18 ILLINOIS (6-3) 98
PENN STATE (3-3) 81
Ayo Dosunmu and Kofi Cockburn combined for 53 points for Illinois as the Fighting Illini got back into the win column after one loss. The duo combined for 30 in the second half. Dosunmu finished the game with 30 points and Cockburn had 23.
The difference in the game came at the free throw line. Illinois made 23 of 28 shots from the charity stripe, while Penn State went just 4-for-7. The Fighting Illini also outrebounded the Nittany Lions 36-25.
Andre Curbelo was the only other player from Illinois to score in double figures, as the freshman had 15 points and eight assists off the bench. Giorgi Bezhanishvili netted eight points and Trent Frazier and Jacob Grandison both had seven. Adam Miller (5) and Da'Monte Williams (3) rounded out Illinois' scoring.
Izaiah Brockington and Myreon Jones both led Penn State with 21 points apiece. Both players made one free throw, but Brockington made 10 two-point field goals and Jones made nine two pointers and two free throws. Sam Sessoms and Myles Dread also scored in double digits, finishing with 12 and 10, respectively. Trent Buttrick scored six points to go with a team-high seven rebounds. Seth Lundy (6), Jamari Wheeler (3) and John Harrar (2) rounded out the scoring for the Nittany Lions.
No. 5 VILLANOVA (8-1) 85
MARQUETTE (5-5) 68
Collin Gillespie made six shots from behind the arc as Villanova won its third Big East game of the season and sixth in a row overall. Gillespie finished with 22 points and four assists.
Marquette shot 51 percent (26-for-51) from the field and outrebounded Villanova by seven, but made five less threes and seven less free throws. The two teams both attempted 16 free throws, with the Wildcats making 14 and the Golden Eagles converting seven.
Justin Moore backed up Gillespie in the scoring column with 14 points. Jeremiah Robinson-Earl notched 13 points and seven boards, while Caleb Daniels and Brandon Slater had 10 points apiece. Daniels led Villanova with five dimes. Jermaine Samuels (7), Cole Swider (5) and Eric Dixon (4) also aided the Wildcats' scoring effort.
Jamal Cain paced Marquette with 15 points, three made triples and seven rebounds. Theo John and D.J. Carton also went into double figures with 10 points apiece. Carton added five dimes. Dawson Garcia grabbed eight rebounds to go with nine points. Greg Elliot (7), Justin Lewis (6), Koby McEwen (5), Dexter Akanno (4) and Symir Torrence (2) also found the scorebook for the Golden Eagles.
Also: NEW MEXICO (3-2) 52
BOISE STATE (6-1) 89
Keith McGee (Greece Arcadia) did not play in New Mexico's loss.
Other Scores:
TOWSON (0-4) 65
GEORGE MASON (4-1) 70
UM KANSAS CITY (4-5) 46
ST. LOUIS (7-1) 62
BELLARMINE (1-3) 70
NOTRE DAME (3-4) 81
GEORGETOWN (3-5) 67
SETON HALL (6-4) 78
PROVIDENCE (5-3) 64
BUTLER (2-3) 70
WESTERN ILLINOIS (2-5) 72
DEPAUL (1-0) 91
SAINT PETER'S (6-3) 70
ST. FRANCIS (NY) (2-3) 64
NJIT (1-1) 81
RIDER (1-6) 66
COPPIN STATE (1-7) 65
IONA (5-3) 85
NORTHWESTERN (5-1) 74
INDIANA (5-3) 67
NORTHWESTERN STATE (1-10) 52
WASHINGTON STATE (8-0) 62
SW CHRISTIAN (JUCO) 45
TULSA (4-3) 102