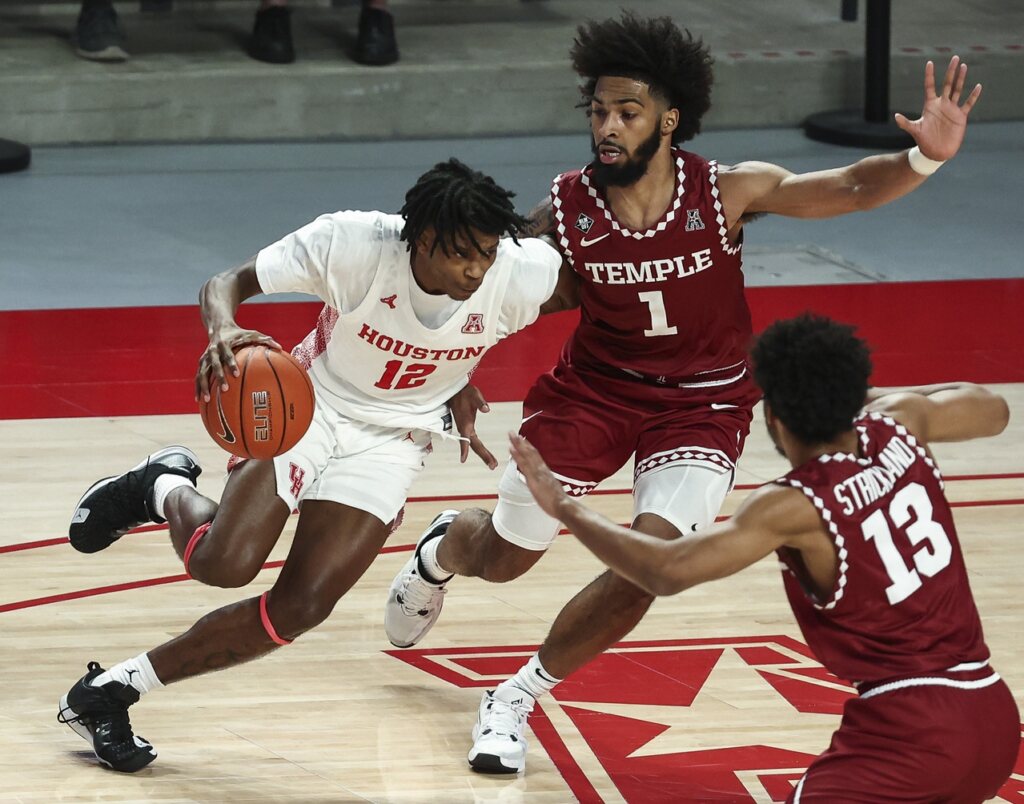 NORTHWESTERN STATE (1-9) 78
NO. 1 GONZAGA (6-0) 95 
Jalen Suggs, Corey Kispert, and Drew Timme combined for 62 points leading Gonzaga to a wire-to-wire win.
Timme had 25 points on 10-of-15 shooting to go along with nine rebounds and three assists. Suggs had an all-around game of 19 points, six rebounds, and five assists. Kispert stuffed the stat sheet with 18 points, six rebounds, and three assists. 
Northwestern State was led by Jairus Roberson who had 15 points. Trenton Massner and Jovan Zelenbaba both added 14 points for the Demons. 
PURDUE (6-3) 55
NO. 4 IOWA (7-1) 70 
Iowa bounced back from its loss against No. 1 Gonzaga thanks to another dominant Luka Garza performance. Garza posted 22 points on 50 percent shooting from the field and three-point range to go along with nine rebounds. Joe Wieskamp added on 17 points and nine rebounds. This was the first win for the Hawkeyes in conference play. 
Trevion Williams led the Boilermakers with 14 points and nine rebounds on 7-of-14 shooting. Brandon Newman was the only other player on Purdue to score double-digit points with 11. Newman added on eight rebounds and two assists. 
NO. 7 WEST VIRGINIA (7-2) 65
NO. 3 KANSAS (8-1) 79
Kansas flexed its dominance in the Big 12 knocking off West Virginia behind a 22 point performance from Christian Braun. The Jayhawks were unconscious from three knocking down 16 from behind the arc. All five starters scored in double-digits and combined for 75 of the 79 team points.
Jalen Wilson scored 17 points and had seven rebounds, Marcus Garrett put up 15 points, Ochai Agbaji had a double-double with 11 points and 10 rebounds, and David McCormack finished with 10 points and 11 rebounds. 
West Virginia was led by its starting backcourt as Sean McNeil and Miles McBride combined for 43 points. McNeil had 24 points on 8-of-12 shooting, and McBride poured in 19 points to go along with five rebounds. 
TEMPLE (1-1) 50
NO. 6 HOUSTON (6-0) 76
Houston rolled on with its sixth straight win to begin the season behind a game-high 22 points from Quentin Grimes. Grimes added on seven rebounds and two assists to his stat line. Houston's offense received a big boost from starters Tramon Mark and Justin Gorham as they combined for 26 points. Reggie Chaney added 13 points off the bench for the Cougars. 
Temple struggled on offense in its second game of the year only shooting 29 percent. J.P. Moorman was the only player in double-digits with 12. 
NEBRASKA (4-4) 53
NO. 9 WISCONSIN (7-1) 67
Wisconsin opened up BIG 10 play with a win behind a four-headed attack in the starting lineup. Brad Davidson had 15 points and seven assists, Aleem Ford scored 13 points along with eight rebounds, Micah Potter added on 10 points and 11 rebounds, and senior Nate Reuvers poured in 10 points along with four rebounds. The Badgers shot 15-of-15 from the charity strike while Nebraska shot 9-of-17. 
The Cornhuskers struggled shooting, shooting just 33 percent from the field. Dalano Banton led Nebraska with 15 points, eight rebounds, and four assists. Teddy Allen added in 11 points and Trey McGowens chipped in 10. 
BRADLEY (6-3) 53
NO. 14 MISSOURI (6-0) 54
Missouri survived an upset scare thanks to a game-winning bucket from Jeremiah Tilmon. Tilmon converted a layup while being fouled with one second left to tie the game up at 53, and Tilmon put Missouri into the lead by making the free throw. The forward finished with 12 points and a team-high 10 rebounds. 
Junior Xavier Pinson had a game-high 15 points and grabbed four rebounds. Missouri struggled from the field shooting only 25.4 percent and 3-of-21 from three, but, converted 19 free throws on 26 attempts. The Tigers clamped up on the defensive end holding Bradley to 11.1 percent shooting from beyond the arc and 36.5 percent from all shots. 
Elijah Childs led the Braves in scoring with 13 points and Jayson Kent added 11 off the bench. 
NO. 15 TEXAS TECH (7-2) 69
OKLAHOMA (5-2) 67
Texas Tech picked up its first win in BIG 12 play behind a balanced scoring attack from the starters. Mac McClung, Terrence Shannon Jr., and Marcus Santos-Silva combined for 55 of the 69 team points. 
Shannon Jr. had the game-high in points with 21 on 8-of-12 shooting. Santos-Silva added in an efficient 18 points by shooting 9-of-13 and McClung finished up with 16 points. No other Red Raider scored more than six points. 
For Oklahoma, the backcourt of De'Vion Harmon and Austin Reaves paced the offense. Harmon put up 17 points and Reeves chipped in 13. 
WILLIAM & MARY (2-3) 40
NO. 16 VIRGINIA (4-1) 76
The patented Virginia defense was on full display only allowing 40 points and only 14 in the first half. The Virginia defense forced 17 turnovers and had five blocks. William & Mary shot 28 percent from the field and 17.6 percent from three.
For the Cavalier's offense, junior Trey Murphy III paced the team with 15 points and three assists. Forward Kadin Shedrick chipped in 10 points and seven rebounds off the bench. 
Yuri Covington was the only member of William & Mary to score in double digits with 12 points. 
NO. 17 NORTH CAROLINA (5-3) 76
NC STATE (5-1) 79
NC State won the in-state battle behind a game-high 21 points from Devon Daniels. NC State had a hot start in the first half shooting 53 percent from the field and 66.7 percent from three. Shakeel Moore poured in 17 points with 13 of them coming in the first half. Manny Bates added in 14 points and seven rebounds in 36 minutes of play.
North Carolina dropped its first ACC game of the year thanks to poor three-point shooting. The Tar Heels shot 2-of-12 from behind the arc. Armando Bacot led the team in points with 16, Freshmen R.J. Davis and Caleb Love both scored 11 while Garrison Brooks added in 10 points. 
Also:
OHIO (4-3) 70
AKRON (3-1) 90
Miles Brown (Northstar) scored two points on 1-of-3 shooting in the Ohio loss. Brown recorded three assists with one steal, block, and rebound in his 29 minutes of work. 
Women's Basketball
WESTERN MICHIGAN (1-3) 66
BUFFALO (5-2) 87
Dyaisha Fair (Edison Tech) had a game-high 30 points that paced the Buffalo offense. Fair led the team in assists with six and chipped in six rebounds. The guard shot 9-of-19 from the field including four makes from beyond the arc. Fair got to the charity strike 10 times and converted eight.
Other scores:
HOFSTRA 76
RICHMOND 71
CHARLOTTE 66
GEORGE WASHINGTON 65
JAMES MADISON 81
VCU 82
VANDERBILT 65
DAVIDSON 85
LA SALLE 71
MARYLAND 84
MAINE 62
BOSTON COLLEGE 78
LOUISVILLE 64
PITTSBURGH 54
FARLEIGH DICKINSON 69
FAIRFIELD 65
NIAGARA 70
ALBANY 65
NORTHERN ILLINOIS 55
TOLEDO 78
BALL STATE 76
WESTERN MICHIGAN 68
NORTH DAKOTA STATE 82
TCU 89
SEATTLE U 65
CALIFORNIA 70
MONTANA 64
ARIZONA 70
PORTLAND STATE 62
OREGON STATE 67
COLORADO
GRAND CANYON
APPALACHIAN STATE 53
AUBURN 67
ABILENE CHRISTIAN 72
ARKANSAS 85
UT MARTIN 43
OLE MISS 90
NORTHEASTERN 58
GEORGIA 76
EAST TENNESSEE STATE 69
ALABAMA 85
ST. FRANCIS (ILL) 55
LOYOLA CHICAGO 92
SOUTHEAST MISSOURI STATE 66
INDIANA STATE 72
NORTH DAKOTA 55
DRAKE 85
TULANE 58
EAST CAROLINA 68
CINCINATI 70
UCF 75
WICHITA STATE 82
SOUTH FLORIDA 77