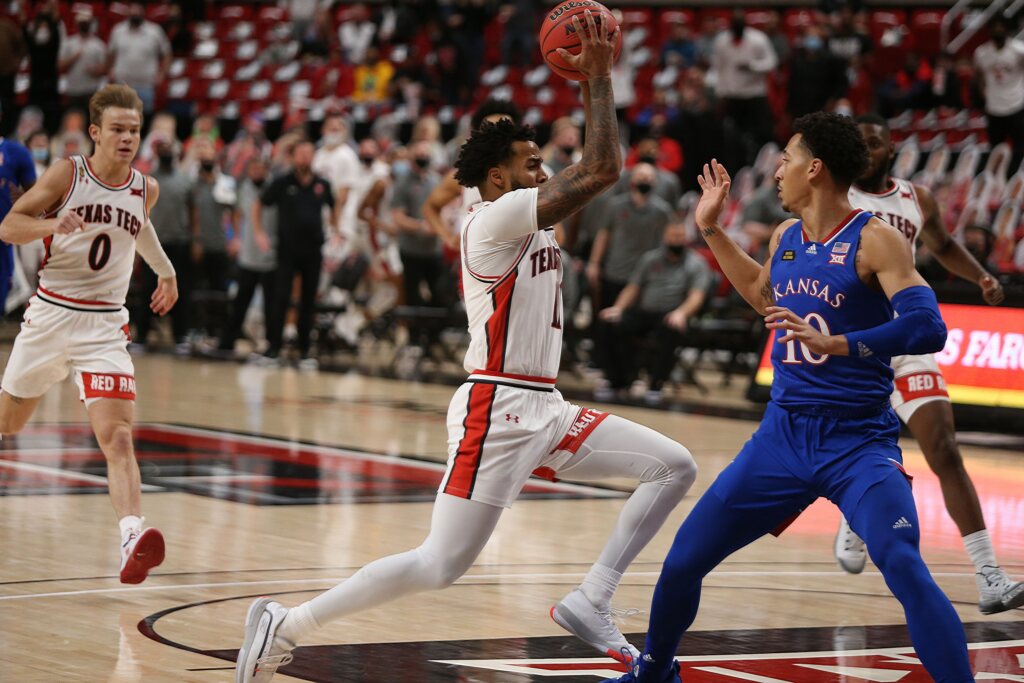 No. 5 KANSAS (7-1) 58
No. 14 TEXAS TECH (6-2) 57
Ochai Agbaji made a go-ahead layup with 13 second left then Jalen Wilson blocked a jump shot with three seconds remaining to give Kansas the road victory. Agbaji scored 11 of his game-high 23 points in the second half, which included three of his four made threes.
The Jayhawks went 14-for-15 from the free throw line, while Texas Tech went 11-for-18. The Red Raiders stayed in the game despite only shooting 32.3 percent (20-for-62) from the field because of their 13 offensive rebounds and 16 second chance points.
Marcus Garrett had a 10-point, 10-rebound double-double. Wilson and David McCormack both netted seven points. Christian Braun grabbed 10 boards to go with his two points. Dajuan Harris (3), Bryce Thompson (2), Tyon Grant-Foster (2) and Mitch Lightfoot (2) all aided Kansas' scoring effort.
Mac McClung and Terrence Shannon Jr. both scored at least 20 points for Texas Tech with 21 and 20, respectively. Shannon finished a rebound shy of a double-double and the duo made all six of Texas Tech's shots from behind the arc. Micah Peavy (8), Tyreek Smith (4), Nimari Burnett (2) and Jamarius Burton (2) also found the scorebook for the Red Raiders.
No. 9 CREIGHTON (5-2) 94
ST. JOHN'S (5-4) 76
Marcus Zegarowski made six threes and Christian Bishop and Damien Jefferson both notched double-doubles as Creighton evened its conference record at 1-1. The Blue Jays jumped out to a 14-4 lead and never surrendered the lead, making it as much as 20 points.
Zegarowski scored 20 points and five dimes. Bishop tallies 11 points and 10 rebounds, while Jefferson had 10 points, 10 rebounds and eight assists. Denzel Mahoney scored 16 points and Mitch Ballock had nine and both players knocked down three triples. Ryan Kalkbrenner also scored in double figured for Creighton with 15 points. Alex O'Connell (6), Nic Zeil (3), Shereef Mitchell (2) and Antwann Jones (2) rounded out the Blue Jays' scoring.
Julian Champagnie led St. John's in scoring with 17 points on five made threes. Posh Alexander's 13 points, Dylan Addae-Wusu's 12 and Rasheem Dunn's 10 all gave Champagnie scoring support. Dunn also added seven assists. Isaih Moore (7), Greg Williams Jr. (6), Marcellus Earlington (4), David Caraher (3), Josh Roberts (2) and Arnaldo Toro (2) all contributed to the Red Storm's effort.
ALSO:
LeTOURNEAU (DIVISION III) 58
NEW MEXICO (3-0) 90
Keith McGee (Greece Arcadia) grabbed three rebounds in New Mexico's third win in the past five days. McGee had two assists to go with the rebounds. He miss all four of his field goal attempts, including three shots from behind the arc.
OTHER SCORES:
ST. JOSEPH'S (0-3) 77
DREXEL (4-2) 81
NC STATE (3-1) 69
ST. LOUIS (6-0) 80
SETON HALL (5-3) 70
MARQUETTE (5-3) 63
DOANE (NAIA) 64
NEBRASKA (4-3) 110
SAN FRANCISCO (5-4) 64
OREGON (5-1) 74
NORTH DAKOTA (1-6) 64
SOUTHERN ILLINOIS (4-0) 85
PURDUE NORTHWEST (DIVISION II) 71
VALPARAISO (3-4) 89
JACKSON STATE (0-3) 60
BRADLEY (5-2) 83