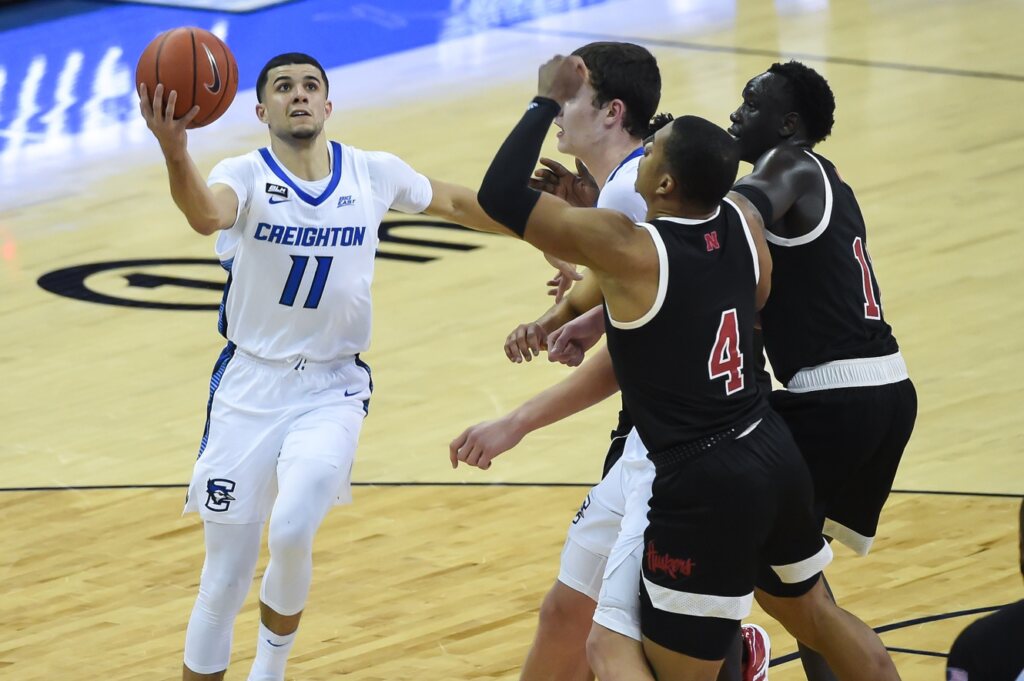 IOWA STATE (1-2) 77
NO. 3 IOWA (5-0) 105
Iowa wins the battle with their in-state rival behind a 34-point performance from Luka Garza. The senior boosted his average to 30.4 points per game on the year. The high-powered Hawkeye offense eclipsed the 100-point mark for the second time on the year. Iowa averages 99.4 points as a team on the year.
Jack Nunge poured in 17 points and 10 rebounds off the bench. Junior guard Joe Wieskamp posted 16 points on 6-of-9 shooting. Garza, Nunge, and Wieskamp accounted for 64 percent of the scoring for Iowa.
For Iowa State, the trio of Javan Johnson, Rasir Bolton, and Jalen Coleman-Lands scored 55 points. Johnson scored 20, Bolton added 18 points with five rebounds and five assists while Coleman-Landers posted 17 points with 6 rebounds.
OMAHA (2-5) 50
NO. 5 KANSAS (6-1) 95
The Kansas Jayhawks jumped off to a 17-0 lead and never looked back for a wire-to-wire win. The Jayhawks scored their season-high in points with a well-balanced attack. Four players reached double-digit points, while everyone who played scored.
Ochai Agbaji led the team with 18 points on 70 percent shooting including four threes on six tries. Senior Mitch Lightfoot came off the bench and added 14 points. Lightfoot shot 4-of-5 from the field and 5-of-6 from the charity strike.  Tyon Grant-Foster poured in 13 points and David McCormack added in 11.
Wanjang Tut led Omaha with 14 points on 60 percent shooting.
NEBRASKA (3-3) 74
NO. 8 CREIGHTON (4-1) 98
Creighton got a bounce-back win against Nebraska using a 54 point second-half.  The Bluejays pulled away with a 15-0 run at the 12:35 mark in the second half.
Marcus Zegarowski used five three-pointers to total a team-high 22 points. The junior went 5-of-5 from the free-throw line while also collecting four steals. Denzel Mahoney added in 20 points and four assists. Seven-footer Ryan Kalkbrenner came off the bench and posted 13 points and eight rebounds with three blocks. Junior Christian Bishop chipped in 10 points shooting 100 percent from the field.
Teddy Allen and Trey McGowens paced the Nebraska offense. Allen scored 26 points shooting 10-of-20 from the field. The guard collected nine rebounds and two steals. McGowens did not miss from beyond the arc (3-of-3) en route to his 15 points.
NO. 9 VILLANOVA (5-1) 76
GEORGETOWN (2-3) 63
Trailing by 13 at the half, Villanova outscored Georgetown 43-17 in the second half to win its third straight. Collin Gillespie and Caleb Daniels both scored 12 in the second half and totaled 18 in the game. Cole Swider posted 10 points coming off the bench.
For Georgetown, Jamorko Pickett put up a double-double with 16 points and 10 rebounds. Pickett has scored 10-plus points in each game this year. Qudus Wahab scored the second most for the Hoyas and Jahvon Blair added in 11.
NORTH TEXAS (1-3) 50
NO. 11 WEST VIRGINIA (5-1) 62
Trailing by eight at the half, West Virginia started the second half on an 18-0 run taking a 39-29 lead. The Mountaineers never looked back and outscored North Texas 41-21 in the second half to claim victory.
Forward Derek Culver recorded his third double-double on the year with 10 points and 10 rebounds. Senior Taz Sherman finished with 13 points after scoring 11 points in the second half. Sean McNeil went 3-of-3 at the free-throw line and shot 2-of-3 behind the arc en route to a team-high 15 points.
Javion Hamlet led North Texas with 15 points.
Also:
NIAGARA (0-2) 54
SAINT PETER'S (3-2) 70
Tahjae Hill (Hilton) collected two steals and one rebound in six minutes of work.
Women's College Basketball
CANISIUS (0-2) 44
MARIST (2-0) 64
Kayla Jackson (Aquinas) scored five points for Canisius. The forward stuffed the stat sheet with five rebounds, two steals and blocks, and adding an assist. Jackson shot 2-of-4 from the field and 1-of-1 from three.
Other scores:
NORTHEASTERN 79
UMASS 94
GEORGE WASHINGTON 65
DELAWARE 68
GEORGIA SOUTHERN 45
DAVIDSON 77
ST. JOHN'S 68
SETON HALL 77
MARQUETTE 60
UCLA 69
RIDER 82
MANHATTAN 64
IONA 70
FAIRFIELD 42
MARIST 72
CANISIUS 81
MOUNT ST. JOSEPH 64
MIAMI (OH) 79
MILWAUKEE 75
KANSAS STATE 76
MURRAY STATE 66
SOUTHERN ILLINOIS 70