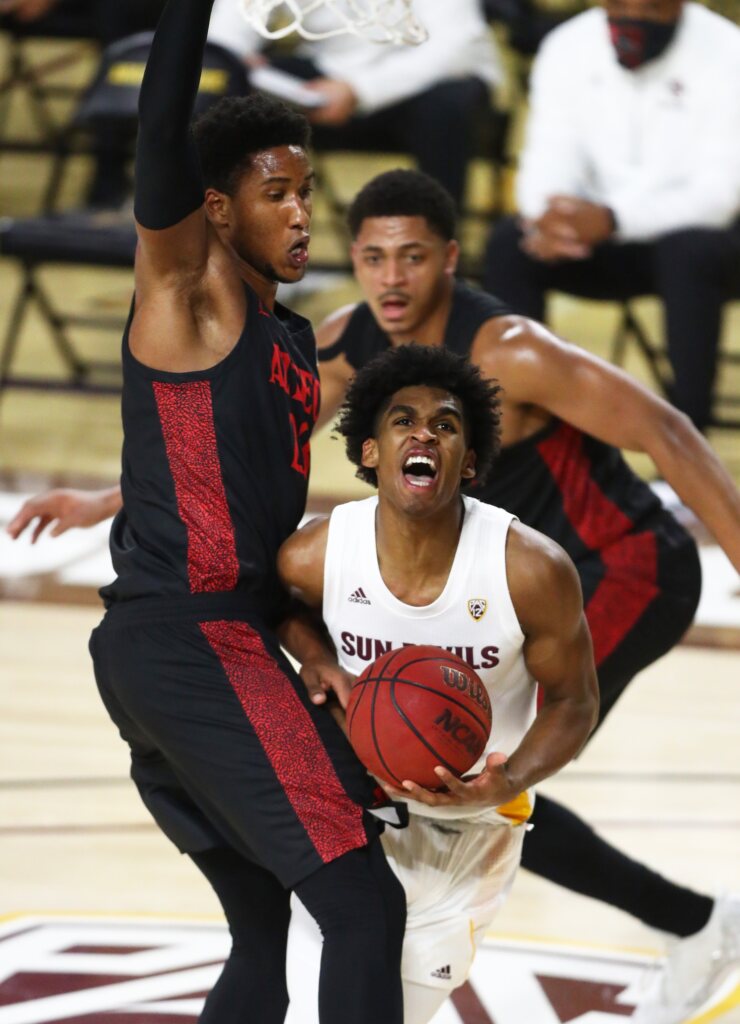 NO. 24 SAN DIEGO STATE (5-0) 80
NO. 23 ARIZONA STATE (3-2) 68
San Diego State went on an 18-2 run over six minutes of the second half to turn a two-point deficit into a 14-point lead. Jordan Schakel scored 11 points during that run and led all scorers with 25. The Aztecs led for 34:26 and only trailed for 3:09.
San Diego State outscored Arizona State 36-8 in the paint. The Aztecs also had 17 second-chance points to the Sun Devils' seven.
Schakel netted five triples in the contest, with three of those coming in the second half. Nathan Mensah notched a double-double for SDSU, scoring 17 points and ripping down 15 boards. Matt Mitchell added 14 points on 12 made free throws.
Alonzo Verge Jr. led Arizona State with 25 points of his own. Josh Christopher pitched in 13 points and Jalen Graham had 10. Star guard Remy Martin was held to nine points on 2-for-8 shooting.
Also:
PURDUE NORTHWEST (DIVISION II) 72
OHIO (4-1) 92
Miles Brown (Northstar Christian) scored 11 points for Ohio in its second win in a row. Brown made four of his six field goal attempts, including a three pointer and two free throws. He also added three steals, a rebound and an assist in his 28 minutes off the bench.
MERCYHURST (DIVISION II) 64
BUFFALO (2-2) 81
Jeenathan Williams (UPrep) scored 17 points on 7-for-14 from the field to lead Buffalo. Williams had a double-double with 12 boards to go with the 17 points. The 6-foot-5 forward also added four assists and two steals for the Bulls.
Other scores:
UM KANSAS CITY (2-3) 61
MINNESOTA (6-0) 90
PORTLAND (4-1) 87
OREGON STATE (2-3) 86 OT
JACKSON STATE (0-2) 45
OLE MISS (1-0) 80
NORTH FLORIDA (0-7) 67
EAST CAROLINA (5-0) 73