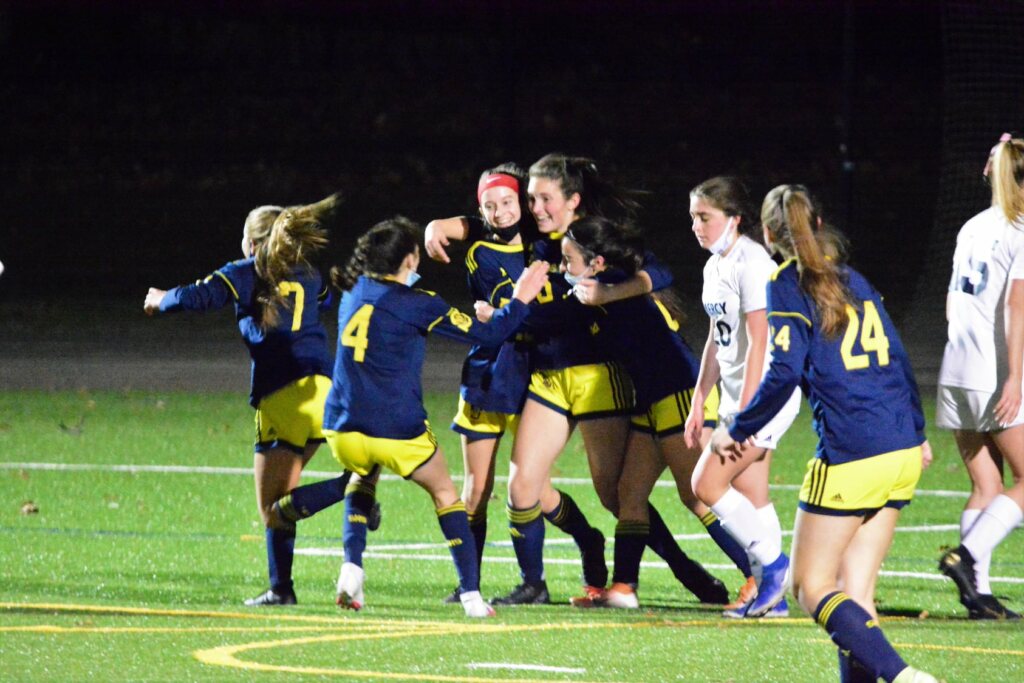 By PAUL GOTHAM
SPENCERPORT, N.Y — Two years ago when the Spencerport Rangers and Our Lady of Mercy Monarchs met for the 2018 Section V Class A Girls' Championship, a freezing rain pelted the field throughout the match. Spencerport outlasted Mercy in overtime on that cold day in late October to win what was then their third straight sectional title.
On Thursday night in the 2020 finale, the same two teams played under a clear sky with temperatures hovering in the low-60s.
Weather changed. The outcome didn't.
Bre DeHond's conversion on a corner kick in the 50th minute sparked a second-half surge, and Spencerport went on to a 3-0 victory to claim the Class A title for a fifth straight year.
"It's awesome," DeHond said of the championship. "It's a great feeling coming into it and knowing that we play as a team We all love each other and play for each other."
Freshman Aleena Solano added to the lead 19 minutes later, and senior Amy Cannan put the game out of reach in the 75th minute.

When the final horn sounded, a cluster of Rangers initially gathered in front of their bench before turning and running en masse to mob goalkeeper Cate Burns and defender Kendall Mesh at midfield.
The celebration had begun.
"This feels crazy," Cannan said. "We knew all this time that we were striving for a fifth one, but to actually be on a field all together and play as a team is an unbelievable feeling. Especially as a senior watching all the younger players come up and mesh so well with all of us. That's the best part."
The Rangers shrugged off a sluggish first half and took control early coming out of the break.
Junior Alyssa Hackett made a rush along the left wing in the opening minute of the second stanza and played a service into the Mercy penalty area. One minute later, Cannan let fly with a left-footed blast from just outside the 18-yard box.
The Rangers were starting to find their rhythm.
"We thought we were hesitant in the first half," head coach Jamie Schneider said. "We weren't that pleased with first half at all. We needed to focus a little bit more and execute and they did. To get those three goals was huge."
DeHond's goal was set up when senior Corynna Rotoli won a 50/50 ball in the Mercy end and made a rush along the right wing. With a pair of Monarch defenders giving chase, Rotoli shuttled a pass to DeHond in the middle third of the field. Without hesitation, DeHond kept the ball moving from right to left.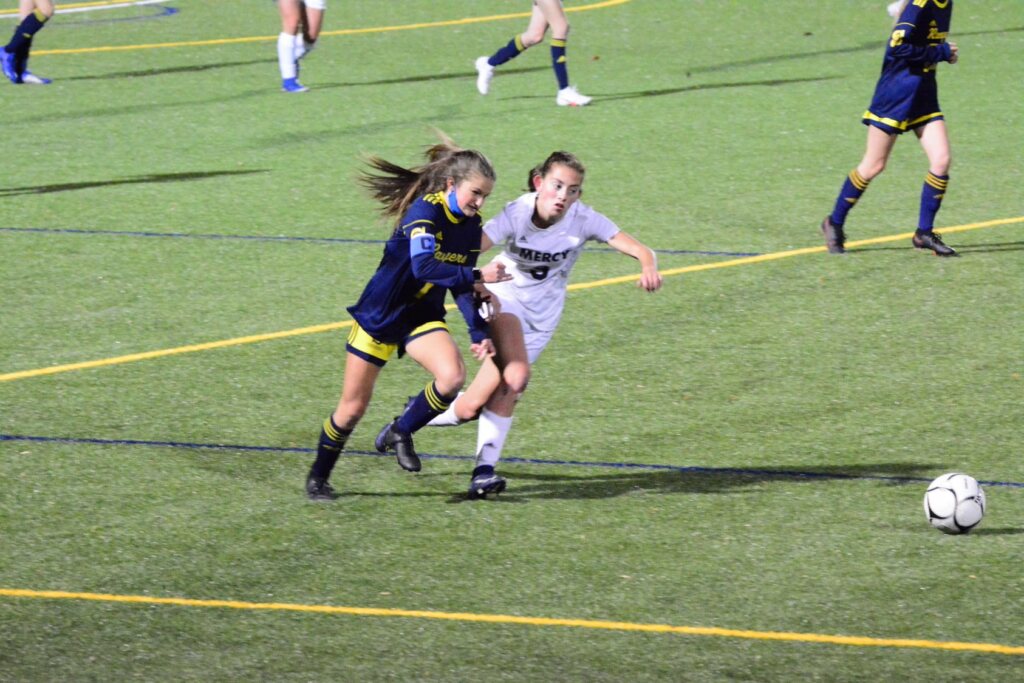 For a moment, it looked like Cannan would start the scoring. That is until Mercy keeper Molly Maxwell made a diving save that sent the ball just wide of frame.
DeHond nodded in Hackett's subsequent corner kick from the left flag.
"This year we haven't had a header all year," the junior forward noted. "Everyone was like we can't go a year without a header. I came here thinking I was going to get a header today. It was a great cross from Alyssa."
49' Bre DeHond converts Alyssa Hackett's corner kick. @Rangers_GSOC 1 @OLMathletics 0 pic.twitter.com/MpQrpBODA6

— Paul Gotham (@PickinSplinters) November 20, 2020
Besides helping to set up the corner, Rotoli collected assists on the other Spencerport goals.
"We didn't play that great the first half, but at halftime we were like it's about who wants it," she said. "It's not about skill. It's about who wants it, and it's about heart. With it being my last game as senior I was like okay I guess I'm just going to do it. I was really glad that we got that corner and that goal."
75' Corynna Rotoli gets to the end line and Alyssa Hackett finishes @Rangers_GSOC 3 @OLMathletics 0 pic.twitter.com/BKVtlBw0SO

— Paul Gotham (@PickinSplinters) November 20, 2020
Mercy had a hand in Spencerport's first-half frustrations. The Monarchs put a defender five yards behind the play throughout the game.
The tactic worked to neutralize the speed of Spencerport's frontline.
"Finding the time and space when to attack is harder when there's a deep sweeper," Schneider explained. "We really had to find the gaps in between and layer it a little bit more to spread the ball out and find the time and space."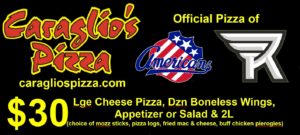 Rotoli, the Class A leading scorer with 16 goals and six assists entering the match, felt the impact of the defense.
"Normally we do play a lot of possession and sometimes look for over the top," said  "But with her sitting so far back that really wasn't an option. I had to change up my runs a little bit."
The game result marked the third time in four years that Mercy's season (8-4-0) has ended in a loss to Spencerport.
"Spencerport's a really good team," Monarchs head coach Donna Trost said. "They've been really good for years.
"They came out in the second half with a lot more momentum than we did. When they started to have a drive on the offense, I think we panicked a little bit. We just couldn't focus on settling the ball and passing it to feet. We really just tried to knock it out and of course they would just send it right back in. It's easy to get stuck in that rut."
The championship was the eighth in program history and sixth under Schneider.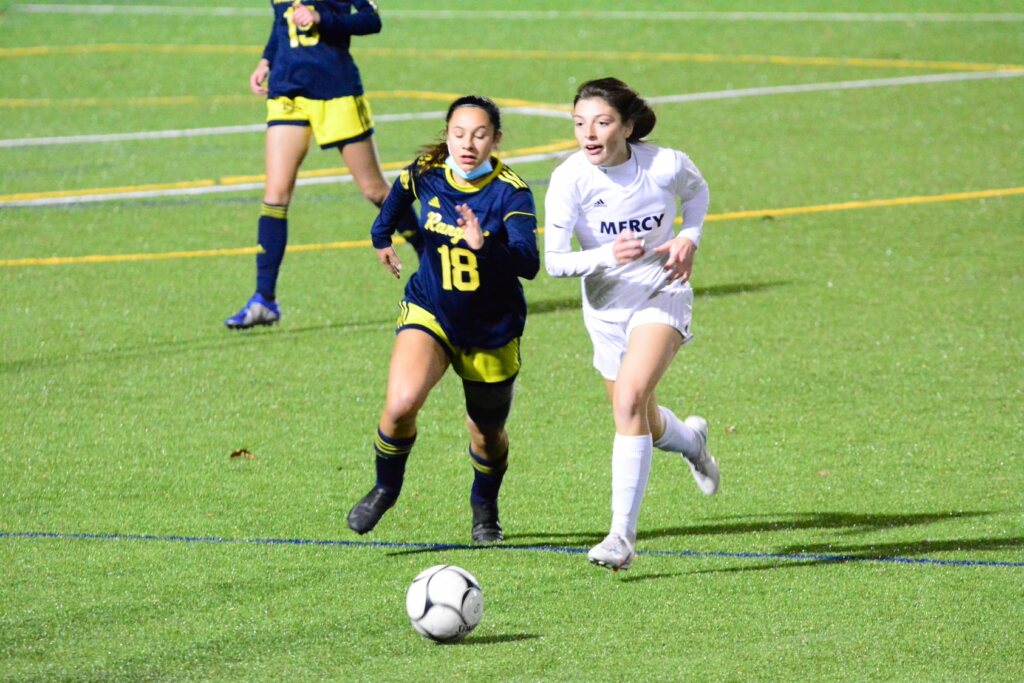 As a result of COVID-19, Spencerport (15-0-0) will not get a chance to continue their season with the state tournament being cancelled. The Rangers have made three runs to the state finals winning the title outright in 2016 and sharing the crown in 2017. Despite that November success, Thursday night's game on November 19th marked the latest into the calendar year that one of Schneider's teams has played.
"Good teams win games, but programs win championships," Schneider said. "Ever since we got those state championships, it was the program that continued to win. Same thing this year, a very complete team that just continued what the program has been doing.
"We call it the 'it factor.' If you can take all your talent, be great teammates and put the 'it factor' with it, you can do it. It's hard to do it, but they did it."
*Article was updated to include the correct name of Mercy player in photo.