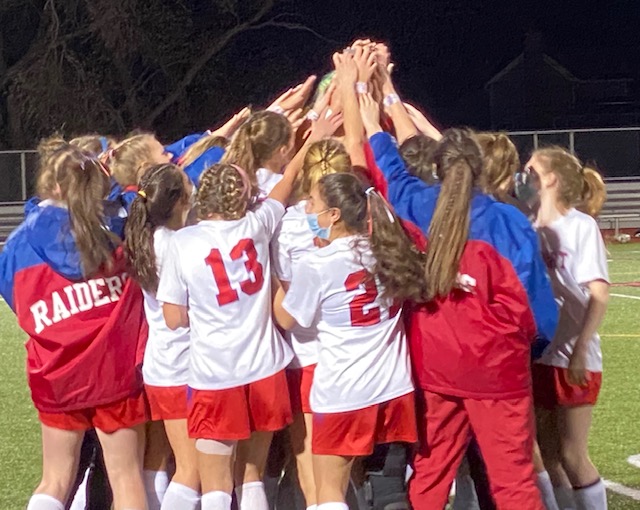 By CHUCKIE MAGGIO
The Fairport Red Raiders had logged 1,119 minutes of game action in the 2020 season, and Olivia Kayser was resigned to the likelihood of ending the year goalless.
"I was doubting myself," the freshman remarked. "I didn't think I was actually going to get a goal this season."
For 12 games entering Thursday evening and 79 minutes and 55 seconds during the Section V Class AA championship final, Kayser primarily set up leading Red Raider goal scorer Isabella Pucci. With three assists to her credit, she was comfortable with that responsibility.
With time about to expire and the teams still scoreless, roles reversed at Hilton's LeBeau Field. On Fairport's final charge of regulation, Lillian Hicks was first to a back pass around midfield and quickly one-timed the ball into the 18-yard box.

The ball, which entered the area too hard for Kayser or her defender to trap, bounced twice before rolling in front of goal. Kayser quickly turned, got ahead of the defense and booted a right-footed one-timer past sliding goalkeeper Victoria Cangialosi with five seconds remaining.
There couldn't have been a more storybook time to score a first varsity goal.
GOAL: Olivia Kayser scores with just five seconds left. The Fairport Red Raiders are Section V champions. @PickinSplinters pic.twitter.com/LOJ05AL36w

— Chuckie Maggio (@chuckiemaggio) November 20, 2020
Hilton's kickoff reached the turf unattended and the Red Raiders mobbed each other near midfield. For the fourth time in school history and the first time since 2017, Fairport was a sectional champion.
"Elation" was the word Fairport coach Tom Natalie used to describe the winning moment. "I mean, we put a lot of pressure on and you could tell we were a little tired," Natalie said. "I was worried about going to overtime, because they're such a strong team. They've got a lot of depth and they can knock the ball around, and if we had to chase the game for another 20 minutes it would've been a really tough battle to do it.


"I was just elated that we put it in because we had been pressuring, pressuring, pressuring, and it finally paid off. We got that opportunity."
One of Natalie's first postgame remarks was how he felt the Red Raiders had won a penalty just moments before the last sequence. The Cadets will likely lament, too, a direct free kick just outside the box that skied over the crossbar and through the football uprights with 8:04 to play.
On another free kick near the end of the first half, Red Raider goalie Brigid Mulholland punched a prime scoring opportunity out of harm's way. Cangialosi's highlight-reel moment kept a 20-yard shot that caught crossbar out of the net with 12:43 left.
Both sidelines were justified in thinking overtime, but all it took for a team to raise the block was for one of those appealing chances to finally convert.
"We've been talking," Natalie said, "because (Kayser)'s a phenomenal player. I've been coaching for 32 years and really, a kid at her age level, a freshman, her soccer IQ is huge. She's got great potential; she sees the game. And we've been talking all year because she's getting frustrated because she hasn't scored, hasn't scored. … But she creates so much for us. She digs balls out; she sees things; she occupies defenders. She just makes a lot go for us. I was so happy that she got that, because she's been pressing so hard to try to help her team out.
"She beats herself up. 'I let my team down.' She does anything but that, every game. I was glad for her to get that opportunity."
Kayser was most happy for senior captains Hicks, Camille Bates, Claudia Giambrone and Kayla Maxwell.
"The captains, it feels really good to get them a win, especially under these circumstances with (coronavirus)," she said. "It feels really good to get them a dub."