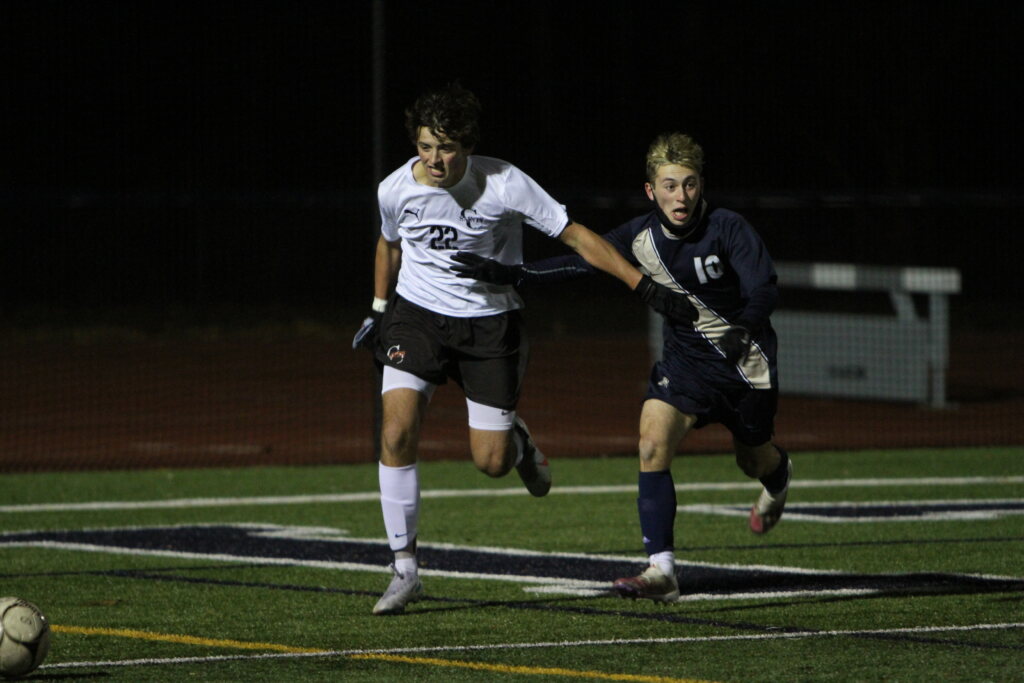 By PAUL GOTHAM
PITTSFORD, N.Y. — When it was over, the Pittsford Sutherland boys' soccer team had finished the season with their starting goalkeeper from a year ago playing in the field while their leading scorer and starting center back watched from the sidelines.
In a calendar year which has, if nothing else, embodied the adage that the only constant is change, Sutherland made uncertainty an ally.
And on Wednesday evening the Knights raised the trophy at home.
Will Field collected assists on goals from Henry Walbaum and Jack Leahy as Sutherland downed Churchville-Chili 2-0 in the 2020 Section V Class A championship game.
"The guys just kept going; they never got down," said head coach Sean Hopkins. "They just stepped up as a whole unit and did it together."
Walbaum one-timed a pass from Field just outside the 18-yard box to give Sutherland the lead with 1:22 remaining in the first half. Leahy nodded in a Field service to double the advantage less than 13 minutes after the break.
"I just knew that Jack would be there," Field said. "I saw the ball pop out. I just played it to an area, and he just followed it, found it and put it in the back of the net."
That Sutherland made it this far might have seemed unlikely a week ago when Dylan Kladstrup (14 goals and 5 assists) suffered a broken foot in the first half of their opening round match against Brockport.  They would need overtime to eliminate a one-win Blue Devil team.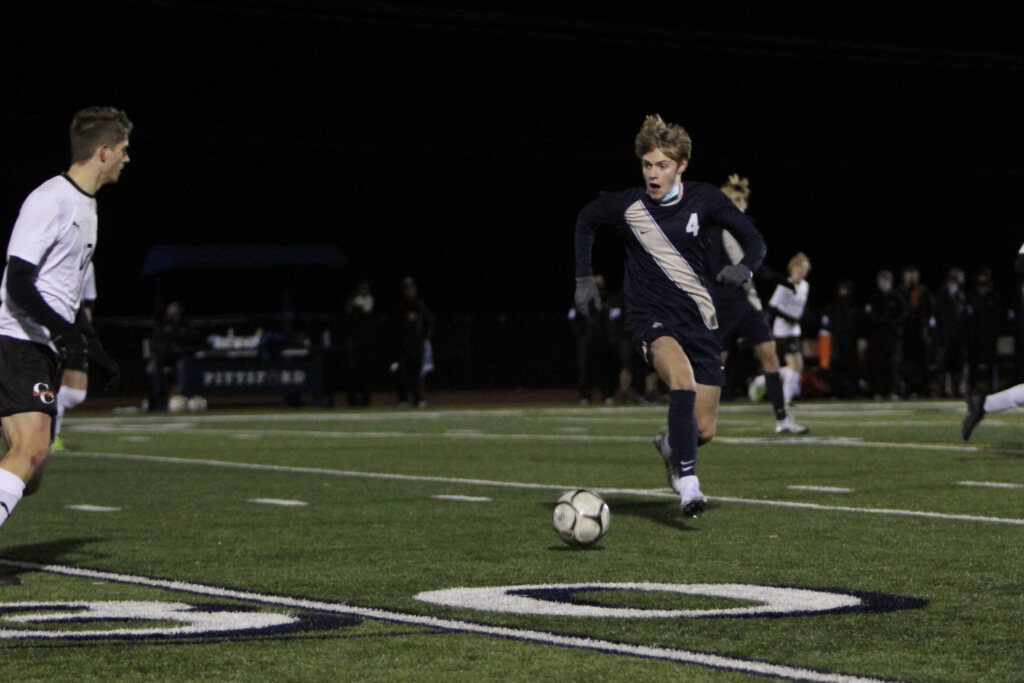 After the game, junior center back David Adeleke-Adedoyin was ruled out for the remainder of the campaign because of a concussion.
"They never looked at it like we can't do this without them," Hopkins said of his team.
Hopkins moved Ian Bowen from an outside spot into the middle of the backline. Bowen joined Matt Nixon in the middle of the defense. Nixon's presence as a field player only came as the result of a mini-COVID outbreak earlier in the season.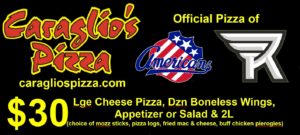 When teammates tested positive for the coronavirus, Hopkins was forced to move the starting keeper on last year's sectional champion.
"The fact that we moved Nixon to the field this year?" Hopkins said with a smile. "I never thought I would do that. We always talked about it for a couple years because he's pretty good in the field obviously, but he's also a great, great goalie.
"When we went through some stuff with the COVID and we had a few guys out, we were like okay let's give it a shot."
Tasked with having to slow Churchville-Chili's Caleb Bailey, Bowen and Nixon shined.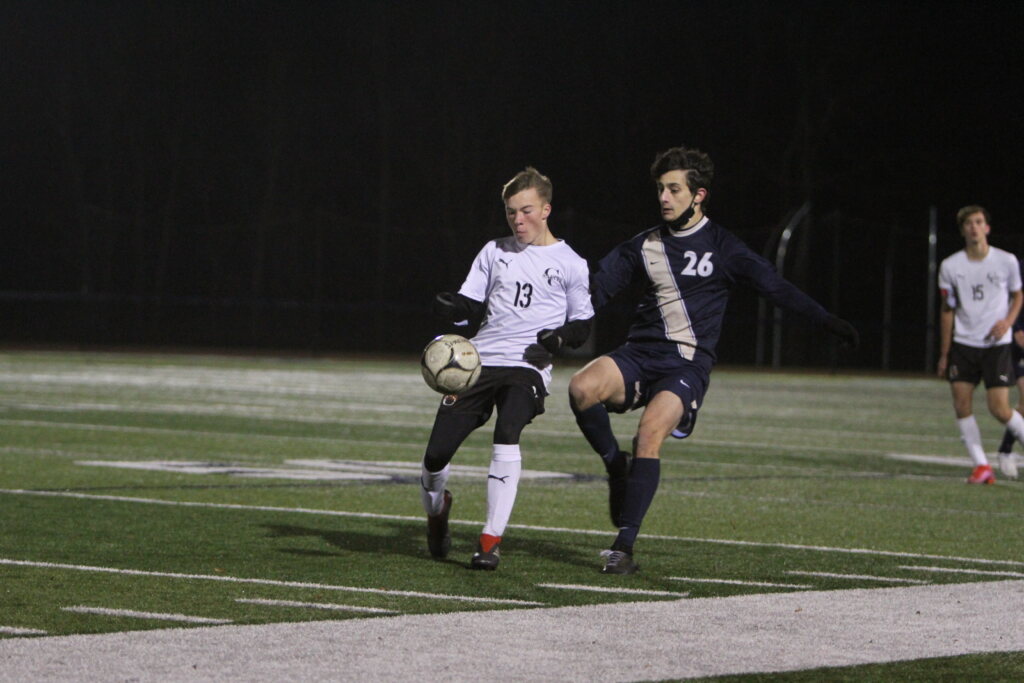 "They were perfect," Hopkins said of the duo. "They've been so good for us during this sectional run. Defense wins championships, and here we are."
Bailey scored twice in Churchville's quarter-final win over reigning state finalist, Greece Athena. The fleet-footed forward gave Churchville an outlet in counter-attack situations and had scored nine of the Saints 20 goals on the season. Wednesday night, he was neutralized.
"Coach told us going into the game that he is a fast kid," Bowen explained. "If he was on my side of the field, I was on his back and Matt was five yards behind me. Vice versa. We just made sure we stayed on top of him and we kept him under control for the entire game."
The number of offsides calls made against Churchville equalled their goal output. Bowen and Nixon didn't concern themselves with getting a whistle on Bailey as much as they did stopping him from being able to run on to long balls out of the C-C backfield.
"I think Athena played sweeper, stopper on him. We didn't want to switch up what we were doing. If we played conservative like that, we thought we could be successful, and we were."
In beating Churchville, Sutherland (13-1-1) scored two goals against a team that had allowed two goals total in their previous five outings. After giving up two tallies in their season opener, the Saints (9-3-2) limited opponents to a combined five goals over their next 12 games.
"Our game plan was to pressure them like crazy," Hopkins noted. "Pressure their defense. Pressure their center middies. I know that they like to send their guy up top.
"We said if we're pressuring them hard enough, they can't send that ball. So we put them under pressure all night long. I think that wore them down a little bit and it opened up a little bit more for the second half from that outside."
Against Athena, Churchville's defense limited the Trojans to one side of the field. With their outside midfielders pinching in, Athena couldn't switch sides with the ball and struggled to find consistent rhythm on offense.
Hopkins pointed to the play of Akhil Damani as a key reason for his team's success on offense in the championship game.
"Akhil Damani played his best game of the season. Just shredding up the outside doing a great job of getting balls in."
Damani found Field for the "hockey" assist on Sutherland's first goal.
"We started this sectional attacking the outsides and getting crosses," Hopkins said. "We relied a lot on playing Dylan up top or playing Dylan in the middle and letting him do his thing. Without him, it was going to be a little harder for us to score. The guys on the outside really stepped up."
The loss snapped a nine-game unbeaten streak for the Saints.
"We were on our heels entirely too much of the game," Churchville head coach John Mahoney said. "We fought. What more could you ask for? I would have liked to have scored a goal. That's kinda what we do this year. We get to the point and don't pull the ball in. Those things that were falling in the last five or six games just didn't fall for us. You got to credit them."
The title is the 10th in program history and third under Hopkins.
"We never thought this season was even going to happen," Hopkins said. "Then you're rolling along and you're like 'please let us get through the season.' And we somehow do. Then you get to sectionals and we don't even know if we're going to play the next sectional game.
"To be able to walk out of 2020 with a sectional title? We're never going to forget that because we're always going to be talking about the pandemic of 2020, and we're going to say it was a great freakin' year because we won a sectional title."
Circumstances surrounding COVID-19 forced organizers to play post-season games at home sites. Sutherland, the higher seed, had the unique opportunity of hosting the Class A championship at Ordiway Field.
"I can't even describe it especially given the circumstances this year with the virus and everything," Bowen said. "We end up on our field winning a block. It's crazy. Can't describe it."