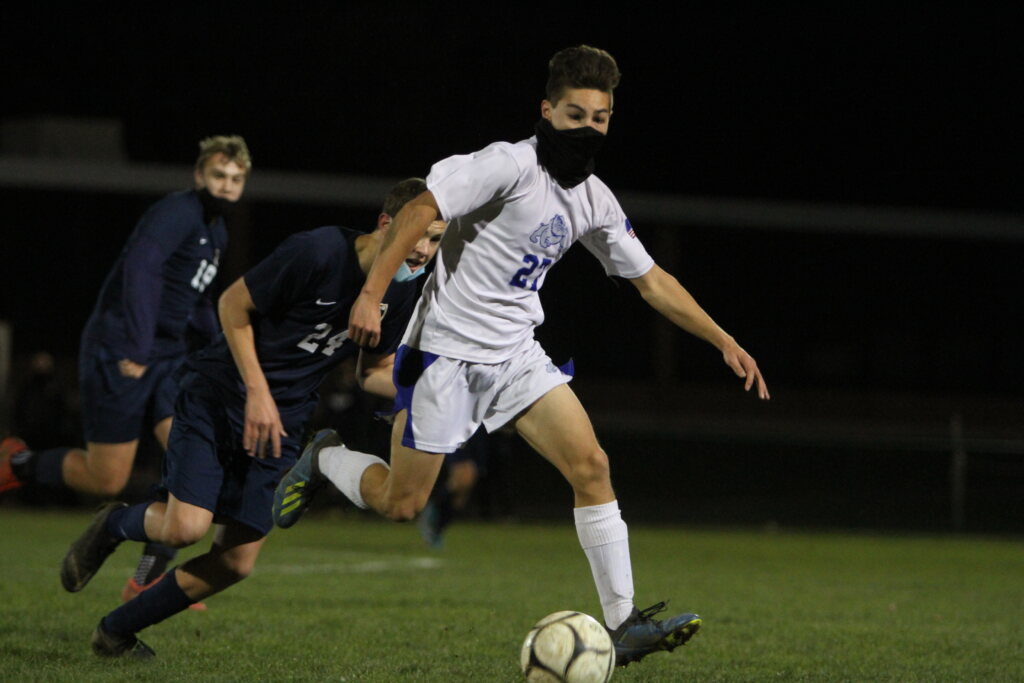 By JOHN LIKANJE
ONTARIO CENTER, N.Y. – The Livonia Varsity Boys' Soccer team knew they would be in for a dog fight, Thursday night. Under the guise of the revised Section V regulations, all sectional games were to be hosted by the higher-seeded team.
This meant that Livonia had to travel 50 minutes up north and play Wayne on its home grass of Pooray Field for the Class B1 sectional title.
"Going there, it was a very daunting task to have to play the top seed and a great team on their home field," Livonia head coach Raymond Maxwell said during a postgame interview via phone call.
Despite Wayne's home field advantage which included its raucous fans, Livonia brought experience and championship pedigree. The Bulldogs stayed the course and staved off relentless pressure from the Eagles for a 3-2 victory. It's the program's seventh sectional title in nine years and first since 2017.
"That made it extra special," Maxwell said. "Going there. It didn't affect our gameplan much. We just knew that we had to go there and play well."
In a game in which the Eagles kept the ball in their territory for the majority of the game, the Bulldogs needed to capitalize on whatever opportunities presented themselves. When that key moment arrived, Bryce Hoang delivered.
After quashing the Eagles' golden chance to take the lead on a corner and two shots right in front of the net, Jackson McEnerney punted the ball away from the box towards midfield. Although the Eagles corralled it back into Bulldogs' territory, the sophomore midfielder raced up the sideline for a quick dribble before the ball was slide-tackled out of bounds.
AJ Miller tossed the ball from midfield towards Shane Melead, who kicked it away from a defender and deflected it off another Eagles' player to Hoang. Hoang, who was surrounded by three navy blue jerseys, immediately went to work.
The junior attacker dribbled the ball ahead towards the left corner to create space for himself and launched a left-footed cross towards the net. Due to the windy conditions, the ball swept left and carried over Eagles' goalkeeper Zach Mazurkiewicz's head into the bottom right post.
"I've watched it a couple of times," Maxwell said about Hoang's goal. "He said it was a shot and I believe him because he's capable of that kind of a play. He hit it well. He's one of several kids on our team that shoots well with both feet. He's naturally right-footed and it was with the left foot."
"The wind probably played some games with it," the head coach explained. "It was against the wind. The goalie was off his line a little bit and was caught by surprise, I think. Bryce is a fantastic player. He's been nominated for All-State. He was a little off tonight, so it was nice to see him come with that magical goal."
Although it was late in the second half, the Bulldogs still had work to do. The backline quelled multiple Eagles' opportunities which included five shots on goal and three corners.
"We knew we had to play good D because they had speed," Maxwell explained. "They kind of beat us at midfield quite a bit and that meant they could launch their forwards and get the ball up top. We knew we'd be under the gun quite a bit defensively, but we won our share of headers."
"Our goalie came up big late in the game when he had to," the head coach said about senior goalkeeper Brendan Meyers. "Just a world-class save where he tipped one over the crossbar that looked like was going in."
As soon as the final horn sounded, it was time to exhale and celebrate. The cheers of joy were not only for the 13th sectional title in program history, but Maxwell's 505th career victory in 36 years as a head coach.
"Crazy is an understatement," Maxwell said about his team winning a sectional title amidst the COVID-19 pandemic. "Just thinking about what a bizarre year it's been and a bizarre season. We kind of held of breath from day to day and didn't know if we'd get the season in. I'm kind of amazed that we did actually."
"As it turns out, we only had one game that we didn't play," the head coach continued. "Hornell was closed for 24 hours the day we were supposed to play them and it was too late to reschedule."
The Bulldogs took a 2-nil first-half advantage on goals by McEnerney and Shawn Minnehan before the Eagles stormed back. Senior attacker Dylan Cook scored a pair of second-half goals on free kicks. The first came eight minutes into the period and the next occurred right before the half water break.
"We got off to that nice start and that might've shook Wayne up a little bit," Maxwell said. "They had only given up four goals all season prior to that and here, we had two. It's kind of ironic because it was a night in which we didn't produce much offense on our end and yet we scored three goals against a team that hadn't allowed many this year."
"We expected Wayne to come out strong in the second half," the head coach continued. "They had to. They were down, 2-nil."
However, Maxwell's squad had fought off the Eagles' onslaught all evening long. All they needed was one shot late in the second half and they capitalized.
"The combination of the wind and Wayne playing long ball really gave us trouble," Maxwell explained. "We struggled with that more than we should have. We needed something special in the second half and we got it from Bryce Hoang's goal."
The No. 2 seed Bulldogs capped off the 2020 season with a 14-2-0 record and a sectional title. The top-seeded Eagles finished with a 13-2-0 mark in their first sectionals run in Class B.