By PAUL CIFONELLI
It took 10 years, but the Penfield boys' soccer team has won another Section V Class AA championship. Fairport didn't go down easy, but the Patriots scored an early goal then went toe-to-toe with the Red Raiders to secure a 1-0 win to close out the season.
Penfield coach John Cotsonas has been with the program for 25 years and has been the head coach since 2013. After being an assistant for multiple sectional and state titles, Cotsonas won his first as the head coach. It also made Penfield the third program in Section V to win 20 sectional titles, alongside Pittsford Mendon and Red Creek.
@PHSVarBSoccer wins the Section V Class AA sectional title with a 1-0 win over @FCSDSports. Hard fought game on both sides. @PickinSplinters pic.twitter.com/TL2dgM5ajM

— Paul Cifonelli (@PCifonelli) November 19, 2020
For Cotsonas, the feeling of being able to carry on Penfield's successful legacy is great, but his emphasis after the game was on his players.
"[Winning the title] feels great," Cotsonas said. "I can't not say that. But this group of kids is a fantastic group. Since seventh or eighth grade these kids have played together. For us to get these guys a sectional championship, it makes me really, really proud."
Penfield's lone goal came in the ninth minute. Cristiano Mounnarat struck a free kick from about 35 yards away that bounced, hit Fairport goalkeeper Ben Douglass and caromed in the goal. The goal was Mounnarat's third of the year, coming at the most important time.
Cristiano Mounnarat gets @PHSVarBSoccer on the board in the ninth minute. The Patriots have dominated play thus far. @PickinSplinters pic.twitter.com/tSmDjfVIKj

— Paul Cifonelli (@PCifonelli) November 18, 2020
For most of the remainder of the first half, Penfield controlled a lot of the possession but couldn't generate many good looks on goal. Cristiano and Tahj Mounnarat were the two main cogs in Penfield's attack, distributing the ball out to other players.
In the 30th minute, @PHSVarBSoccer nearly makes it 2-0. Shane McMillan just misses high. @PickinSplinters pic.twitter.com/OxcCBHaVjZ

— Paul Cifonelli (@PCifonelli) November 19, 2020
Aside from a few opportunities near the net, both Fairport and Penfield only got good looks on goal from free kicks. For Cotsonas, that was concerning considering how Penfield's semifinal match against McQuaid went.

"We talked about this from the McQuaid (semi-final match for the Red Raider) game, they (Fairport) scored three goals on all restarts; on a throw in, a free kick and a corner situation," Costonas said. "So that was in the game plan. We've got to be aware of what's going on and try not to concede that at all. Every time that's stressful."
While Fairport's free kicks provided the Red Raiders with good opportunities, both of their best chances weren't off those plays. With eight minutes to go in the contest, Garrett Kucera nearly scored on a diving header after the ball was sent across the field into the box. The other big shot came with eight minutes left in the first half, when good ball movement resulted in a free shot on goal. However, Penfield goalkeeper Josh Robinson was there to make the save.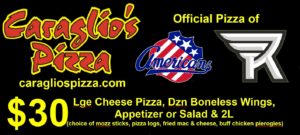 In the second half, play and possession was much more even. Both teams had their chances during the course of play, but the back lines held up. Cotsonas didn't have enough good things to say about his back line's performance after the game.
"Joe Vogt has been on my team for four years and has been a captain for two years. He is so solid," Cotsonas said. "Eric Martin is a three-year starter. Omar Aktas is a two-year starter. It's guys that have been around a lot and they take pride in getting a shutout. I trust those guys with everything back there. They're so smart and so composed and Joe wasn't going to let us be denied tonight."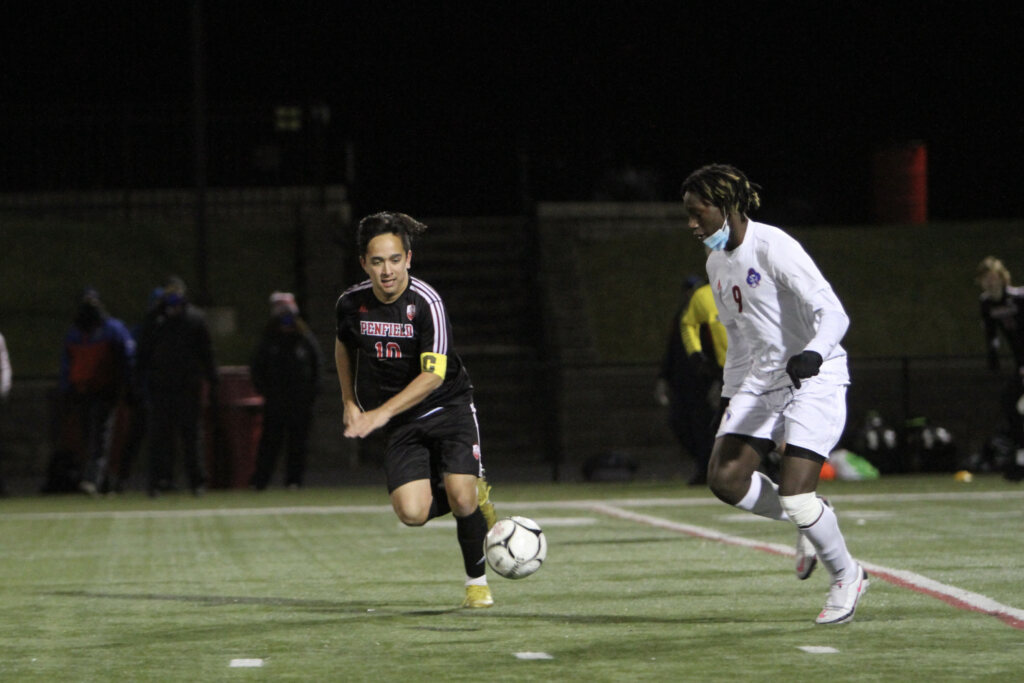 Despite the volatile nature of the season, Penfield was able to finish unbeaten. Cotsonas was just happy that his team was able to play, let alone accomplish what it did.
"We are so happy that we got a chance to play," Cotsonas said. "These guys went through all the mask stuff and went through all the signing this and signing that and making sure we're doing everything the right way. My biggest concern when everything was coming down was if we're going to be able to have this group together. I told them on day one, 'I'm smiling right now under this mask because we're here and we get to play.'"