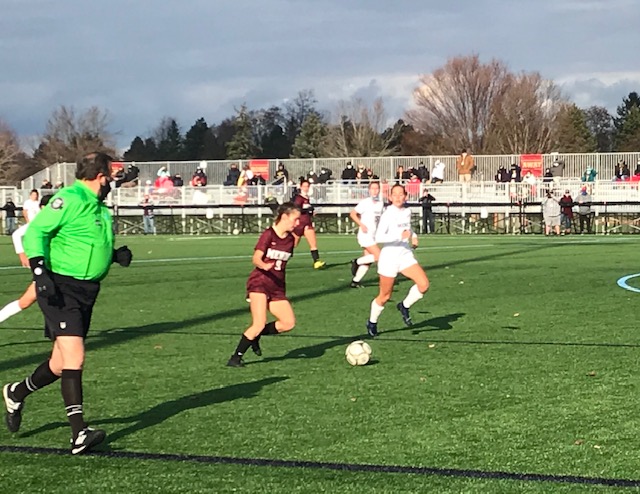 By PAUL GOTHAM
PITTSFORD, N.Y. — Familiarity with coming from behind paid dividends for the Our Lady of Mercy soccer team Saturday afternoon.
Trailing late in the second half, No. 7 seed Mercy scored twice to beat No. 2 Pittsford-Mendon, 3-2.
With the victory, the Monarchs advanced to the Section V Class A semi-finals.
"We kinda thrive off being down and working hard," said senior tri-captain, Shannon Trevor. "We're not a team to put our heads down when we're scored on. I think it's just the tenacity of our team."
Trevor accounted for all three assists in the win including a through ball that led teammate Caroline Murphy in stride for the game winner with 11:23 remaining in the contest.
"Nothing has really been easy for us," Trevor added. "We've won two games in golden goal and another in overtime. It's something we're used to."

Mercy trailed twice in this contest. Mendon's Grace O'Hara scored in the match's second minute, and the senior forward broke a one-all tie less than two minutes into the second half.
"Grace is a phenomenal player," Mercy head coach Donna Trost said. "We knew coming in that she was going to be the problem for us."
Five minutes after O'Hara's second tally, Mercy's Molly Maxwell made one of her seven saves when she denied Leah Shaffer from inside the 18-yard box.
38' Caroline D'Anza gets the equalizer as @OLMathletics pulls even with @mendonsoccer heading into halftime 1-1. Class A Girls pic.twitter.com/VuFMybB4KT

— Paul Gotham (@PickinSplinters) November 14, 2020
The Monarchs began gathering momentum soon after when they earned their first of five second-half corner kicks with 29:10 remaining in regulation. On the last of those set pieces, Trost's squad leveled the match. After the original attempt was turned away, Trevor lofted a second ball into the area from the right corner that Hayley Edwards converted from the opposite far post.
"The last two weeks we've been working from the outside and putting that ball into the box," Trost explained. "Some teams are really good at running down the middle and scoring. We're not that team. We really try to work things from the outside and put it in."
Less than four minutes later, Trevor threaded a ball that traveled 20 yards along the Thornell Park carpet, and Murphy connected on her third goal of the season.
"It's all because of her," Murphy said pointing to her teammate, Trevor. "We just gave each other the look. She saw me and sent the perfect ball across that I could just tap in. That's as perfect as it gets."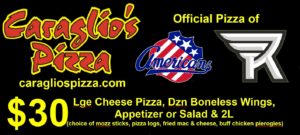 The win was the fifth in the past six games for Mercy (7-3-0) with the Monarchs only loss (3-2) during that stretch coming to St. Mary's of Lancaster (VI). Of their team 10 games, six have been decided by one goal including each of the past four.
The Monarchs handed Mendon (10-1-0) its first loss of the season. The Lady Vikings had allowed just five goals in their 10 previous games.
"Even when we were down two-to-one, I could tell our team was not going to give up," Trost said. "They continued to fight. They knew that they could control the ball. We just really needed to finish, and that's what they were able to do in the second half.
"A lot of that has to do with the seniors on the team. They're great leaders."
Mercy will face No. 6 Churchville-Chili in the semi-finals on Tuesday. The Saints handed No. 3 Honeoye Falls-Lima its first loss of the season, 2-0.