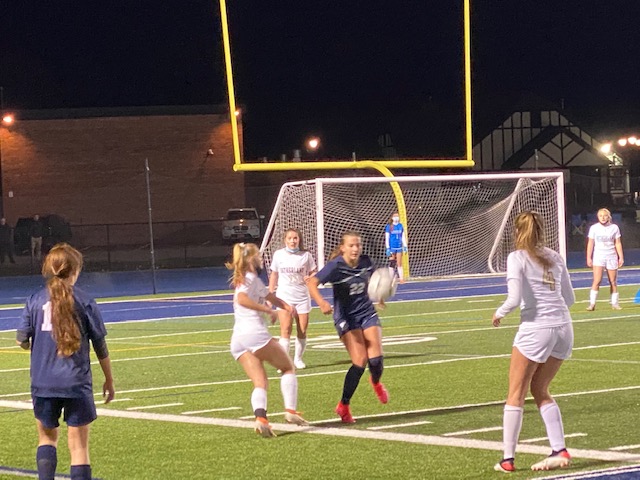 By CHUCKIE MAGGIO
The origins of the set piece that saved the Brighton girls soccer team's season trace back to summer vacation, on days much warmer than Saturday.
"We come to the turf all summer and practice those," Amelia Adiutori remarked, "so it just felt really good to get a head on it, just wait and go in late and put it in."
Pittsford Sutherland's 1-0 lead lasted 56 minutes and eight seconds of game time, until sophomore Maggie Cregan, the third-year varsity player who accompanied Adiutori on those informal training sessions, strode to the right corner and raised an arm to signal she was ready to kick.
Cregan's cross looped over a leaping Sutherland defender's head. Adiutori, true to her explanation, delayed her run long enough to keep her mark at bay and direct the ball past a diving Emma Kaczorowski into the left corner of the net.

Adiutori followed the late equalizer with an even later game-winner, scoring the winning goal with 25.9 seconds remaining in overtime to send fourth-seeded Brighton into the Class A semifinal against top seed Spencerport on Tuesday.
Kaczorowski, for 76 minutes, had fit the bill for a clean sheet. Her save in a crowded 18-yard box 28 minutes into the contest preceded Laura Bennett's ice-breaking score with 20:23 until halftime. In the other net, Alice Yawman saved two of the three shots she faced in the 100-minute match.
Adiutori's sixth goal of the season, and the new life it provided the home squad, was the product of coach Rita Kladstrup encouraging her team to stay composed and pay less attention to the scoreboard. This was Brighton's fourth one-goal victory in the 12 games it's played, so the situation was familiar.
"This season we've been in this situation before," Kladstrup said. "We've been down goals and we've been able to come back, so I think that helped that we've experienced it before. And I think we just always keep talking about keeping possession of the ball. The more possession we have the more opportunities we have, so I'm proud that they stayed calm and they were collected. Even in our back line, they did a great job of that."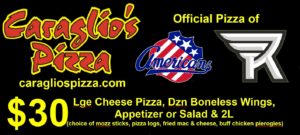 With less than a minute until the end of overtime, Adiutori admitted her thoughts wandered to the dreaded penalty shootout. "I definitely saw that coming because two overtimes, it's a lot of running," she explained. "We're all gassed, both teams, and there's a lot of fighting on the field so it just felt like we were gonna go that direction.
"We would have been prepared for that. We've been practicing penalties the last couple weeks."
Instead, Cregan sent another crisp pass Adiutori's way. This time, it was a through ball that Sutherland was more prepared for. Kaczorowski and a defender closed in to challenge a hard-charging Adiutori, and Kaczorowski saved the initial offering but left a rebound opportunity. Adiutori was first to the rebound and kicked it left-footed into the back of the net.
"Mia's just a solid player," Kladstrup said. "In the air, controls the middle. We moved her up top to get those opportunities. I could use her everywhere on the field, but moving her to the top, I think, really gives us a different look and gives her a different look. She's such a playmaker, too."
After suffering seven losses to Sutherland in the last three seasons, including when the Knights eliminated Brighton 1-0 in Pittsford last October, Brighton closed the last few seconds without incident and had a long-awaited victory over its rival.
"It just feels so good when it's against a team like Sutherland, who we've lost to the last five or six years. We haven't beaten them," Adiutori said with a smile. "So it felt really good to put two in against them, not just one."