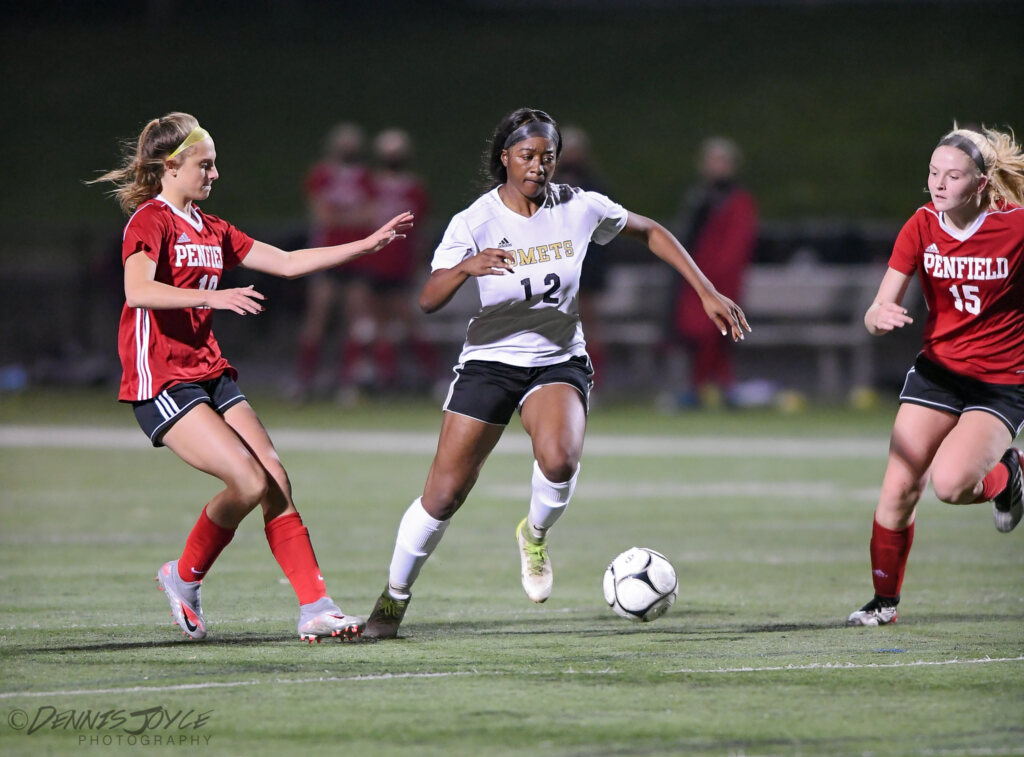 By PAUL GOTHAM
WEBSTER, N.Y. — Michael Seidel didn't want to talk about tactics.
Moments after his Rush-Henrietta girls' soccer team knocked off higher-seeded Webster Schroeder, Seidel pointed to what's inside of his squad.
"So much heart out here tonight," he said after a 2-1 win. "The girls just played fantastic ball. They really did. Webster played a really good game. They've been very competitive all season. We just made it happen."
Oumou Donzo connected on a pair of first-half goals, and the Lady Comets made those stand for their first sectional win since 2017.
"It comes down to heart and heart," Seidel reinforced. "She absolutely wanted everything about that and if that wasn't obvious you weren't watching. She truly went for it. It was great to see."
The goals were the ninth and 10th of the season for Donzo, the Monroe County Division I scoring leader. Despite Schroeder's efforts to the contrary, the senior forward was able to get loose along the backline and start the scoring with 29:35 remaining in the first half.
"It was a foot race," the senior said. "It was all about wanting the ball and I just toed it in. I just wanted it more."
11' Oumou Donzo takes advantage of a misplay along the backline to give @RHgirlsSoc and early 1-0 lead. pic.twitter.com/1x8FTX9VWs

— Paul Gotham (@PickinSplinters) November 12, 2020
Jaclyn Crane was credited with an assist on the play.
Less than 15 minutes later, teammate Avery Roberts led Donzo on a through ball, and the Lady Comets (5-6-0) had all the offense they needed.
"After that first goal, I knew we needed more," Donzo said. "Obviously when you get the second goal, it plays mind games with the other team. I just wanted that second goal to secure the lead."

The win was R-H's third this season over their divisional rival. Schroeder came into the game unbeaten in its previous three contests.
"We certainly studied the film that was available to be able to make some adjustments," Seidel noted. "Not any one thing made the difference just a combination of a couple different things that we tried."
Schroeder had won or shared the past two sectional titles and looked ready for another run. The Lady Warriors came into the game having not allowed a goal in their three previous contests.
Eva DiDomenico made nine saves for the win.
"I'm so proud of my team," Donzo said. "We left everything on the field. We were great. We just came out here and played our heart out."
Erika Lawson converted on a second-half corner kick for the lone Schroeder (4-6-2) goal.
60' Erika Lawson converts on the corner kick to get @Schroedersoccer on the board. @RHgirlsSoc leads 2-1 pic.twitter.com/7J8NRKSr3j

— Paul Gotham (@PickinSplinters) November 13, 2020
Seidel pointed to the efforts of the school's administration paying dividends Thursday.
"We're a grass team," Seidel said referring R-H's home playing surface. "So when we play a turf team on turf, that most often gives them a little bit of an advantage. Our athletic department has allowed us to practice on turf for the last three weeks. I think it's helped."
Rush-Henrietta moves on to play top-seeded Hilton in the semis next Wednesday.