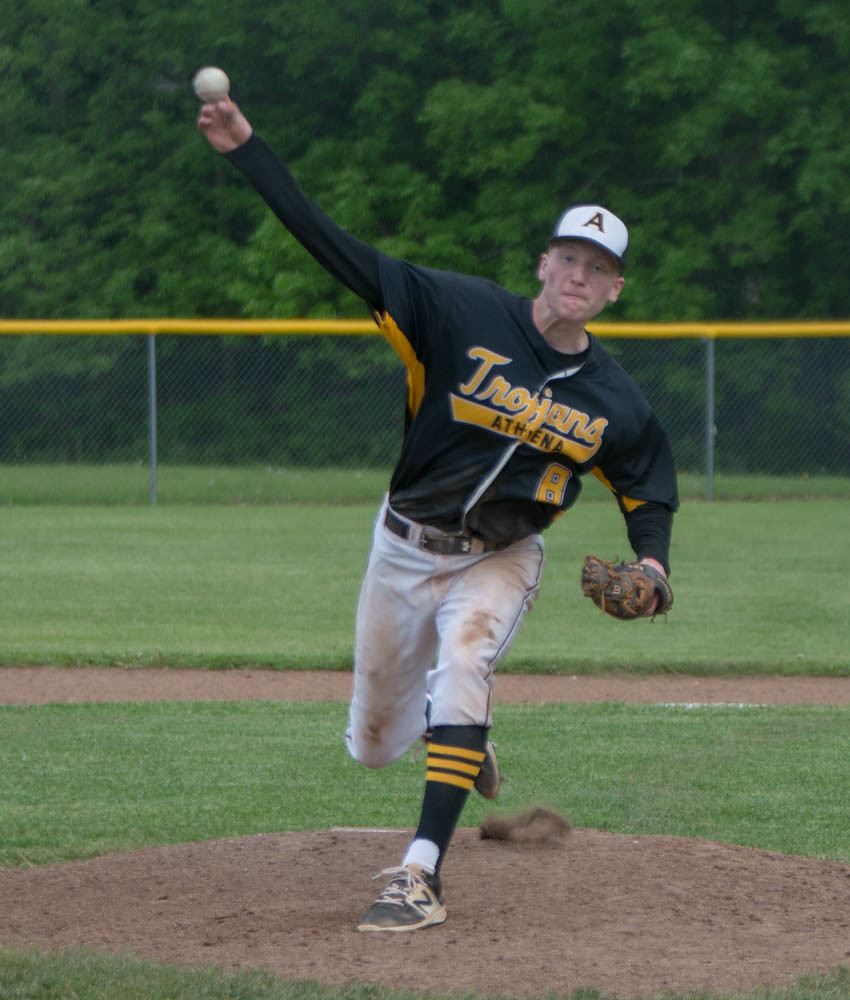 By PAUL GOTHAM
ROCHESTER, N.Y. — With tongue in cheek, Greece Athena athletic director Josh Lacy quipped "This is the biggest day in Pittsford-Mendon baseball history."
The same might go for the remainder of Section V Class A baseball.
During a ceremony with a small gathering of family and school administrators, Athena's Casey Saucke II signed his National Letter of Intent to attend the University of Virginia. With that the senior infielder/pitcher signaled the countdown to his time spent on local high school fields.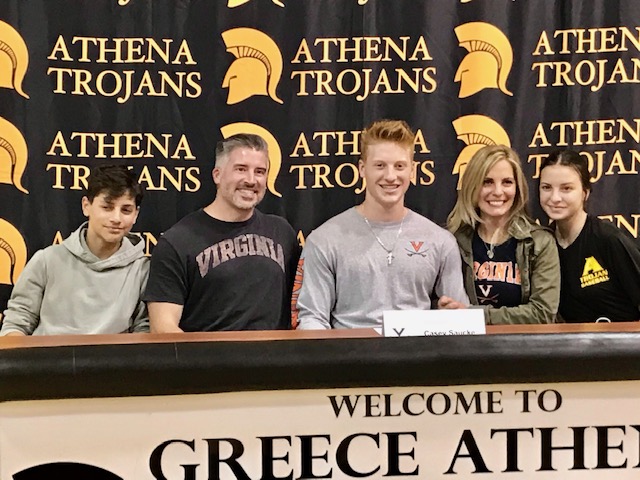 "It feels unreal now," Saucke said. "It's a pretty special moment just knowing that everything is coming together, and I finally get to live out the dream of attending UVA and keep working and keep chasing the dream."
Two years in the making, Saucke verbally committed to the Atlantic Coast Conference school in the fall of 2018 prior to his sophomore season.
Later that school year, he connected on a pair of walk-off home runs against Mendon. First, he hit a three-run shot during the regular season and then ended the Vikings campaign in the Class A1 semi-finals.
Saucke's junior year, as with all high school sports was cancelled due to COVID-19. This past summer, though, he earned a spot in the prestigious Area-Code Games held in Long Beach, California.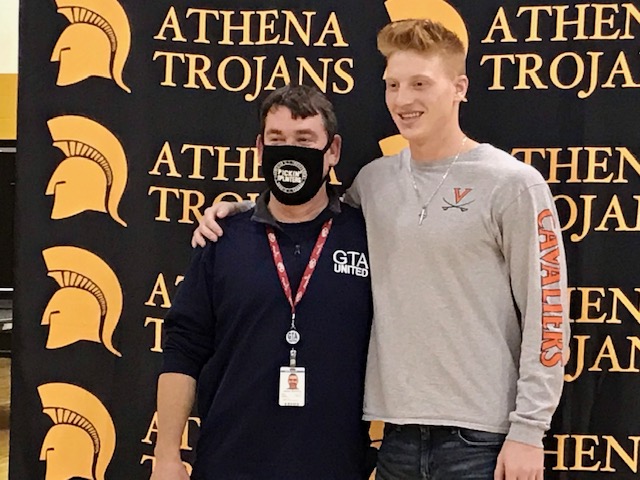 "It's always something that I've loved to do and want to continue doing it for as long as I can because it's a passion," he said when asked about his motivation to continue proving himself. "Working on it doesn't necessarily feel like work. As long as I can keep that, is as long as I'll love it."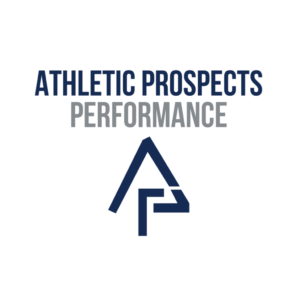 Saucke was part of a 2019 Athena squad which finished with a 20-3 mark and advanced to the sectional finals before falling to four-time champion, Canandaigua.
With 14 extra-base hits on the season including 10 doubles and three home runs, the then-sophomore finished with team-highs for slugging (.828) and OPS (1.425) as well as team-high on-base percentage of .596.
"I can boil it down to two things: one is he is extremely talented, and two he outworks everybody," Athena head coach Jason Bunting said. "When you're as talented as he is and you outwork everybody, it's not a surprise that he is where he is."
On the mound, the right-hander struck out 18 and walked just three batters in 17.2 innings of work. He logged an ERA 2.38 and held opposing hitters to a .275 batting average. At a Perfect Game Baseball showcase earlier this year, Saucke touched 94 MPH on the radar gun and sat (term referring to the ability to throw consistently) at 91-92 MPH.
Former Brighton Baron star and current Cleveland Indians' farmhand Ernie Clement helped Virginia to the 2015 national title. The significance of that isn't lost on Saucke.
"That's special to follow in those footsteps," he said. "My goal is to win sectionals in the spring this year for my high school team, and as soon as I step foot on campus at Virginia my goal is to be the best that I can be and help my team as I can and win a national title with them. Helping the team is the number one priority."
Saucke joins fellow recent Athena Trojans Brian Dupra, Mike Montante and John Ricotta who have gone on to play Division I baseball. Dupra played at the University of Notre Dame before being selected in the seventh round of the 2011 MLB draft. He went on to spend five years in the Washington Nationals' system. Montante attended St. Bonaventure University after playing his freshman and sophomore years at Finger Lakes Community College. Ricotta earned All-American honors at Monroe Community College before finishing his college career at Ball State University.
In a separate ceremony, Angelina Soeffing signed her NLI to attend Central Michigan University and play lacrosse.
"It pretty exciting but honestly, it's pretty nerve-wracking to fully commit myself to somewhere and some place," Soeffing said. "I'm so excited. I can't wait to go visit once everything is over with COVID, and all my teammates who committed we can visit and see each other."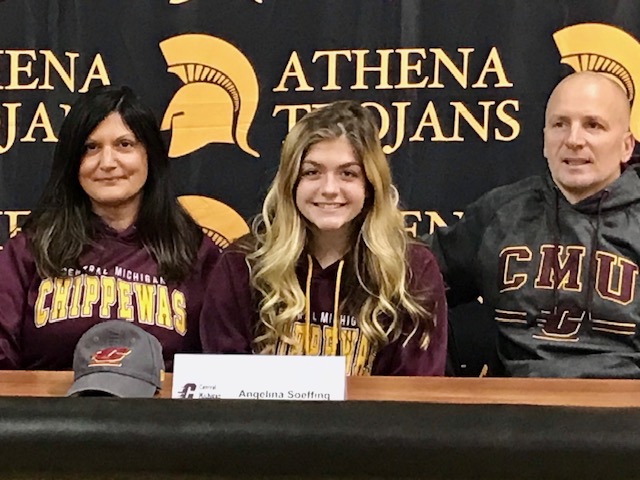 A three-year performer with the Greece Storm, Soeffing verbally committed a year ago to attend Mid-American Conference school. She will be joining Storm teammate Alexa Martel (Greece Olympia) as they attend Central Michigan together.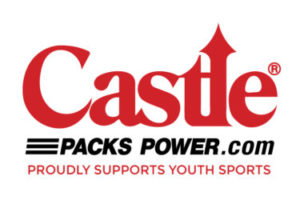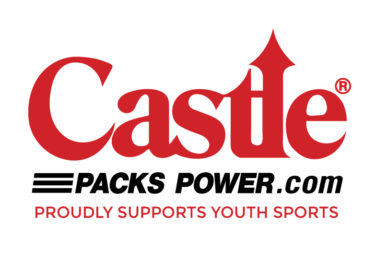 "We're going to be able to push one another and make everyone better," she said of her upcoming high school season. "It's awesome to have this experience, to be able to go somewhere and play lacrosse."