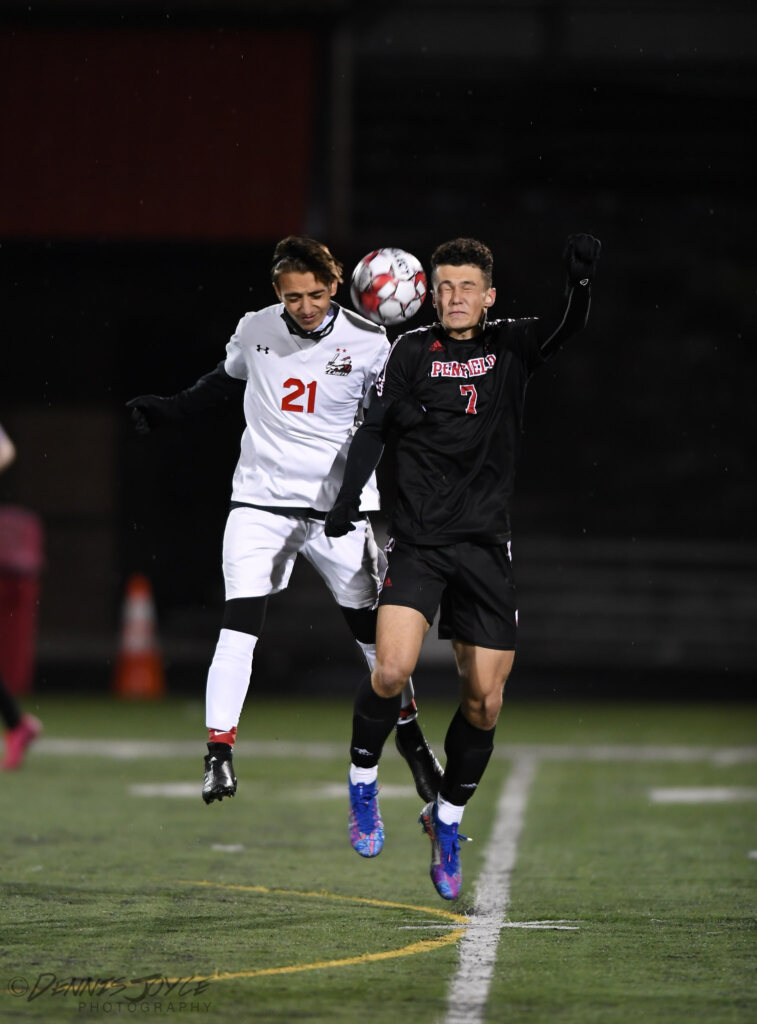 BOYS
HILTON (5-3-0) 1
VICTOR (4-4-0) 0
Hilton held on to a 1-0 lead from the first half to down Victor in its second and final meeting of the season. Brandon Andracki registered his third goal of the year on a feed from Cody Cavuoto. Nate Battaglia earned his third shutout of the year as well.
PITTSFORD MENDON (5-1-2) 2
GREECE ATHENA (6-1-1) 0
Jermiah Anandarajah broke the scoreless tie late in the first half and Hajun Lee put the game to bed in the dying minutes of regulation. Both teams account for the other's only loss of the season, as Athena won the first matchup 2-1 in overtime. Nick Leduc-Etile picked up an assist on Pittsford's first tally. Milan Blaakman recorded his fifth shutout of the season.
WEBSTER THOMAS (6-2-1) 0
SPENCERPORT (5-2-1) 7
Four games after losing to the Titans 3-1, 10 different Rangers collected points to pound Webster Thomas in a redemption victory. Kyle Milburn led the charge with two goals and an assist, all coming within the final 15 minutes of regulation. Following the first 25 minutes of 0-0 action, Patrick Uebelacker and Justin Barnard gave Spencerport a 2-nil lead before halftime. Cal Russo, Vincent Ranieri and Gianni Pellett accounted for the three additional second half tallies. Sujan Rajamohan assisted twice while Joey Weaver, Jacob Schlierf, Giovanni Sanfillippo and Pellett each finished with one.
CHURCHVILLE-CHILI (5-2-1) 1
BRIGHTON (3-3-2) 0
Alex Blondale capitalized in the second half to push Churchville past Brighton by the same score their first matchup concluded with. Gaven Egan earned the assist on the play. Churchville has not lost since dropping its first two games of the season. READ MORE.
RUSH-HENRIETTA (3-5-0) 3
WEBSTER SCHROEDER (0-9-0) 0
Jaaron L'Esperance found the back of the net twice to lead Rush-Henrietta to its second consecutive victory. Cole Santiago registered his first tally of the season to give Henrietta a 2-0 lead heading into halftime. Josh Catanese and Alex Herrera gathered an assist apiece on L'Esperance's goals.
HONEOYE FALLS-LIMA (8-0-0) 8
GREECE ODYSSEY (1-7-0) 0
Gunnar Wetzel completed a hat trick and David Brassie contributed a goal and two assists to keep Honeoye Falls-Lima perfect through eight games. The Cougars split the tallies evenly between halves and held Odyssey scoreless for their second straight shutout. Madut Mathuc, Xavier Carbonel, Reece Joint and Sam Emerson all scored once. Valentino Maiola, Jason Hofmann, Levi Cross, Zac Meacham and Joint collected an assist apiece too.
GATES-CHILI (2-8-0) 0
IRONDEQUOIT (3-5-2) 4
Nevlyn Harper paced Irondequoit with two goals to snap the squad's winless streak at seven games. Justin Connor capitalized on a Carraig Jones feed to open scoring in the 21st minute. Daniel Kennedy made it 3-0 on a penalty kick with less than 10 minutes left in regulation. Glodi Mata and Connor both finished with an assist. Joshua Ludolph made eight saves for his fourth shutout of the year.
VIEW MORE DENNIS JOYCE PHOTOS HERE. 
GREECE ARCADIA (4-5-0) 1
PITTSFORD SUTHERLAND (6-1-1) 2
In the dying minutes of regulation, Will Field managed to tie the game for Sutherland and go on to bury the game-winner in overtime. Dylan Kladstrup connected with Field to even the score in the 77th minute. Field's second tally came unassisted with three minutes remaining in the first overtime. Arcadia grabbed the first lead of the game early in the second half when Adam Hurlbutt headed in a corner kick from Aidan Lewandowski.
BROCKPORT (0-8-1) 0
CANANDAIGUA (2-6-2) 2
Team scoring leader Dominick Spychalski registered his seventh and eighth goals of the year to help Canandaigua push by Brockport in the second half. The junior broke the scoreless tie in the 51st minute with the help of Sean Borkholder. With two minutes remaining in the game, Spychalski recorded his second of the night to prevent any chance of a comeback. 
FAIRPORT (4-4-0) 0
PENFIELD (8-0-0) 1
Mark Zilist volleyed in the difference maker at the 10 minute-mark of the first half, keeping Penfield unbeaten. Emre Aktas picked up the assist on the pass.
GREECE OLYMPIA (3-6-0) 2
BATAVIA (5-3-0) 3
Dawood Shuaibi collected his first goal of the season seven minutes before halftime to get Olympia on the board. The Spartans' final tally came in the final minute of regulation from Eric Hill. Abdurahim Hussein and William Buttino finished with an assist apiece for Olympia as well.
WAYNE (10-1-0) 3
NEWARK (2-6-2) 0
Using three goals and sublime defense to keep Newark shot-less, Wayne picked up its fifth straight shutout victory. Dylan Cook played a part in all three scores with a tally and two assists. Ryan Wilson snagged the lead for the Eagles in the 11th minute where it would remain 1-0 for the entirety of the half. Three minutes after halftime, Tyler Reynolds found Dylan Cook to double the lead. Kaleb Glessing scored with five minutes left in regulation to close out the match. Zach Mazurkiewicz was tasked with 0 shots in the shutout victory.
HONEOYE (5-3-0) 2
MARCUS WHITMAN (5-4-0) 0
Following a scoreless first half, Honeoye returned to the field with two quick strikes to down Marcus Whitman for its second win in three games. Cameron Allison accounted for the first goal, five minutes into the second half. He currently leads the squad with eight goals. Charles Farrell added the insurance tally nine minutes later. Evan Cuba picked up his team-leading sixth and seventh assists of the season.
MIDLAKES / RED JACKET (0-8-0) 0
PALMYRA-MACEDON (4-4-1) 5
Logan Babcock registered a hat trick and an assist to help Pal-Mac rebound from a shutout loss in its previous outing. The junior handed the Red Raiders the lead in the fifth minute, unassisted. Jace Schafer scored twice, including a tally in the final minute of regulation. Brendon Moquin and Jake McIntyre had assists in the game as well.
BLOOMFIELD (6-3-0) 3
BRADFORD/DUNDEE (0-6-0) 1
Ryan Wollschleger scored his team-leading 12th and 13th of the season to lead Bloomfield to its sixth win in seven games. Wollschleger's tallies both came in the eighth minute of each half. His first came unassisted to open scoring and his second, which was distributed by Sergio Dunn, closed scoring. Cameron Smith regained the lead for Bloomfield thirty seconds after half. William Nelson picked up an assist on the play. Peyton Boudinot scored Bradford/Dundee's lone goal in the final minute before halftime. Jake Nelson made nine saves for Bloomfield as well.
WATERLOO (0-10-0) 0
NAPLES (7-0-0) 4
Donivan Todd and Austin Chapman connected, capitalized and flopped roles as Naples remains undefeated. The pair assisted on one another's tallies three minutes apart to increase the lead to three. Wyatt Woodard opened scoring on touches from Ryan Lester in the first half. Evan Waldies garnered Naples' final tally using a feed from Owen Hulburt. Max Ryan made three saves for his third shutout of the year.
HORNELL (4-4-1) 3
DANSVILLE (0-9-0) 1
Kade Slayton scored twice to lead Hornell to its second win in three games. The senior opened scoring with his first goal of the year coming off a pass from Jonas Sciotti. Slayton's second of the season cushioned the 2-1 lead in the final half. Ian Ashworth gave Hornell a 2-0 lead using touches from Shawn Rose. Dansville's Tyler Harris trimmed the deficit to 3-1 with under 10 minutes remaining in regulation. Sawyer Barron picked up an assist on the goal.
KESHEQUA (11-1-0) 4
GENESEO (3-8-0) 0
Keshequa used four different goal scorers to take its second game from Geneseo this season. The Indians jumped out to a 1-0 lead in the third minute on Riley Rease's 22nd of the year. Nathan Thayer and Aidan Wood each added one of their own on feeds from Reese Powers. Jordon Luther registered the only tally in the second half to cap off scoring. Jacob Schiano gathered two assists in the game as well.
MOUNT MORRIS (1-9-0) 0
CALEDONIA-MUMFORD (7-2-1) 11
Evan Raniwicz scored five consecutive goals between halves to propel Cal-Mum past Mount Morris. Alex Carnes followed with two goals and an assist. Sebastian Kresge and Kylor Vanelli gathered three assists each. Garrett Thompson collected a goal and an assist while Mason Nusbickel assisted twice. Emerson Martelle, Aiden Hatch and Skidmore Matthew all finished with a goal as well. By halftime, the Raiders possessed a 7-0 lead.
WAYLAND-COHOCTON (3-7-0) 1
BATH-HAVERLING (8-1-0) 6
Maintaining a 1-0 lead at half, Haverling returned to the field and scored five goals in a matter of 16 minutes to put the game away. Zach Musso opened the flood gates two minutes after halftime with the help of Brady Dickson. Keefer Calkins scored twice while Braden Yartym garnered a goal and helper. DJ Smith made it 5-1 and Calkins later capped of scoring by the 58th minute. Tony Orfanidis scored the lone tally in the first half. Nate Musso and Gavin Buckley each finished with an assist for Haverling.
AVON (8-2-0) 7
PERRY (0-10-0) 0
Cam Salvati garnered a hat trick and an assist to lead Avon to its third consecutive victory. Carson Williams had another standout performance with a goal and four assists by the 22nd minute of the first half. Lee Hartke opened scoring in the second minute and Jacob Weslowski doubled the lead three minutes later. Lucas Findlay scored his first of the season to cap-off scoring with 10 minutes left in regulation. Irving Jimenez and Adam Mariani each had an assist in the game as well.
LEROY (4-5-1) 0
LETCHWORTH/WARSAW (6-5-0) 4
After dropping the first meeting of the year 2-1, Letchworth/Warsaw used four different goal scorers to come out victorious in the final matchup between the two. Ryleigh Duryee and Hunter Elliott accounted for the 2-0 lead Warsaw had by halftime. Mike Schafer assisted on both tallies. Nik Eustace and Adam Grover each added a goal of their own in the second half to double the lead.
PEMBROKE (4-7-0) 1
ATTICA (8-2-1) 0
Pembroke's Austin Wood found the back of the net for the first time this season to end Attica's unbeaten streak at eight games. Cody Heater made four saves for his second shutout victory.
AQUINAS (2-7-1) 2
EASTRIDGE (4-5-0) 0
After downing Eastridge on an Iesa Mohammed tally earlier in the year, the sophomore struck again to lead Aquinas to its second victory. Defenseman Tyler Wegman cushioned the lead in the second half with his first of the season. Kevin House recorded his second shutout of the year as well.
ALFRED-ALMOND (7-0-0) 1
CANISTEO-GREENWOOD (0-5-2) 0
Carsen Hann buried the only goal of the game with three minutes remaining in regulation to keep Alfred-Almond undefeated. Team scoring-leader Jack Emo dished out the assist on the play. Ty Kenney made two saves for his fourth shutout of the year.
SODUS (5-5-0) 3
MARION (2-4-0) 2
GIRLS
HAMMONDSPORT (2-5-0) 3
AVOCA/PRATTSBURGH (1-7-0) 1
Sam Pratt led Hammondsport to a regular season finale victory with a hat trick. The freshman midfielder netted a shot in the 10th minute before scoring back-to-back goals in a 10-minute span in the second half. Junior forward Hannah Hoerter assisted two of Pratt's three goals. Rorie Whitcomb posted eight saves.
RED JACKET (1-8-0) 0
NAPLES (6-2-0) 3
Carolelyn LaPrairie scored two goals as Naples ended a two-game skid. The senior midfielder scored in each half: in the 31st minute and again in the 61st minute. Junior midfielder Anna Quarterman applied a dagger of her own seven minutes later. Kasey Hall assisted LaPrairie's first goal. Junior goalkeeper Jesse Gordon recorded eight saves for the clean sheet. For Red Jacket, Mary English compiled 14 saves.
CANISTEO-GREENWOOD (5-2-0) 3
ANDOVER/WHITESVILLE (6-2-0) 2
Lily Rexford netted a pair of goals as Canisteo-Greenwood ended the regular season with three straight wins. The junior forward scored the first point of the match and gave the Lady Redskins much-needed insurance with a 51st-minute goal. Sophomore midfielder Kylie Williamson rounded out the scoring with a shot right before halftime. Senior goalkeeper Destiny Reese preserved the win with five saves. For Andover/Whitesville, Kennedy Bledsoe and Zoey Lee netted a goal apiece. Senior goalkeeper Livia Simon had seven saves.
BLOOMFIELD (6-2-2) 5
BRADFORD/DUNDEE (0-8-0) 1
Lauren Bell paced a balanced Bloomfield attack with two goals. The senior forward scored in each half: the first point of the match in the seventh minute and a 60th-minute shot to extend the lead to 4-1. Jessica Cody, Cam Lewis and Kailee Lewis rounded out the scoring. Cam Lewis assisted Bell's second goal as well. Ali Baughman and Sofie Kachmaryk both added a helper. Senior goalkeeper Liv Caspersson had three saves. For Bradford/Dundee, freshman midfielder Madison Hughes scored the team's lone goal in the 59th minute. Senior goalkeeper Kirsta Sleve accumulated 12 saves.
WAYNE (3-6-1) 2
MIDLAKES (2-7-1) 1
For Midlakes, freshman forward Stella Delpapa scored the team's lone goal in the 70th minute. Junior midfielder Teanna Monahan was credited the assist. Sophomore goalkeeper Hanna Godkin compiled 10 saves.
PALMYRA-MACEDON (9-0-0) 7
MYNDERSE (2-8-0) 1
Maya Ikewood paced Pal-Mac with a goal and four assists as the team remains unbeaten through nine. Molly Siether followed with a goal and two assists while Haleigh LaRocca contributed two scores of her own. Grace Seither finished with a goal and assist while Reagan Diehl and Kylie Waeghe each finished with a tally. Clare Boesel made five saves for Pal-Mac as well.
JASPER-TROUPSBURG (3-3-0) 1
CAMPBELL-SAVONA (0-4-0) 0
PITTSFORD SUTHERLAND (5-2-1) 5
GREECE ARCADIA (2-8-0) 1
Laura Bennett spun a hat trick as Pittsford Sutherland won its second straight. The junior midfielder scored all three goals in the first half: in the third, 31st and 38th minutes. Allie Finkbeiner and Ella Wilmot rounded out the scoring with a goal and an assist apiece. Finkbeiner assisted Wilmot's shot while Wilmot applied the helper for Bennett's first goal. Abby Dunnigan and Kate Lanthier both added an assist. Senior goalkeeper Samantha Michaud had two saves.
PENN YAN (7-2-0) 2
WATERLOO (4-6-0) 1 (OT)
Junior midfielder Marrianna Dalglish scored the go-ahead goal in the 89th minute to lead Penn Yan to its second straight win. Senior forward Hayley Andersen scored in the 16th minute and assisted Dalglish's goal. Junior midfielder Kaley Griffin was credited the helper for Andersen's point. Elle Harrison provided 10 saves.
MARCUS WHITMAN (4-4-2) 0
HONEOYE (7-1-2) 0 (2 OT)
For Honeoye, senior goalkeeper Gabriella Trippi had eight saves.
IRONDEQUOIT (0-6-2) 1
GATES-CHILI (0-5-4) 1 (2 OT)
For Irondequoit, senior goalkeeper Leah Memmott accumulated 13 saves.
GENESEO (10-0-0) 2
YORK (6-3-1) 0
Lainey Scoville and Morgan Walton scored a goal apiece as Geneseo won its third of four consecutive road games. Scoville broke the scoreless stalemate with a 25th-minute shot and Walton added insurance in the 74th minute. Sophomore midfielder Bridget McMaster assisted Scoville's goal. Senior goalkeeper Faith Hainsworth only needed three saves for the shutout.
BRIGHTON (6-1-1) 2
CHURCHVILLE-CHILI (4-3-1) 0
Amelia Adiutori and Maggie Cregan both scored a goal as Brighton won its third straight. Cregan struck early in the sixth minute and Adiutori added insurance in the 39th minute. Senior goalkeeper Alice Yawman recorded six saves for the clean sheet.
BATAVIA (3-6-0) 1
GREECE OLYMPIA (0-7-1) 0
Anna Varland broke the scoreless tie in the 59th minute and Batavia held on to down Olympia for the second time this season. Mackenzie Harmon picked up an assist on the play. Maddie Barone made eight saves in the shutout victory.
SPENCERPORT (10-0-0) 2
WEBSTER THOMAS (1-5-2) 0
PAVILION (2-8-0) 3
MOUNT MORRIS (0-10-0) 1
Shea Amberger and Ashley Carli paced Pavilion with a goal and an assist apiece. Amberger scored the Lady Golden Golphers' first point of the match in the 25th minute. Carli netted a shot in the 55th minute. Both junior midfielders assisted each other's goals as well. Senior forward Kali Markek rounded out the scoring. Sophomore goalkeeper Lauren Kingsley posted six saves.
VICTOR (2-5-1) 0
HILTON (7-0-1) 1
Senior midfielder Emma Spelman's 18th-minute goal was the difference as Hilton secured the Monroe County Division I title with two games remaining. Victoria Cangialosi and Hannah Robinson split time in goal and combined for 11 saves.
GENESEE VALLEY (6-3-0) 2
BELFAST (6-3-0) 1
Emera Aquila scored a pair of goals in the last 10 minutes of the match as Genesee Valley snapped a two-game skid. The senior forward netted the go-ahead shot with 5:24 remaining in the game. Sophomore forward Lauren Haggstrom assisted Aquila's first goal. Ashley Burrows had four saves. For Belfast, freshman midfielder Mary Hamer scored the team's lone goal in the 16th minute. Junior goalkeeper Katlin Sadler posted nine saves.
EASTRIDGE (5-2-0)
NORTHSTAR CHRISTIAN (2-4-0)
GREECE ATHENA (4-4-1)
PITTSFORD MENDON (6-0-0)
RUSH-HENRIETTA (2-5-0)
WEBSTER SCHROEDER (2-4-1)
NEWARK (7-2-0)
GENEVA (1-7-0)
PENFIELD (5-3-0) 2
FAIRPORT (3-4-1) 0