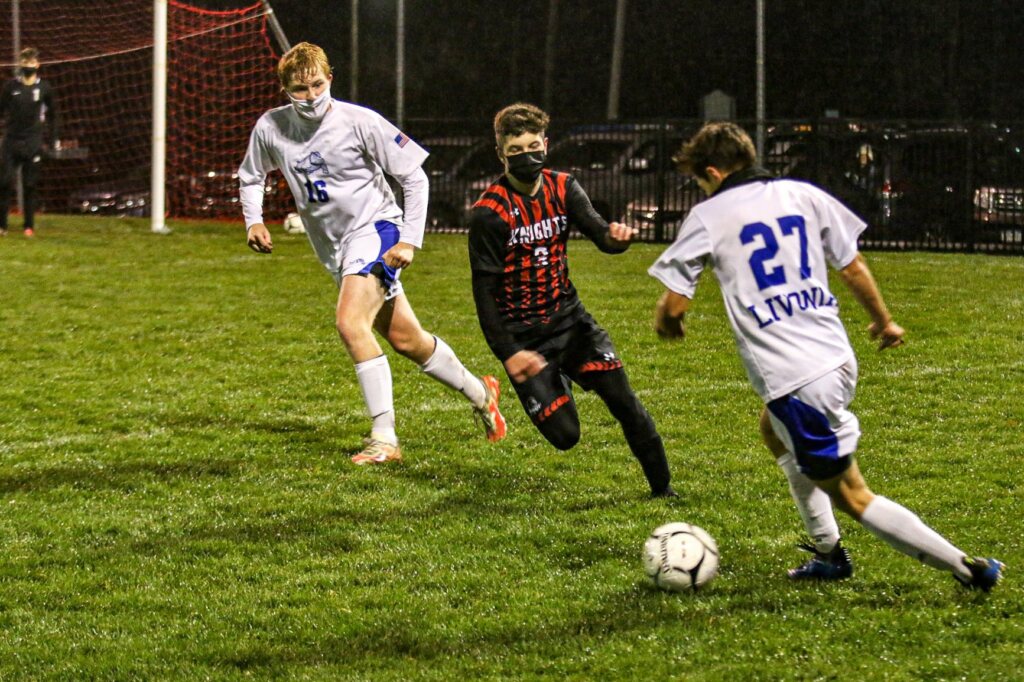 BOYS
GREECE ATHENA (7-0-1) 3
GREECE ARCADIA (4-4-0) 2
Three different players scored in the first half for Greece Athena as the Trojans won their fourth one-goal game of the season. Victor Alongi got his team on the board four minutes in with the help of Dylan Rice. Rice found the back of the net for Athena's second tally in the 25th minute. He was assisted by Nate Mascucci. Ryan Fitzgerald netted what ended up being the game-winner in the 32nd minute off a feed from Eshak Basta. Arcadia got goals from Julian Silva and Adam Strand in defeat.
VICTOR (4-4-0) 1
RUSH-HENRIETTA (3-5-0) 2
SPENCERPORT (4-2-1) 8
GATES-CHILI (2-7-0) 0
Vincent Ranieri scored a goal to go with three assists in Spencerport's highest goal output of the season. Ranieri scored his team's seventh goal, with Gianni Pellett getting the assist. Pellett scored twice himself an Ranieri assisted on both of his tallies. Justin Barnard was the recipient of Ranieri's other helper. Sujan Rajamohan found Alexander Moss and Jacob Schlierf connected with Jacob Weiss for two goals in the 20th minute. Kyle Milburn and Cal Russo scored the Rangers' other two goals, with Patrick Uebelacker and Brandon Cruz picking up the assists.
GREECE ODYSSEY (1-6-0) 0
EASTRIDGE (4-4-0) 2
Therein lies the theme of the first 60 minutes of Eastridge's 2-0 victory: more field goals than goals in the back of the net. If EI football coach Jasson Jobson needs a placekicker this spring, he knows where to scout for one.
"Some of them want to try out for it, too," coach Jeremy Loncao remarked with a laugh.
Stirling Delves broke the cold snap twice in a 14-minute span, and his methods of scoring could hardly have been more different. READ MORE
CHURCHVILLE-CHILI (4-2-1) 1
IRONDEQUOIT (2-5-2) 0 OT
Colton McCain found the back of the net in the second overtime period to extend Churchville-Chili's streak of games without a loss to five. His game-winning tally was assisted by Gaven Egan. The Saints' took 17 shots in the victory. Churchville-Chili lost 1-0 to Irondequoit earlier in the season.
BATAVIA (2-5-0) 0
HONEOYE FALLS-LIMA (7-0-0) 4
All of Honeoye Falls-Lima's goals were scored by a different player as the Cougars defeated Batavia for the second time. David Brassie and Gunnar Wetzel both scored in the first half, with Will Eby providing an assist on Wetzel's tally. Reece Joint and Eby found the back of the net in the second half. Valentino Maiola picked up the helper on Eby's goal.
HILTON (4-3-0) 0
PENFIELD (7-0-0) 1
Credit Cristiano Mounnarat with the ability to deliver when his team needs it. The unbeaten and untied Penfield Patriots have played just two games decided by one goal this season. The sophomore midfielder has the game winner on both occasions. Mounnarat connected at the 3:10 mark of the first overtime session Thursday night. READ MORE.
WEBSTER SCHROEDER (0-7-0)
FAIRPORT (3-3-0)
BROCKPORT (0-7-1) 0
PITTSFORD SUTHERLAND (5-1-1) 4
Eric Wang and Dylan Kladstrup teamed up for two goals in the first 10 minutes to give Pittsford Sutherland its second shutout win in a row. Wang scored both goals, his first two of the season. Will Field extended the lead in the 16th minute off a feed from David Adeleke-Adedoyin. Nate Wondrack put away another goal late in the game, with Henry Walbaum providing the helper.
CANANDAIGUA (1-6-2) 2
PITTSFORD MENDON (4-1-2) 4
Dom Tabechian scored once and assisted on two others as Pittsford Mendon has now gone four straight games without a loss. Tabechian's assists were on Mendon's first two goals of the game, both of which were in the first half. Nick Leduc-Etile and Jeremiah Anandarajah were the recipients of Tabechian's feeds. His goal was unassisted. Simon Goldstein scored what proved to be the game-winner in the 60th minute, with Nurican Sarbudak getting credit for the assist.
BRIGHTON (3-2-2) 1
WEBSTER THOMAS (6-1-1) 3
Jack Rider's 15th minute tally ended up being the decider as Webster Thomas avenged its only loss of the season. Nick Harrington picked up the assist on the Rider goal. Zach Wolfe scored the Titans' first goal of the game and assisted on the third. Brendan Hill was responsible for the helper on Wolfe's tally. Taner Goren put away the insurance goal off Wolfe's feed.
ROCHESTER ACADEMY (0-7-0) 0
C.G. FINNEY (4-2-0) 8
GANANDA (3-5-0) 0
WILLIAMSON (7-4-0) 2
Tyrone Walker was a part of both of Williamson's goals, which were both scored in the second half. Walker broke open the game's scoring with an unassisted tally. He picked up the assist on the Marauders' second goal, which was scored by Noland Alvarado.
MARION (2-3-0) 1
SODUS (4-5-0) 3
BLOOMFIELD (6-3-0) 4
WATERLOO (0-10-0) 1
Ryan Wollschleger's hat trick led Bloomfield to its fifth win in its last six games. Wollschleger upped his season goal total to 11 in the game. He scored once in the first half in the 16th minute, netted a PK in the 42nd and buried the Bombers' final tally in the 73rd. William Nelson found the back of the net for the other Bloomfield goal. Mathew Leber scored Waterloo's only goal of the game in the 26th minute off an assist from Jordon Kraft.
HONEOYE (4-3-0) 1
NAPLES (6-0-0) 5
Donivan Todd's two-goal, one-assist performance helped Naples remain unbeated. Todd scored a first half goal that was aided by Wyatt Woodard and a second half goal off a feed from Owen Hulbert. Woodard opened the scoring for the Big Green in the eighth minute with the help of Austin Chapman. Hulbert also scored a goal, with Cade Rathburn providing the helper. Ryan Lester scored Naples' final goal on Todd's assist. Jack Reynolds netted Honeoye's lone goal in the 31st minute. Evan Cuba was credited with the helper on Reynolds' tally.
BRADFORD/DUNDEE (0-5-0) 0
MARCUS WHITMAN (5-3-0) 1
Zackary Lovejoy's 23rd minute goal was enough to give Marcus Whitman its second 1-0 win against Bradford/Dundee in three days. Lovejoy scored in the 23rd minute on Wednesday also. Austin King picked up the assist for the Wildcats.
NEWARK (2-5-2) 1
MYNDERSE (4-4-1) 1
WAYNE (9-1-0) 3
PALMYRA-MACEDON (3-4-1) 0
Six different players were involved in Wayne's three goals as the Eagles collected their fourth consecutive win. Tyler Reynolds connected with Ryan Wilson for the team's first goal 13 minutes in. Dylan Cook netted Wayne's first insurance goal in the 72nd minute off a feed from Dan Merrell. CJ Salatino scored the final blow in the 76th minute, with Josh Bolt collecting the helper.
PENN YAN (4-3-1) 0
GENEVA (6-3-1) 0
ATTICA (8-1-1) 2
BYRON-BERGEN/ELBA (2-8-0) 0
Simon Lamparelli's 71st minute goal was the game-winner for Attica as the Blue Devils collected their third shutout win of the season. Lamparelli also scored the insurance goal just six minutes after the first. Evan Dickhut and Jonah Clark collected assists on the goals. Lamparelli leads Attica with 10 goals, while Dickhut has a team-high 12 assists.
WHEATLAND-CHILI (4-4-1)
HOLLEY (7-2-0)
KENDALL (4-6-0) 4
PEMBROKE (3-7-0) 5
Matthew Curtis scored four goals, but it was Wyatt Librock's tally that was the decider for Pembroke. Librock had an unassisted goal for the Dragons' fifth of the contest. Curtis had two unassisted tallies, while Tony Benbynek and Adam Curtis picked up helpers on the other two. Pembroke has now won two games in a row.
AVON (7-2-0) 6
MOUNT MORRIS (1-7-0) 1
Carson Williams scored five of Avon's six goals in the Braves' second win in a row. Williams now has 13 goals on the season. Irving Jimenez assisted on each of Williams' first three tallies. Cam Salvati also picked up two assists; one on Williams' final goals and one on Hudson Volpe's goal. Lee Hartke has Avon's other helper. Ethan Provino's 70th minute tally was the only one for Mount Morris in the game. Jack Lonsberry assisted on the Provino tally.
DANSVILLE (0-8-0) 0
LETCHWORTH/WARSAW (5-5-0) 8
Mike Schafer, Nik Eustace, Adam Grover and John Mertsock did all the damage for Letchworth/Warsaw as the Indians took down Dansville for the second time. Schafer scored his team's first goal, then provided four assists. Eustace scored the second and third goals and provided two helpers. Grover scored the next two goals as well as the final one. He also notched one assist. Mertsock put away goals number six and seven for Letchworth/Warsaw.
LIVONIA (10-2-0) 2
LEROY (4-4-1) 0
Ewan Maxwell had a goal and assist to guide Livonia to its third consecutive win. Maxwell's assist came in the 25th minute on a goal from Jackson McEnerney. Maxwell's tally was an insurance goal in the 75th minute that was off a feed from Bryce Hoang.
HORNELL (3-4-1) 1
WAYLAND-COHOCTON (3-6-0) 2
Brogan Cotter's two goals helped Wayland-Cohocton outlast Hornell. Cotter scored once in each half, with the second tally proving to be the game-winner. The deciding goal was assisted by Dillin Quackenbush, while the first one was aided by Jaden Rocha. Shawn Rose netted Hornell's goal in the second half off a feed from Kade Slayton.
PERRY (0-9-0) 0
GENESEO (3-7-0) 7
Michael Walton scored twice and dished out three assists to help Geneseo snap a three-game skid. Walton's goals were assisted by Jack Rubeck and James Hy. His helpers were buried home by Sean McCaughey, Ethan Bennett and Hy. Hy also scored Geneseo's first goal of the game, which was aided by James Thomas. McCaughey scored twice as well, with Rubeck picking up the assist on the tally.
PAVILION/YORK (4-4-1) 2
KESHEQUA (10-1-0) 6
Keshequa scored four goals in the first 10 minutes to continue its unbeaten run in league play. Jordon Luther scored in both the sixth and eighth minutes, while Riley Rease scored in the seventh and Aidan Wood found the back of the net in the 10th. Reese Powers and Jacob Schiano netted the Indians' other two goals in the 31st and 34th minutes, respectively. Rease and Schiano both picked up two assists in the game, while Luther and Nathan Thayer had one apiece.
FRIENDSHIP (1-6-0)
CUBA-RUSHFORD (1-3-1)
GIRLS
BOLIVAR-RICHBURG (6-3-0) 2
GENESEE VALLEY (5-3-0) 1
McKinlee Harris scored once in each half to help Bolivar-Richburg avenge its earlier loss to Genesee Valley. Both of Harris' goals were unassisted and she now has 13 on the season. Malayna Ayers made five saves to secure the win for the Wolverines. Lauren Haggstrom scored Genesee Valley's goal in the 58th minute. Emera Aquila assisted the goal and Ashley Burrows made eight saves in defeat.
HAMMONDSPORT (1-5-0) 2
JASPER-TROUPSBURG (2-3-0) 4
ANDOVER/WHITESVILLE (5-1-0)
SCIO (0-5-2)
CAMPBELL-SAVONA (0-2-0)
ARKPORT-CANASERAGA (5-1-0)
FRIENDSHIP (1-7-2) 1
BELFAST (6-2-0) 4
Alicia Borden scored twice as Belfast collected its sixth win in its last seven games. Both of Borden's goals were unassisted. Hannah Southwick-Powers and Anna Drozdowski netted the Bulldogs' other two goals. Drozdowski's tally was assisted by Mary Hamer.
CUBA-RUSHFORD (1-5-1) 0
FILLMORE (10-0-0) 6
Hope Russell scored four times as Fillmore recorded its sixth shutout victory of the season. She now has 17 goals on the season. Grace Russell also scored a goal and notched two assists, putting her at 18 and 13 this year. Hope scored Fillmore's first three goals and its last one. She was assisted by Sophia Templeton, Zoe Beardsley and Grace. Templeton also provided the helper on Grace's goal. Grace's second assist came on Shelby Beardsley's tally.