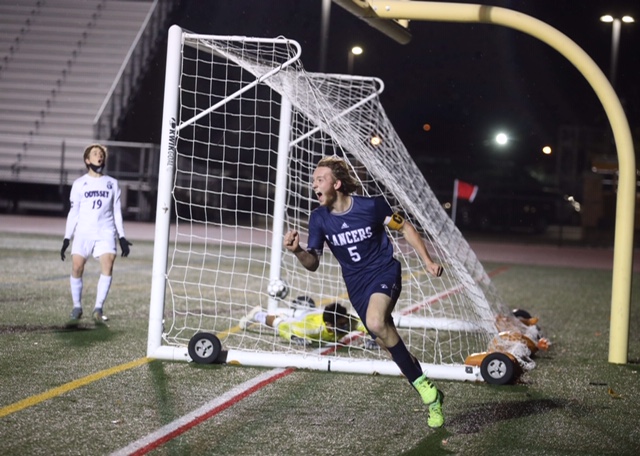 By CHUCKIE MAGGIO
Eastridge High School is enjoying the features of Erna Frank Field's brand new video board, even when that means poking fun at a missed Lancers opportunity.
When senior Alex Wood's shot in the first half of Thursday night's boys soccer game against Greece Odyssey split the football uprights, the video board operator perused the football graphics package for the perfect animation: "It's Good."
Therein lies the theme of the first 60 minutes of Eastridge's 2-0 victory: more field goals than goals in the back of the net. If EI football coach Jasson Jobson needs a placekicker this spring, he knows where to scout for one.
"Some of them want to try out for it, too," coach Jeremy Loncao remarked with a laugh.
Stirling Delves broke the cold snap twice in a 14-minute span, and his methods of scoring could hardly have been more different.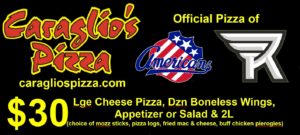 Delves's first, a boot from the outside the box, beat Leopards goalkeeper Omar Ashkar high with 21:41 remaining. "Coach told me that the wind was at our back," he said, "so we had the favor of the wind. Take shots and the wind pretty much did the rest on that one."
The senior's second, a tap-in after Ashkar saved midfielder Alaadin Ali's strike from the left side, all but clinched the win with 7:38 to play.
"We started out, we weren't talking a lot in the first half," Delves assessed. "In the second half, I guess we picked our heads up more and played out wide and made the balls in on the outside."
"He started hot for us last year as a junior," Loncao said of his leading scorer. "He scored five goals in his first five games, and then he got hurt and it was a little bit of an uphill battle for him the rest of the year. I think without a regular preseason it was difficult, but we used those first three or four games, unfortunately didn't win many of them, to get in shape and learn how to make our correct runs, our positioning…
"Now he's scored in three straight games, kind of picking up from where he left off a year ago before. It's fantastic. He's an incredible athlete. When his head's in it, he's a tremendous player. We needed somebody to step up and I'm glad it was a senior captain."
The Lancer attack was aggressive, outshooting Odyssey 19-0 with seven shots on goal. Eastridge (4-4) walked off the field postgame believing its offense could have scored more; three shots rang off the post in the second half alone, while the Lancers missed a point blank opportunity off a free kick from just outside the box.

"Missed a couple easier opportunities as well," Loncao said, "so 2-0 as the score, I don't think that reflects what the score could've been. But at the same time, you want to capitalize on your scoring chances and kind of get used to taking advantage of those chances, especially the later you get into the year."
Not only has Delves scored in three consecutive games, Eastridge has three consecutive shutouts. The Lancers have outscored their last three opponents (Greece Olympia, Batavia and Odyssey) a combined 13-0 since dropping four of their first five games this season.
Much of the credit goes to a Lancers back line of varying experience that has nonetheless learned how to play together. The 80 minutes came and went without a single save by goalie Ethan Urbanek.
"We've got the youngest back line, I guarantee you, in Section V," Loncao said. "We have one of every grade: a freshman, sophomore, junior and senior, and the freshman and sophomore are starting center backs. They've grown immensely throughout this year and we knew that would be the case. Which is fine, because it's gonna be their defense for the next, including this year, three years.
"For them to earn three shutouts in a row and not have to allow their goalie to pick up the slack for us in the last three games, it's been fun to watch. I know we haven't played a perennial goal scorer yet… but the fact is, it's their first year on varsity and they've done a very nice job of growing up this year, for sure."