By PAUL GOTHAM
CANANDAIGUA — Among the changes put into place in order for high school sports to be played this fall, Section V soccer has added a break in the middle of both halves of games. The time out occurs during a stoppage of play near the 20:00-minute mark.
Players go to their respective ends of the field for roughly two minutes before play resumes. Besides getting water, teams also have a chance for tactical discussions. For those squads able to execute adjustments, the time out can have a decisive impact.
The Pittsford Mendon girls' soccer team did just that Wednesday night.
Deadlocked in a scoreless tie, Mendon found the back of the net twice in the final 17 minutes of play to defeat Canandaigua, 2-0 in Monroe County Division III action.
"It's definitely an interesting twist to the season," Mendon head coach Eric Pritchard said of the planned stoppage. "There are always adjustments at breaks. We always look and see if we can fix something when we get our 'mask break' and then come back in."
Bridget Merkel and Grace O'Hara netted a goal apiece to keep Mendon (6-0-0) unbeaten.

"It can be good for you if you have to change something," Pritchard said of the break. "It also can be bad if it takes your momentum away. There are plusses and minuses to it."
Mendon gained momentum in the final quarter of the match.
O'Hara found a seam in Canandaigua's back line and used a diagonal ball to catch Merkel in stride along the left side. The sophomore one-timed a shot inside the 18-yard box for her fifth goal of season at the 16:40 mark of the second half.
64' Beauty of a ball from Grace O'Hara catches Bridget Merkel in stride. @mendonsoccer 1 @CABravesSports 0 pic.twitter.com/Z4BnUSmjYp

— Paul Gotham (@PickinSplinters) October 29, 2020
"Instead of getting desperate and kicking long balls from deep, we worked into the box a little bit more and created more chances," Pritchard explained. "We got crosses from the end lines and stuff like that which made a big difference in creating better chances in front of the goal. That was the big change that we made."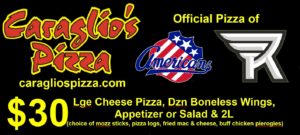 Six minutes later, O'Hara took a through ball along the inner third from Kiran Brent and doubled the advantage.
68' Grace O'Hara gets behind the @CABravesSports backline. @mendonsoccer leads 2-0. pic.twitter.com/8GT1TA1oV9

— Paul Gotham (@PickinSplinters) October 29, 2020
"They're both very good at going toward goal and taking people on," Pritchard said of Merkel and O'Hara. "They like to score. Some players can be hesitant. They both like to go toward goal and our goal-oriented."
O'Hara ran her season totals to team highs of six goals and five assists. The senior hit the cross bar in the first half and set up teammates on a handful of other occasions for scoring opportunities.
Grace O'Hara comes this close. pic.twitter.com/Fg7VWLROfm

— Paul Gotham (@PickinSplinters) October 28, 2020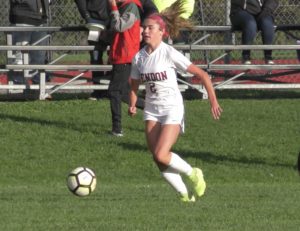 "She does a good job of making the pass when she needs to and taking people on in other situations," Pritchard said of the reigning Division III Player of the Year. "She's a good team player. She mixes it up. When she gets the ball, usually other people are going to be open because she draws defenders to her."
The result matched the meeting between the two schools earlier in the month.
Ary Lougher made two saves for Mendon's third shutout of the season. The Vikings have outscored opponents, 16-4.
Payton Malec stopped 10 shots for Canandaigua (4–5-0). The Braves had won three of four entering the contest.
Payton Malec takes away an early scoring opportunity. @mendonsoccer 0 @CABravesSports 0 pic.twitter.com/ni5PkCnxVX

— Paul Gotham (@PickinSplinters) October 28, 2020
Mendon hosts Greece Athena on Saturday for a 6 p.m. start. Canandaigua travels to Brockport on Friday for a 6:30 p.m. kick off.