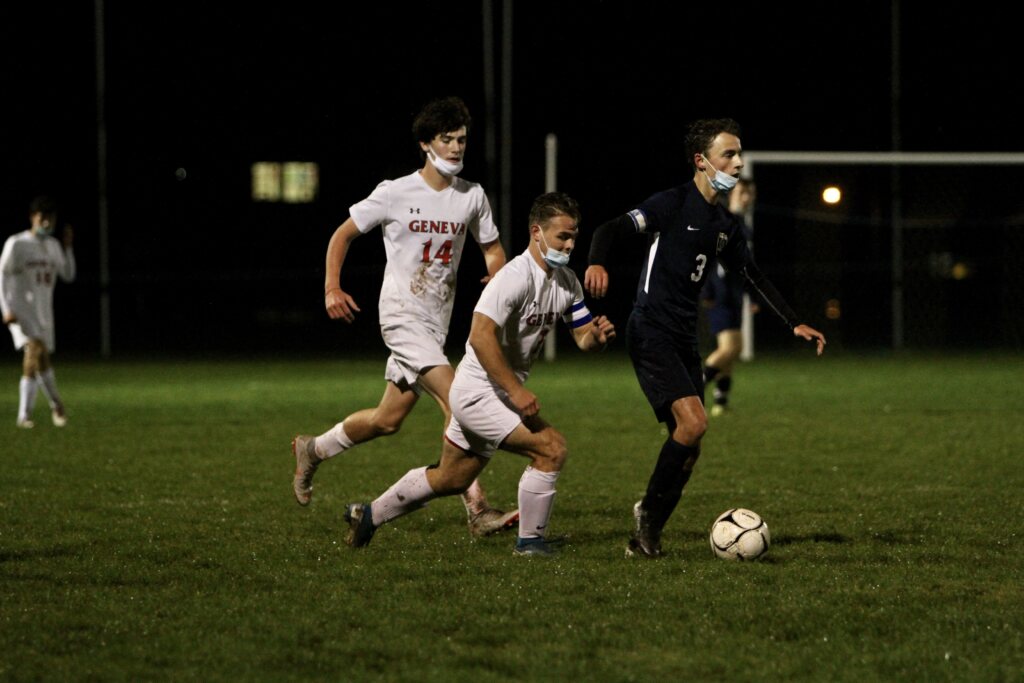 BOYS
GREECE ARCADIA (4-3-0) 1
IRONDEQUOIT (2-4-2) 0
Jared Hinchcliffe scored a second-half goal lifting Arcadia above .500. Gabe Taylor collected his second shutout on the season in net.
GREECE ODYSSEY (1-5-0) 1
GREECE OLYMPIA (3-5-0) 5
Muqtada Alafarie netted a hat trick with one assist as Olympia took down Odyssey for the second time this season. Dawood Shuaibi and Josh Palmgreen added a goal each. Will Buttino recorded three assists while RJ Doell had one assist. Freshman Dylan Mattice collected 10 saves in his first varsity start.
PITTSFORD SUTHERLAND (4-1-1) 3
AQUINAS (1-7-1) 0 
After dropping the first game of the season, Sutherland kept its unbeaten streak alive thanks to two goals scored from Dylan Kladstrup. Will Field netted the other goal. Henry Walbaum recorded two assists.
HINSDALE (1-3-2) 0
BELFAST (6-2-0) 3
Matt Weaver accounted for all three goals in the fourth straight win for Belfast. Matt Weaver scored one and assisted two. Stiven Lopez and Chris Weaver were on the receiving end of the two Matt Weaver assists.
BRADFORD/DUNDEE (0-4-0) 0
MARCUS WHITMAN (4-3-0) 1
Zackary Lovejoy netted the lone goal on an assist from Jordan Lahue lifting Marcus Whitman above .500.
NAPLES (5-0-0) 7
BLOOMFIELD (4-3-0) 1
Austin Chapman recorded a hat trick in Naples's fifth straight win. Junior Ryan Lester tacked on two more goals. Cade Rathbun and Donivan Todd were credited with the other two goals for Naples.
WAYNE (8-1-0) 7
GENEVA (6-3) 0
Wayne posted its third straight shutout. Senior Tyler Reynolds scored three goals, JJ Bolt and Alex Cook both added two goals.
KENDALL (4-5-0) 0
ATTICA (7-1-1) 1
Attica prolonged its unbeaten streak since its only loss in the second game of the season behind Daniel Biniazewski's goal.
WHEATLAND-CHILI (4-4-1) 2
PEMBROKE (2-7-0) 3
Matthew Curtis and Adam Curtis led Pembroke to its second win of the season by scoring all three goals. Matthew Curtis had a goal in both the first and the second half. Adam Curtis had his lone goal in the second half. Danny Curtis received credit for an assist on the Adam Curtis goal.
LIVONIA (9-2-0) 4
WAYLAND-COHOCTON (2-6-0) 0
Livonia coach Ray Maxwell collected his 500th career win as Livonia bounced back from a loss. Bryce Hoang, Connor Feehan, Evan Frazo and Shane Melead all netted a goal.
PERRY (0-8-0) 1
KESHEQUA (9-1-0) 10
Keshequa bounced back from its only loss by scoring double-digit goals for the fourth time this season. Riley Rease, Aidan Wood, and Rene Figueroa all netted two goals apiece. Jordon Luther, Jacob Schiano, Peter Betts, and Adam Hunt all scored on goal. Keshequa lost East Rochester over the weekend in a rematch of last year's New York State Class Regional qualifier.
CALEDONIA-MUMFORD (6-2-1) 3
GENESEO (2-7-0) 2
Evan Raniwicz netted two goals in the second-half as Caledonia-Mumford stayed undefeated in its last three games. Alex Carnes added a goal and had an assist. Jayden Thompson and Mason Nusbickel each recorded an assist.
MARION (1-2-0) 3
RED CREEK (0-9-0) 1
Marion won its first game coming after a 20-day break.
EAST ROCHESTER (8-1-0) 2
WILLIAMSON (6-4-0) 0
Russell Domm scored a goal and assisted on a Chuck Domm goal leading East Rochester to its sixth straight win. East Rochester has not lost a game since dropping an earlier meeting to Williamson.
CANANDAIGUA (1-4-2) 1
HONEOYE FALLS-LIMA (6-0-0) 2
David Brassie received a pass from teammate John Henry Woloszuk, took on an opposing defender and went near post with :45 seconds remaining for his third goal of the season. READ MORE.
DANSVILLE (0-7-0) 3
LEROY (4-3-1) 7
GATES-CHILI (2-6-0) 3
BROCKPORT (0-6-1) 1
BATH-HAVERLING (7-1-0) 4
LETCHWORTH/WARSAW (4-5-0) 1
GIRLS
FILLMORE (10-0-0) 7
HINSDALE (2-6-1) 0
Fillmore continues its streak of scoring at least four goals in every game behind a balanced attack headlined by two goals scored by Mallory DeRock. Hope Russell, Grace Russell, Sophia Templeton, Delaney Hillman, and CeCe Schmidt all added a goal. Preslee Miller and Lizzy Nugent in net combined for Fillmore's fifth shutout of the season.
BOLIVAR-RICHBURG (5-3-0) 6
BELFAST (5-2-0) 0
Madigan and McKinlee Harris scored three goals apiece in the win. Madigan Harris recorded three assists, Kelsey Pacer had two assissts and McKinlee Harris also had an assist. Malayna Ayers posted two saves in the fourth shutout of the year.
HAMMANDSPORT (1-4-0) 0
ARKPORT (5-1-0) 7
SCIO (0-5-2) 2
FRIENDSHIP (1-6-2) 2