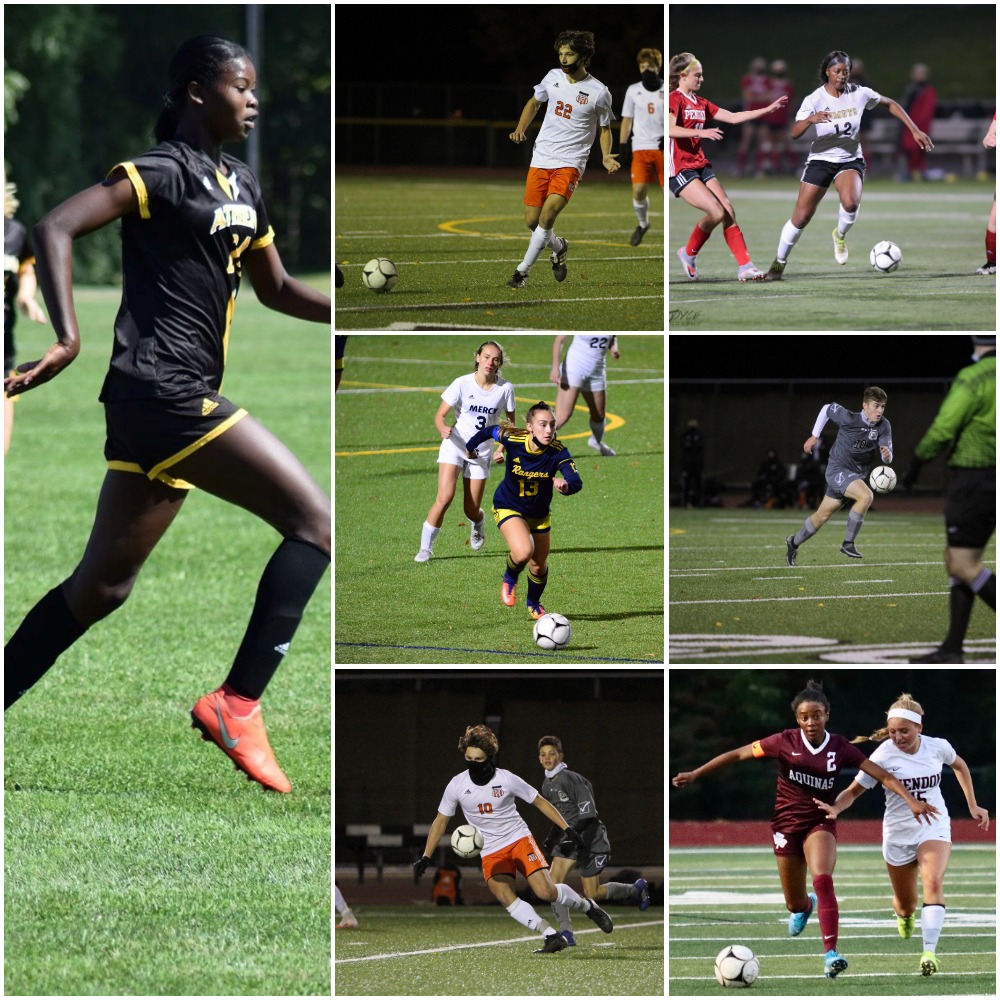 By PAUL GOTHAM
Surveying some of the top players in Section V over the past week (October 19-25).
CHANEL ALEXANDER Sr. Forward/Midfield, Aquinas Lady Irish (Private-Parochial) — Equipped with high-level athleticism and body control, Alexander is a threat to score or create whenever she touches the ball; comfortable in a crowd or in open spaces she has the ability to win 50/50 situations despite being outnumbered by opponents, with the ball at her feet she can create for herself or teammates, shows impressive balance of feet, recognizes overplay from opposing defenses and understands how to use pace to get teammates into open space.
GHULAMI ANTIQULLAH Jr. Attacker, Gates-Chili Spartans (Monroe County II) — A heady forward with a knack for getting into the middle of the play; Antiqullah possesses a strong first touch, moves well off the ball and sees lanes both as receiver and passer, works well in quick combinations and understands how to use pace to create for teammates, has a high motor and stays in constant motion; a willing defender, he checks back hard into the defensive third and disrupts the offensive rhythm of opponents.
RUSSELL DOMM Sr. Attacker, East Rochester Bombers (Wayne County) — Seamless contributor to the potent East Rochester attack; Domm can be the creator on one play and easily shifts gears to taking on and blowing past opponents with the ball at his, sees the field as well as any player in Section V, understands how to use pace to create for teammates, patient enough to pick his spots, once he gets one-on-one with an opponent he is near impossible to keep from getting his shot; an intelligent defender, he understands when to contain and when to dictate to opposing ballhandlers.
OUMOU DONZO Sr. Forward, Rush-Henrietta Royal Comets (Monroe County I) — Powerful offensive player who can create for self and teammates; with a combined 24 goals scored this season and last, it easy to overlook Donzo's ability to distribute the ball, she is comfortable with her back to the goal providing a wall for teammates, proficient on his first touch she deftly makes play for those around her, possesses a keen ability to recognize when to space in which to dribble, then there is the scoring ability, needs little room to get off her shot and has to be defended outside the 18-yard box.
VIEW MORE DENNIS JOYCE PHOTOS HERE.
ALSO: Ewan Maxwell, Brooke Wilson and the Starting XI
Kaleb Glessing, Maria Karipidis and the Starting XI
JOE FAZIO Sr. Outside Back, Greece Athena Trojans (Monroe County Division III) — Calming presence along Athena's backline; Fazio is comfortable carrying the ball out of the defensive third where he makes sound decisions where and when to distribute, understands pace and space and can execute when recognizing the opportunity to create for a teammate; a relentless defender, he is comfortable marking opponents one-on-one in the outer third and allows the Trojans to keep shape in the middle as he contains opposing ballhandlers.
WILL FIELD Jr. Midfield, Pittsford Sutherland Knights (Monroe County III) — a tireless worker on the offensive end; Field possesses a deft first touch, effective in combination play, he understands movement off the ball and how to create space for self and teammates, strong in one-on-one situations, he makes intuitive decisions to distribute or carry once past original defender, picks his spots well when looking to score.
WRIANNA HUDSON Fr. Forward/Midfield, Greece Athena Trojans (Monroe County III) — Elite-level player who (as scary as it may seem) is just scratching the surface of her ability; at 6-foot-2 Hudson has a commanding presence and the game to back it up, a member of the U16 U.S. National Team pool, Hudson possesses a superb first touch and has the ability to redirect balls out of the air to teammates on the run, at the same time she distorts opposing defenses attempting to slow her down when she gets possession in the outer third, equipped with the knack for finding the back of the net she can score from anywhere inside of 25 yards, displays tremendous control when possessing on the run in the open field.
RILEY REASE Sr. Attacker, Keshequa Indians (Livingston County) — Proficient facilitator from the middle third; Rease orchestrates Keshequa's impressive offense, Livingston County's leading scorer and second in Section V with 17 goals and nine assists Rease is at his best creating a wall for teammates to use, he is comfortable making decisions with his back to the goal and understands how to use flat passes to the outer third to create diagonal runs into spaces, once inside the 18, he is as dangerous a scorer as exists in Section V.
KENDAL SCANLON Sr. Center Back, Penfield Patriots (Monroe County I) — A willing defender with the ability to create for the frontline; Scanlon understands the need to make first touch on balls played into defensive third, makes keen decisions as to clear or create after getting to the ball, shows impressive balance of feet and physical strength to ward off opposing players; recognizes opportunities to push into the offensive half and create for teammates, understands when to play to feet and when to lead into space.

SABRINA TRAPANI Sr. Center Back, Spencerport Rangers (Monroe County II) — Facilitator of Spencerport's offensive and defensive flow; Trapani understands how to use space and pace from the middle third to create for teammates, she has an uncanny knack for finding herself in the center of the play, comfortable in tight spaces she makes sound decisions as to how to distribute the ball, sees the field as well as any player in Section V, she routinely makes plays to either outer third, capable of carrying the ball but is a willing passer; consistently first to the ball on the defensive end she somehow has the ability to rarely if ever get caught over-playing in a situation, recognizes the time to contain and time to challenge.
HUNTER ZANGERLE Sr. Center Back, Keshequa Indians (Livingston County) — Steady defensive force along Keshequa's backline; Zangerle sees one play ahead and anticipates the moves of opponents, strong to the ball he is effective in getting first touch and making intelligent decisions with his clearings, uses an economy of touches he sees the field well and fans the ball to either outer third to initiate offensive buildup, shows flashes of being able to go beyond one touch when he recognizes opposing pressure before initiating offensive buildup.