By PAUL GOTHAM 
SCOTTSVILLE, N.Y. — Niyah Rosado has spent more of her time rehabbing injuries than scoring goals this season.
On Monday night, the Wheatland-Chili senior changed that.
Rosado found the back of the net twice in less than five minutes, and the Wildcats won their second straight with a 2-1 victory over Kendall.
"It's definitely relieving," she said. "It was hard to come back from since I wasn't playing the same. When I finally got those two goals after a while I was so relieved to know I'm finally getting back."
A 48-goal scorer a year ago, Rosado entered this season as the program's all-time leader in the category with 116 markers. A quad pull along with a rib injury and back ailment have slowed her. Monday's night's goals were her first since October 8th and just the third and fourth this season.
"She showed a little bit of her speed tonight that she usually has," Wheatland-Chili head coach Gary Ward said. "She hasn't been scoring because it's gotten really physical."

Rosado took advantage of counter-attack situations late in the first half to give Wheatland-Chili all the offense it needed.
Emily Parker set up both goals. The freshman threaded a pass through a pair of Kendall defenders to hit Rosado in full stride just outside the 18-yard box. W-C had a lead with 8:58 remaining in the stanza.
32' Emily Parker on the counter leads Niyah Rosado into the open field. @WCWgvs 1 @KendallAthleti1 GSOC 0 pic.twitter.com/TOZLuQMH2x

— Paul Gotham (@PickinSplinters) October 26, 2020
Little more than four minutes later, the duo worked a combination in the middle third with Rosado releasing on Parker's lead.
"Parker is very skilled," Ward noted. "She's a great passer. They look for each other."
Combination in the middle third and Emily Parker springs Niyah Rosado for the first-half brace. @WCWgvs 2 @KendallAthleti1 0 pic.twitter.com/TxPYyHhTc8

— Paul Gotham (@PickinSplinters) October 26, 2020
The helpers were the fifth and sixth this season for Parker. When the Wildcats downed Kendall 4-2 on October 15, it was Parker who netted three goals. Rosado had two assists on those tallies that night.
"We trust each other," Rosado said. "We get along really well especially in practice. We know we're there for each other. We know that if we give the other person the ball they know what to do. We have good combinations with the ball."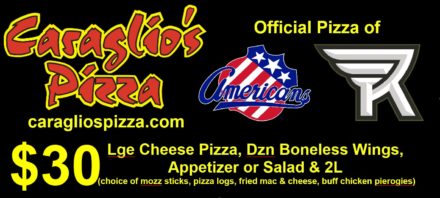 "Emily is going to be a fabulous player," Ward said. "She's a young player but is probably as technical a player as we have on the whole roster. She's played a lot of soccer, and she's grown a lot. She's going to be a handful."
After falling in three of four games, W-C improved to 6-3-0 on the season.
"We're fighting for every one this year," Ward stated. "That's the way it is in our league right now. There's so much parity in our first division. We're beating each other."
Kendall (3-4-0) came into the game unbeaten in their last games including playing to a draw with Holley (7-1-1).
"They really had a great week," Ward stated.
Brianna Wakefield contributed the lone Kendall score early in the first half.
Rachel Allen made six saves in goal for the Wildcats. Kendall's Kallie Regan also had six stops.
W-C travels to Pembroke on Wednesday, their first of four games over the next week and a half.
"It's been really hard," Ward said. "They're not in their usual shape.
"It takes six weeks to get an athlete in shape. It doesn't take quite that long if they're playing all summer, but this year we had two weeks. There's no way anybody started this season in the usual type of fitness level. We're no different."