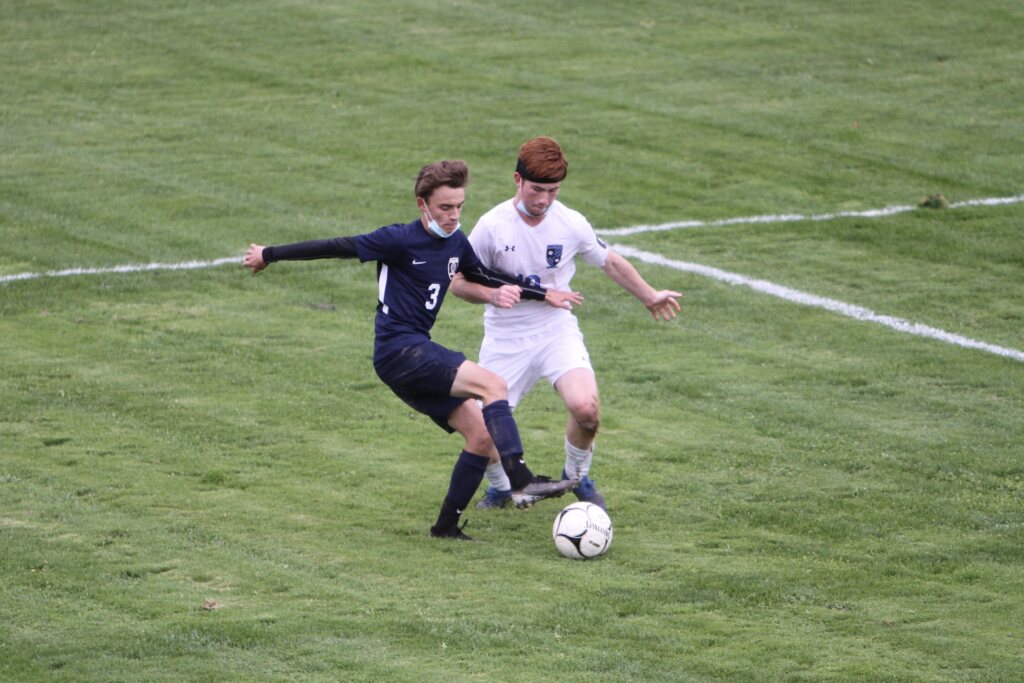 BOYS
PITTSFORD SUTHERLAND (3-1-1) 1
GREECE ATHENA (5-0-1) 1
Brian Piendel converted a second-chance opportunity on a corner kick in the 71st minute as Athena (5-0-1) pulled even with Sutherland (3-1-1), 1-1. READ MORE.
IRONDEQUOIT (2-3-2) 3
SPENCERPORT (3-2-1) 4
With a three-goal lead at one point in the first-half, Spencerport managed to combat an Irondequoit comeback for its first victory in four games. Joey Weaver netted the game-winner in the 49th minute for his first varsity tally. Seniors Vincent Ranieri, Patrick Uebelacker and Justin Barnard each found the back of the net by the 25th minute to give the Rangers a 3-0 lead. Jacob Weiss, Gianni Pellett, Uebelacker and Ranieri finished with an assist apiece. 
PENFIELD (6-0-0) 7
WEBSTER SCHROEDER (0-6-0) 1 
GREECE ARCADIA (3-2-0) 2
CANANDAIGUA (1-4-2) 1
Sophomore Anthony DiMaggio netted his first tally of the season in overtime to give Arcadia its second win in three games. Josh Price was responsible for setting up the game-winner. On a corner kick, Aiden Lewandowski found Jared Hinchcliffe's noggin to give Arcadia a 1-0 lead by the second minute mark. Dominick Spychalski tied the game for Canandaigua with 15 minutes remaining in the contest. Reilly Joseph picked up the assist. Gabe Taylor made four saves for the Titans.
FAIRPORT (3-3-0) 1
VICTOR (4-2-0) 2
Trailing throughout most of the second half, Max Fiorica sparked Victor and upended Fairport in overtime. With five minutes remaining in regulation, Fiorica found Thomas Gravino for the equalizer. Five minutes into overtime, Fiorica ended it, unassisted. Myles Palmer gave Fairport the in the first half on a pass from Caden Brunken. 
PITTSFORD MENDON (2-1-2) 0
BROCKPORT (0-5-1) 0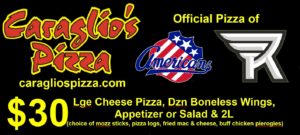 GATES-CHILI (1-6-0) 0
BRIGHTON (3-1-2) 3
Adrian Storozynky and Kamer Lenio both collected a goal and assist to lead Brighton to its first win in four contests. Sophomore attacker Storozynky kicked off the game with an unassisted tally three minutes in. Lenio registered his first of the year at the halfway mark in the first. The defenseman found Francis Bahk in the second half to cap off the shutout at 3-nil. Goalkeeper Cal Oberst was perfect between the pipes for the third time this season.
GREECE OLYMPIA (2-5-0) 1
HONEOYE FALLS LIMA (5-0-0) 6
WEBSTER THOMAS (4-1-1) 0
CHURCHVILLE-CHILI (3-2-1) 0
RUSH-HENRIETTA (1-5-0) 1
HILTON (4-2-0) 2
Hilton relied on two first-half goals to push past Rush-Henrietta for its second win in four games. By the fifth minute, Cody Cavuoto handed the Cadets a lead they would not surrender. Alec Smith earned the assist on the game-opener. Shortly after, Cavuoto sent the ball to Brandon Andracki who doubled the score with a header.
HONEOYE (4-2-0) 3
WATERLOO (0-8-0) 2
Kyle DiBiase scored the game-winner, unassisted, late in the second half to complete Honeoye's comeback victory. Trailing 2-1 after halftime, Cameron Allison knotted things up on a penalty kick in the 18th minute. Waterloo's Justin Garcia and Honeoye's Jack Reynolds traded tallies a minute apart to kick off the match. Derek Colegrove accounted for Waterloo's second tally before halftime.
NEWARK (2-4-1) 2
GENEVA (6-2-0) 4
Geneva used a three-goal second half to down Newark for its fourth win in as many games. Mason Rusinko led the Panthers with his 15th and 16th goals of the year. Rusinko opened scoring for Geneva and later capped off the match with 12 minutes remaining. Daniel Wright and Nate Rusinko scored two minutes apart following halftime. Senior defenseman Zach Martinez assisted on every goal but Wright's.
MYNDERSE (4-4-0) 1
PAL-MAC (3-3-1) 2
Sam Lorenzetti got Mynderse on the board with four minutes remaining in regulation.
MCQUAID (4-0-1) 1
CANISIUS (VI) 1
On a feed from John Palermo, Trey Leo scored at the 25 minute mark to give McQuaid a 1-0 lead. Canisius' Owen Jerge tied it up in the final minutes of the first half on a penalty kick. 
BISHOP KEARNEY (5-2-1) 0
WAYNE (7-1-0) 2
Josh Bolt and Ryan Wilson capitalized in the first half to pace Wayne to its second straight 2-0 victory. The duo has combined for 12 goals and six helpers this year. Dylan Cook assisted on Wilson's tally before the closing of the first half. Zach Mazurkiewicz made four saves in the shutout victory.
KESHEQUA (8-1-0) 1
EAST ROCHESTER (7-1-0) 3
HAMMONDSPORT (0-1-3) 1
AVOCA/PRATTSBURGH (2-2-1) 1
For Avoca/Prattsburgh, Evan Campbell scored in the 19th minute. The team finished with 39 total shots.
JASPER-TROUPSBURG (2-1-0) 0
ALFRED-ALMOND (6-0-0) 4
Senior Carsen Hann and freshman Jack Emo both registered a goal and assist to increase the win streak to six. Hann opened scoring for the Eagles in the 19th minute. Emo tallied his seventh of the season in the second half to push the lead to three. Ayden Burdick scored unassisted to make 2-0 before half. Dylan Coots capped off the game with a marker in the final 10 minutes. Ty Kenney made six saves for his third shutout of the season. Aquila Cushing picked up an assist as well.
MARCUS-WHITMAN (3-2-0)
BLOOMFIELD (3-2-0)
GIRLS
ELBA/OAKFIELD-ALABAMA (4-3-0) 0
KENDALL (3-3-0) 3
Brianna Wakefield netted a pair of goals as Kendall won its second straight and evened their record. The senior midfielder scored both goals in the first half: once in the ninth minute again in the 22nd minute. Madison Jacob assisted Wakefield's second shot and applied a point of her own in the 58th minute. Junior goalkeeper Kailie Regan only needed three saves for a clean sheet.
HORNELL (5-1-1) 1
DANSVILLE (2-4-1) 0
Junior forward Tayghan Doorley's goal was the difference in Hornell's fifth consecutive victory. Ayla Prior assisted the point.
WAYNE (2-5-1) 0
MYNDERSE (2-5-0) 1
Sophomore midfielder Ella Wirth scored the game's lone goal in the 73rd minute to lead Mynderse to its second straight win. Senior goalkeeper Olivia Mestan preserved the shutout with two saves.

SACRED HEART (VI) 0
AQUINAS (4-2-0) 5
Chanel Alexander recorded a hat trick as Aquinas notched its fourth win in five games. The senior midfielder scored all three goals in the second half: in the 45th, 54th and 62nd minutes. Emily Silverstein rounded out the scoring with two goals in the first half. The sophomore midfielder assisted Alexander's second goal as well. Isabella Fiorillo and Amaris Watts were credited a helper apiece.
BATAVIA (2-5-0) 4
EASTRIDGE (3-2-0) 1
Mackenzie Harmon paced Batavia with one goal and three assists. The junior midfielder scored one of the Lady Blue Devils' four first-half goals in the 22nd minute. Harmon spread out helpers to Sophie Beckman, Olivia Halpin and Anna Varland. Junior goalkeeper Maddie Barone had five saves. For Eastridge, Nevaeh Bunch scored the team's lone goal in the 70th minute on an assist by Sierra Manning. Junior goalkeeper Isabella Barbosa had four saves in 58 minutes.
HONEOYE (6-1-0) 4
RED JACKET (1-6-0) 1
Leah Green paced a balanced Honeoye offense with back-to-back goals: one in the sixth minute and again in the 30th minute. Both goals were assisted by Macie Yale, who buried a shot of her own. Senior midfielder Grace Hall rounded out the scoring. Sydney Pulver and Sarah Jarosinski both had a helper.
WATERLOO (3-5-0) 1
MIDLAKES (2-5-1) 2
Jaycie Lannon netted a pair of second-half goals as Midlakes snapped a three-game skid. The senior midfielder scored in the 67th minute and followed up 10 minutes later. Junior midfielder Teanna Monahan assisted Lannon's second goal. Sophomore goalkeeper Hanna Godkin had seven saves.
LEROY (3-4-0) 1
BATH-HAVERLING (6-1-0) 5
Ella Yartym netted a hat trick as Bath-Haverling rebounded from its first loss on Thursday. The freshman midfielder scored one goal in the first half and a pair in the second. Keegan Smith contributed one goal and four assists. Sophomore midfielder Meredith Czajkowski scored a point of her own. Senior defender Rusak added an assist. Karleigh Wheeler recorded five saves.
LETCHWORTH (1-6-0) 5
PERRY (1-6-0) 3
For Perry, junior midfielder McKenna Kelly scored two of the Lady Yellowjackets' three second-half goals: one in the 62nd minute and again in the 77th minute. Sophomore midfielder Isabel Swyers rounded out the scoring. Elissa Uveino and Courtney Westfall each had an assist. Senior goalkeeper Abigail Holderer compiled 18 saves.
AVON (7-0-0) 6
LIVONIA (2-6-0) 0
Freshman forward Maggie Vanderbilt paced a balanced Avon attack with a pair of goals. Emma Clarke, Ellie Cochrane, Bridget Hayes and Maddy Ruter scored one goal each. Cochrane added two assists. Junior goalkeeper Courtney Yencer posted five saves for the shutout.
CANANDAIGUA (3-4-0) 2
GREECE ARCADIA (0-7-0) 1
Abigail Cangemi netted a pair of second-half goals as Canandaigua secured its second win in three games. The freshman midfielder scored in the 62nd minute and followed up 10 minutes later. Bella Schorr and Ellie Teerlinck assisted the goals. Freshman goalkeeper Payton Malec recorded five saves.
PALMYRA-MACEDON (7-0-0) 6
GENEVA (1-6-0) 0
Maya Ikewood netted a hat trick as Palmyra-Macedon cruised to its seventh straight win. The freshman midfielder scored the Lady Red Raiders' first two goals of the match before securing the hat trick in the 54th minute. Molly Seither netted back-to-back points in the 59th and 67th minutes. The sophomore midfielder assisted Ikewood's third goal as well. Emma Robinson rounded out the scoring. Mercedes Buckingham had two assists while Reagan Diehl and Kylie Waeghe recorded one each. Sophomore goalkeeper Clare Boesel posted two saves.
YORK (5-1-1) 4
MOUNT MORRIS (0-7-0) 0
For Mount Morris, junior goalkeeper Briana Lang compiled 23 saves.
PAVILION (1-6-0) 1
GENESEO (7-0-0) 5
Lainey Scoville spun a hat trick as Geneseo rolled to its seventh consecutive win. The senior forward scored twice in the first half and added another goal in the 69th minute. Sophomore midfielder Bridget McMaster rounded out the scoring with goals in the 18th and 71st minutes. Brynn Videtti was credited two assists. Senior goalkeeper Faith Hainsworth had three saves.
BRIGHTON (4-1-1) 3
GATES-CHILI (0-4-3) 0
Amelia Adiutori, Virginia Burkhart and Sutsadah Khounpachamsy all scored a goal for Brighton. Dilara Lenio added two assists and Pauny Khounpachamsy one. Senior goalkeeper Alice Yawman preserved the shutout with five saves.
PENN YAN (5-2-0) 0
NEWARK (6-2-0) 2
Junior midfielder Megan Napoleon scored a goal in each half to lead Newark to its second straight win. Kaleigh Pettit and Emma Robbins assisted the points. Senior goalkeeper Sadie DeTaeye notched four saves.
OUR LADY OF MERCY (3-2-0) 7
BISHOP KEARNEY/CHESTERTON (5-2-1) 2
Six different players made it into the goal column for Our Lady of Mercy and forced Bishop Kearney/Chesterton to its first loss in four contests. Sissy Smith led the charge with her first two tallies of the year. Sophie Dearcop, Sydney Natale, Isabella D'Anza, Haley Edwards and Jamie Laemlein each scored for Mercy. Shannon Trevor finished the game with three helpers while Dearcop and Smith both had one. Caroline Murphy earned an assist as well.
GREECE OLYMPIA (0-5-1) 0
HONEOYE FALLS-LIMA (6-0-0) 3
Maggie Adams, Paige Brent and Maria Karipidis all scored a goal as Honeoye Falls-Lima won its sixth consecutive game. For Adams, it was her first career varsity goal. Mari Spitz and Natalie Ventura split time in goal and combined for four saves.
BROCKPORT (3-3-0) 2
PITTSFORD MENDON (5-0-0) 3 (OT)
Senior midfielder Grace O'Hara netted a pair of goals, including the game-winner in overtime to lead Pittsford Mendon. Sophomore midfielder Bridget Merkel netted the Lady Vikings' first point of the match.
VICTOR (1-3-1) 0
FAIRPORT (3-3-0) 2
After losing to Victor 2-1 to open the season, Fairport used two first-half goals and a Brigid Mulholland shutout to hang on for the revenge victory. Isabella Pucci and Claudia Giambrone split the pair of goals and gave the Red Raiders a 2-0 lead by the 35th minute. Olivia Kayser and Katie Diem each garnered an assist as well. 
HILTON (5-0-1) 2
RUSH-HENRIETTA (2-4-0) 0
Brynn Sidebotham and Emma Spelman scored first-half goals to lead Hilton to its third straight win. Spelman struck in the 16th minute on an assist from Brooke Wilson and Sidebotham followed up eight minutes later. Senior goalkeeper Hannah Robinson compiled nine saves for the shutout.
WEBSTER SCHROEDER (1-4-0) 0
PENFIELD (4-2-0) 2
Anna Carpenter's first-half goal was all that Penfield would need as it kept Schroeder shot-less through 80 minutes. Courtney Felton added an insurance tally in the second half on a feed from Delaney Tellex. The Patriots have now won four straight. 
FRIENDSHIP (1-6-1) 0
ANDOVER/WHITESVILLE (5-1-0) 7
Zoey Lee paced Andover/Whitesville with a hat-trick and a single assist as the squad won its third straight. Kelsie Niedermaier followed with two goals and an assist while Rachael Jackson finished with one apiece. Gabbi Hall registered an unassisted tally, Gabrielle Terhune dished out two helpers and Kennedy Bledsoe collected an assist for Friendship.
SPENCERPORT (7-0-0) 2
IRONDEQUOIT (0-5-1) 0
Corynna Rotoli paced Spencerport to its seventh straight win with a goal and an assist. The senior midfielder netted a shot in the 53rd minute and assisted Aleena Solano's 13th-minute goal. Junior midfielder Lily Brongo was credited a helper for Rotoli's point.
PEMBROKE (3-5-0) 1
ALEXANDER (5-3-0) 2
Samantha Sawyer scored the go-ahead goal in the 65th minute as Alexander held on for its third straight win. Junior midfielder Carly Burgess netted the first point of the match in the 39th minute. Sam Kabel posted four saves. For Pembroke, eighth-grade midfielder Serene Calderon tied the game 55th minute.
KESHEQUA (5-1-1) 1
CALEDONIA-MUMFORD (2-5-0) 0
Madison Wyskiel made 10 saves for her third shutout victory of the season.
HOLLEY (6-1-1) 2
BYRON-BERGEN (4-4-0) 1
Mia Gray found Eden Goff in the 14th minute to get Byron-Bergen on the board. Hope Hersom made 15 saves throughout 100 minutes of action for Bergen. 
WILLIAMSON (4-1-2) 3
RED CREEK (3-3-0) 0
With two first-half goals, Paige Jordan led Williamson to its third consecutive victory on the road. Cadie Newby bolstered the lead with a tally of her own in the second-half. Each goal began with touches from Andrea Hurtado as she finished with three assists. Chloe Jordan made six saves for her first shutout of the season.
CHURCHVILLE-CHILI (3-2-1) 2
WEBSTER THOMAS (1-3-2) 1
GREECE ATHENA (4-2-1) 1
PITTSFORD SUTHERLAND (3-2-1) 1
Sutherland's Ashley Finkbeiner found the back of the net with just over six minutes left in regulation to even the score. 
WAYLAND-COHOCTON (3-4-0) 0
WARSAW (5-2-0) 8
Two days after having its win streak snapped at four games, Warsaw returned with a dominating outing. 30 minutes into the match, the Tigers had already acquired a 7-goal lead. Makaylah Higgins found herself playing a part in seven of the eight total goals and Chloe Hubbard completed a hat-trick five minutes after half. Higgins finished the game with seven assists, and compiled five of her points in a 22-minute span. Carly Wick and Mattie Heim each tallied twice while Morgan Langdon scored once. Taylor Howard accounted for the only other assist in the match.
LYNDONVILLE/MEDINA (VI) 2
WHEATLAND-CHILI (5-3-0) 5
Gracie Johnson registered Lyndonville/Medina's first tally unassisted. In the second half, Kaylee Nesbitt found Ella Lewis for the Tigers' second goal.