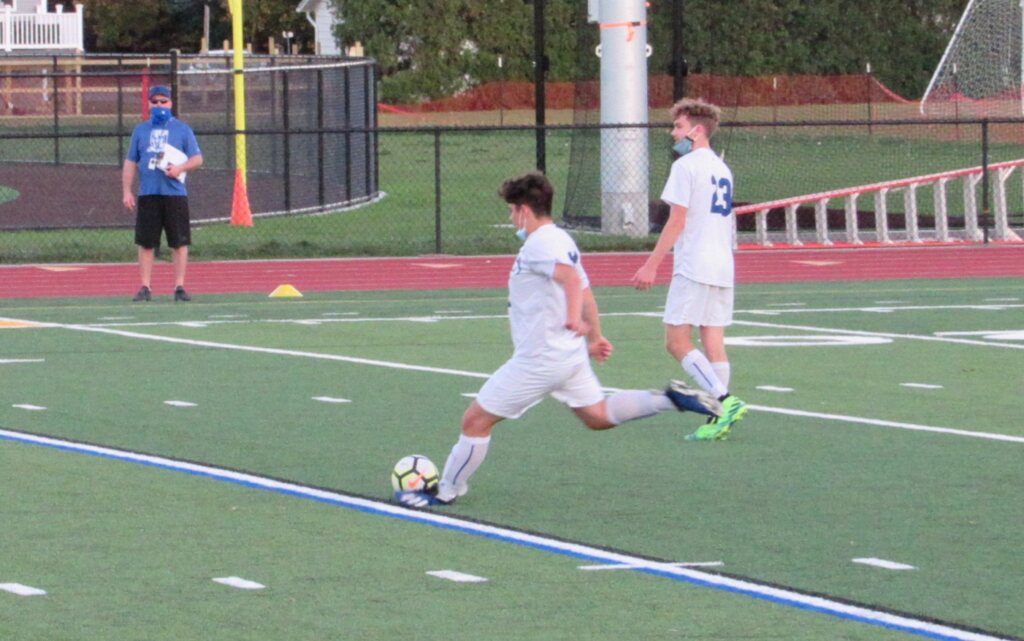 GIRLS
MARCUS WHITMAN (2-4-1) 2
BLOOMFIELD (4-2-1) 2
Katrina Marten's goal with less than 10 minutes remaining in regulation leveled the match for Marcus Whitman. Cam Lewis scored twice for Bloomfield including a a tally in the 68th minute to give the Bombers a one-goal edge. Evelyn Lambert connected for Whitman's first goal. Bloomfield's Lauren Bell added an assist. Whitman's Abby Kornbau made 11 saves. Liv Caspersson stopped nine shots for Bloomfield.
RED JACKET (1-5-0) 3
DUNDEE/BRADFORD (0-5-0) 1
Trailing 1-0 midway through the first half, Maddie Chase knotted the game with her first of three goals. The junior midfielder gave Red Jacket a lead it did not surrender before halftime and completed the hat trick early in the second half. Delia Dorgan, Olivia Hotchkiss and Holly Rice collected an assist apiece. Nicole Peterson gave Dundee/Bradford the lead four minutes into the match. Madison Hughes assisted on the play. Red Jacket keeper Mary English made 14 saves.
AVOCA/PRATTSBUGH (1-5-0) 3
CAMPBELL-SAVONA (0-2-0) 1
Olivia Kilmer collected two goals and Lucia D'Arpino added the third for Avoca/Prattsburgh. Kayla Mills made six saves for the win.
BELFAST (5-1-0) 6
FRIENDSHIP (1-5-0) 0
Alicia Borden scored twice and added an assist to lead Belfast to its fifth straight win. Borden and Cierra Wallace did all the scoring when the Bulldogs grabbed a 3-0 lead heading into the locker room. Harley Proctor, Abby Sullivan and Kelsi Morton added a goal apiece in the second half. Mary Hamer added an assist. Katlin Sadler made two saves for Belfast's fourth shutout of the season.
FILLMORE (9-0-0)
BOLIVAR-RICHBURG (4-3-0)
Grace Russell finished with four goals (three in the first half) and an assist as Fillmore continued its dominance this season. Hope Russell and Sophia Templeton also collected first-half tallies as the Eagles grabbed a 5-0 lead after the first 40 minutes. Templeton had three assists. Shelby Beardsley added one helper. Preslee Miller made seven saves in the win. Fillmore has outscored opponents 48-8 this season.
HAMMONDSPORT (1-3-0) 1
CANISTEO-GREENWOOD (4-2-0) 2
Lily Rexford and Brooke Burd scored a goal apiece as Canisteo-Greenwood won its fourth game  in the past five games. Allie Hurd and Faith Blake both had an assist. Destiny Reese made three saves for the win.
ADDISON (4-0-0) 2
ARKPORT (3-1-0) 0
Kihara Gotshall and Martine Buijs scored a goal apiece to lead Addison. Bella Benjamin made four saves for Addison second straight shutout. Kerrigan Driskell had an assist.
BOYS 
BATAVIA (4-1-0) 3
GREECE OLYMPIA (2-4-0) 0
Dima Havens connected from 40 yards out to break a scoreless tie in the 37th minute. Colin Dunn added to the lead in the 70th minute with an assist from Ayden McFollins. Nick Grover finished the scoring with a helper from Jaziel Childs. Noah Delcamp made six saves for his second straight clean sheet.
EAST ROCHESTER (6-1-0) 4
SODUS (3-5-0) 1
Max Wagner scored two goals including one in the second half when East Rochester gained separation. Trailing 1-0 after the first 40 minutes of play, Chuck Domm scored an unassisted goal and added two assists. Russell Domm had a goal and an assist in the Bombers fourth straight win.
East Rochester downed Sodus for the second time this season.
GANANDA (3-4-0) 5
RED CREEK (0-7-0) 0
LIVONIA (7-2-0) 0
BATH-HAVERLING (6-1-0) 2
WAYLAND-COHOCTON (2-5-0) 1
LeROY (3-3-1) 0
Jaden Rocha accounted for an unassisted marker in the first half, and Wayland-Cohocton triumphed for the second time in three outings. Kenny Saunders made nine saves in the loss.
PAVILION/YORK (4-3-1) 1
CALEDONIA-MUMFORD (5-2-1) 1
Cal-Mum's Sebastian Kresge and Pavilion/York's Kyan Tiede exchanged first-half goals. Kresge converted a penalty kick.
AVON (6-2-0) 2
GENESEO (2-6-0) 1
Hudson Volpe scored the eventual game winner in the 34th minute. Evan Masten assisted on the play. Teammate Alex Mayen started the scoring with help from Lee Hartke in the 19th minute. Geneseo'a Ethan Bennett delivered the equalizer 13 minutes later. Michael Walton assisted on the play.
MOUNT MORRIS () 0
KESHEQUA (8-0-0) 7
Jacob Schiano accounted for two of his three goals in the first half when Keshequa jumped out to a 3-0 lead going into the break. Riley Rease, Aidan Wood, Jordon Luther and Rene Figueroa scored a goal apiece for the reigning NYS Far West Regional champion. Reese Powers had two assists. Luther, Schiano, Adam Hunt, Sterling Strain and Kellen Wood all added an assist apiece. The shutout was the fourth straight for Keshequa and sixth this season. The Indians have outscored opponents 60-2 this season.
HORNELL (3-3-1) 2
LETCHWORTH/WARSAW (4-4-0) 1
Ian Ashworth and Liam Khork scored second-half goals to lead Hornell. Wyatt Argentieri asssited on Ashworth's marker.
WHEATLAND-CHILI (4-3-1) 1
ATTICA (6-1-1) 1
Attica's Travis Kauffman converted a penalty kick in the 78th minute to level the match.
KENDALL (4-4-0) 2
BYRON-BERGEN/ELBA (2-6-0) 0
Michael McCue and Jacob Esposito scored second-half goal as Kendall won for the third time in four games. Joe Nettles collected an assist on McCue's marker.
PEMBROKE (1-7-0) 0
HOLLEY (6-2-0) 3
Holley won both regular-season meetings between the teams. The shutout was the third of the campaign for the Hawks who had opened the season with five straight wins before dropping a pair.
FRIENDSHIP (0-5-0)
HINSDALE (1-2-2)
Hinsdale took the earlier meeting between the two schools, 6-0.