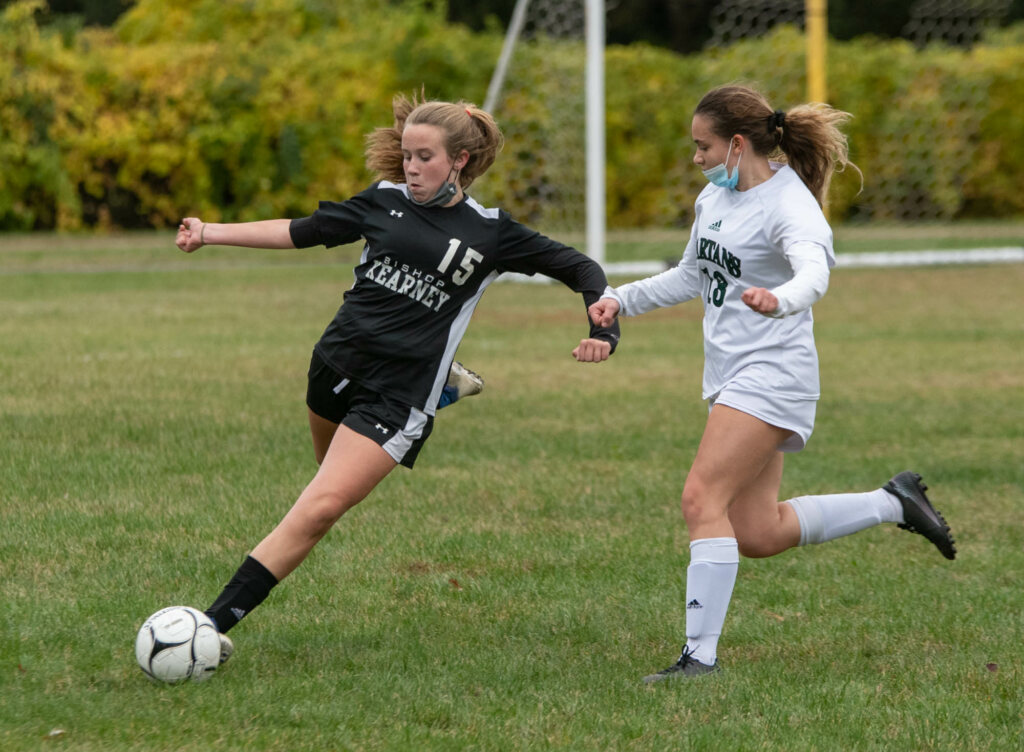 GIRLS
SPENCERPORT (5-0-0) 3
MERCY (2-2-0) 0
Spencerport pushed its winning streak up to five to begin the year behind a shutout and three separate goal scorers. Lily Brongo sent a cross to Corynna Rotoli for a goal to get on the board in the 14th minute. Rotoli returned the favor in the 42nd minute setting up Brongo. Amy Canaan put the finishing touches up in the 67th minute with a goal of her own.
KEARNEY (5-1-1) 4
OLYMPIA (0-3-1) 0
Junior-midfielder Kaia Goode netted a hat trick in the win. Taylor Norris scored the lone goal outside of Goode. Katie O'Gara and Norris recorded an assist and Emily Tytler had two assists.
MOUNT MORRIS (0-5-0) 0
KESHEQUA (3-1-1) 6
Heather Moriarty scored five goals in the blowout victory. Moriarty scored a hat trick in the first half and netted two more in the second. Emerson Willett joined Moriarty scoring a goal in the 39th minute. MacKenzie Gillen, Libby Benner, and Kelsey Davis all received credit with an assist.
LYNDONVILLE (2-4-0) 1
ALEXANDER (3-3-0) 4
Madison Fuller scored twice in the first-half to deliver a win for Alexander. Samantha Sawyer and Natalie Whitmore added two more goals in the second half to finish the game. Sam Kabel recorded seven saves in goal. For Lyndonville, Lily Joe Carpenter netted the only goal.
CAL-MUM (2-3-0) 3
PAVILLION (1-4-0) 1
Sophomore Marissa Roides accounted for two goals en route to the win. The midfielder/forward assisted a goal scored in the 22nd minute by Ava Amorese and scored her own goal in the 25th minute. Adrianna DiSalvo netted the final goal for Cal-Mum. Kali Markek scored the lone goal for Pavillion.
HORNELL (3-1-1) 1
LEROY (2-3-0) 0
WARSAW (4-1-0) 4
DANSVILLE (1-3-1) 1
Chloe Hubbard netted two goals in the second half to lead Warsaw to its fourth straight win. The captain scored in the 48th and the 80th minutes. Mattie Heim and Emma Tangeman scored the other two goals for Warsaw. Junior goalkeeper Sarah Cox had eight saves while allowing one goal.
VIEW MORE SUE KANE PHOTOS HERE. 
OAKFIELD/ELBA (3-2-0) 3
BATAVIA-NOTRE DAME (3-3-0) 2
Freshmen Caitlynn Ryan and Macy Altamirano paired up to score two goals for Oakfield/Elba. Altamirano scored in the 49th minute on a pass from Ryan. Altamirano returned the favor on an assist to Ryan as she scored the game-winning goal in the 97th minute. Christina Bartholomew netted a goal in the 92nd minute to tie the game. For Batavia Notre Dame, Autumn Mathisen netted a goal in regulation and Kate Ricupito scored a goal in overtime.
ATTICA ()
PEMBROKE ()
ARCADIA (0-5-0) 2
ODYSSEY (1-2-1) 4
Sienna Tyo netted two goals in Odyssey's first win of the season. Ekemini Udofa netted the first goal of the game for Odyssey and Isabella Nuciolo scored the final goal. McKinley Madsen ended the game with eight saves.
NORTHSTAR (1-3-0) 1
FINNEY (3-1-0) 2
HONEOYE FALLS-LIMA (5-0-0) 2
GATES-CHILI (0-3-2) 0
Sophomore Maria Karipidis accounted for two goals in Honeoye Falls-Lima's fifth straight win. Karipidis scored in the 31st minute on an assist from Paige Brent and then assisted on Liana Torpey's goal in the 48th minute. Senior-Captain Mari Spitz posted a shutout with six saves.
SODUS (0-5-0) 1
WILLIAMSON (3-1-2) 10
Midfielder Sophia Konstantinou recorded a hat trick in a high scoring win for Williamson. Junior Paige Jordan netted two goals while Cadie Newby, Andrea Hurtado, Reagan Mangos, Emma Scileppi, and Taylor Williams all added a goal. Chloe Jordan had two saves. For Sodus, senior Makendra VanGee scored the lone goal.
AVON (5-0-0) 5
PERRY (1-4-0) 0
Ellie Cochrane netted two goals in the second half, Natalie Masten, Alicia Faville, and Maggie Vanderbilt all scored once in the win. Maddy Ruter recorded two assists and Courtney Yencer saved four goals.
CANANDAIGUA (2-3-0) 2
BATAVIA (1-4-0) 0
Ava Bugenhagen and Ellia Teerlinck combined for two goals in the first half to pace Canandaigua to its second win. Alexa Tenney and Bella Schoor received credit for assists. Goalkeeper Destiny Lippincott recorded three saves in the shutout.
LIVONIA (2-4-0) 1
BATH-HAVERLING (5-0-0) 3
Ella Yartym scored twice in the fifth straight win by Bath-Haverling. Cadence Stermole and Natalie Krelie assisted on the two Yartym goals. Keegan Smith picked up an assist when Lillian Dickson scored in the 35th minute. Karleigh Wheeler collected five saves while allowing only one goal.
HOLLEY (4-1-1) 1
KENDALL (1-3-1) 1
Kendall's Brianna Wakefield and Holley's Samantha Bates matched each others goal to produce each teams first tie of the season. Kailie Regan had 15 saves for Kendall . Emma Brady had four saves for Holley.
WHEATLAND-CHILI (4-2-0) 0
BYRON-BERGEN (4-2-0) 2
Mackenzie Hagen and Brooke Jarkiewicz scored the decisive two goals in the low-scoring win. Hagen struck first in the 28th minute scoring on a pass from Eden Goff. Jarkiewicz netted the insurance goal in the 66th minute on an assist from Mia Gray. Hope Hersom had nine saves in her shutout work.
GENESEO (5-0-0) 3
YORK (3-1-1) 0
Three different goal scorers pace Geneseo to five straight wins to begin the season. Morgan Walton, Bridget McMaster, and Lainey Scoville all netted one goal. Faith Hainsworth collected four saves in the shutout.
BOYS
HOUGHTON ()
FRIENDSHIP ()
GENESEE VALLEY (2-3-1) 3
SCIO (2-4-1) 0
Three second-half goals from Christian Tuttle and William Scholes lead Genesee Valley to victory. Tuttle scored once and assisted on one of the two goals scored by Scholes.
BOLIVAR-RICHBURG ()
CUBA-RUSHFORD ()
MYNDERSE (4-2-0) 4
WATERLOO (0-6-0) 0
Jared Hartwell netted two goals en route to the shutout victory. Jake Smith assisted on one of Hartwell's goals and scored his own in the 33rd minute. Ryan Furletti scored a goal in the 22nd minute.
MARCUS WHITMAN (2-2-0) 1
PENN YAN (3-2-0) 3
GENEVA (4-2-0) 3
PAL-MAC (1-3-1) 2
Mason Rusinko accounted for all three goals in the Geneva win. Rusinko scored the first goal for and then assisted Zach Martinez for Geneva's two regulation goals. Rusinko scored the game-winning goal on a assist from Aiden Fallo in overtime.
WELLSVILLE (4-1-1) 0
FILLMORE (6-0-0) 2
Mitchell Ward and Mason Cool netted a goal apiece to push Fillmore's win streak to six.
MCQUAID (4-0-0) 1
WAYNE (5-1-0) 0
Andrew O'Hern scored a goal in the 21st minute giving the edge to McQuaid in the battle of unbeatens.
CANISTEO-GREENWOOD ()
CAMPBELL-SAVONA ()
ADDISON (1-2-1) 1
ALFRED-ALMOND (5-0-0) 3
Juniors Caleb Price and Dylan Coots posted a goal each to continue Alfred-Almond's undefeated season. Freshman Jack Emo scored the final goal in the 72nd minute on top of his two assists to Price and Coots.