By PAUL GOTHAM
ROCHESTER, N.Y. — Jim Vanderhoof was waiting on his team to play a full 80 minutes.
The Gates-Chili boys' soccer coach got his wish Monday night.
Mustafa Alshuiabi and Owen Curley scored a goal apiece, and the Spartans finished off their first win of the season – a 2-0 victory over Eastridge.
"We've definitely been going through some adversity," Vanderhoof said. "It was good to get a win tonight."
Alshuaibi started the scoring in the 19th minute when the senior midfielder took advantage of a giveaway and found the back of the net from 18 yards out.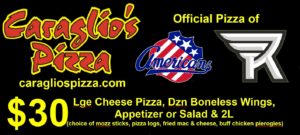 The goal came after the Spartans held off early pressure from the Lancers.
"One of the things these guys do is sit back and wait for the other team to come attack. That's not something we're able to do."
Less than two minutes into the second half, Curley, a freshman, doubled the advantage when he finished off a cross from Giovanni Buonomo.
"It was a good, scrappy goal. Finally had a break go our way."
Buonomo was able to get to the end line along the left wing and delivered a cross into the goal mouth. Curley did the rest.

"We knew we needed to get the next goal in the game," Vanderhoof noted. "That was our main talking point at halftime. We thought that whoever got that goal would have a very good chance of coming out on top. It was good we were able to get that early."
Elijah Murray made eight saves for the shutout.
"Elijah is outstanding. He gets peppered almost every game as we are a little down this year. He doesn't let it get him down. He really performs. He's one of the leaders on the team and really steps up. And he did that tonight and finally was able to get that clean sheet."
Gates improved to 1-4-1 with the win.
On Saturday, they lost to Webster Thomas after taking a lead into halftime. Prior to that, the Spartans fell in double overtime to Irondequoit.
"It was good to be able to put together more than 20 or 40 minutes of good soccer and be able to play a full game of soccer."