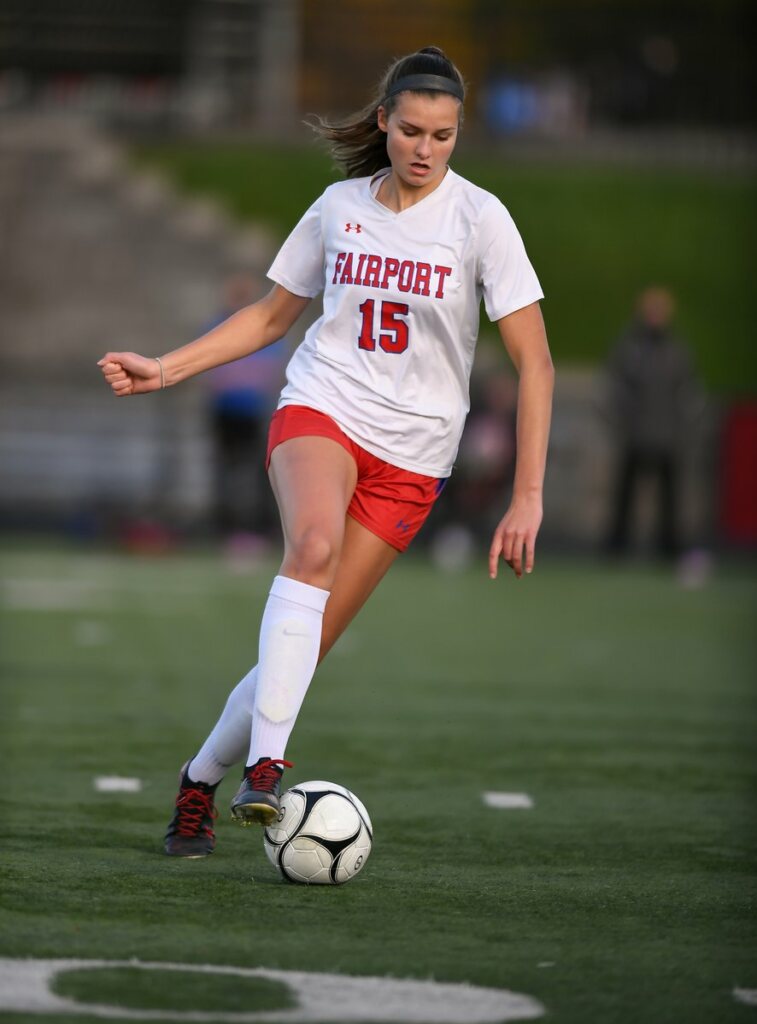 GIRLS
WEBSTER SCHROEDER (1-2-0) 0
HILTON (3-0-1) 1
On Saturday afternoon, senior captain Sydney Hayward highlighted a strong second half as Hilton downed Webster Schroeder, 1-0. READ MORE.
GREECE ATHENA (2-2-0) 3
BROCKPORT (2-2-0) 4
Nadia Nealon's free kick with just over four minutes left hit Gisela Allen's head and found the back of the net. The score was 4-3 after that, which was the final, but based on how it got there, the game seemed far from over. READ MORE.
MARCUS WHITMAN (1-4-0) 1
NAPLES (5-0-0) 2
Carolelyn LaPrairie scored a pair of goals, including the go-ahead shot in the 77th minute to lead Naples to its fifth straight win to open the season. The senior midfielder gave the Lady Big Green an early lead in the eighth minute. Makenna Ward assisted LaPrairie's game-winner. Junior goalkeeper Jesse Gordon stopped 12 shots. For Marcus Whitman, sophomore midfielder Aurora Woodworth tied the game in the 16th minute thanks to Zoelle Payne. Abby Kornbau had 14 saves.
AQUINAS (2-1-0) 2
OUR LADY OF MERCY (1-1-0) 1
Chanel Alexander and Emily Silverstein scored a goal apiece to lead Aquinas to its second straight win. Senior goalkeeper Isabelle Schifano had nine saves.
VIEW MORE DENNIS JOYCE PHOTOS HERE.
WELLSVILLE (1-4-1) 0
ANDOVER/WHITESVILLE (3-1-0) 4
Zoey Lee netted a pair of goals as Andover/Whitesville won its second straight home game. Rachel Jackson and Gabby Terhune each scored once.
CUBA-RUSHFORD (1-4-0) 0
BELFAST (4-1-0) 1
Hannah Southwick-Powers' 43rd-minute goal was the difference in Belfast's fourth consecutive victory. Freshman midfielder Abby Sullivan assisted the point. Junior goalkeeper Katlin Sadler preserved the clean sheet with seven saves. For Cuba-Rushford, sophomore goalkeeper Tara Duvall had two saves.
SPENCERPORT (4-0-0) 3
CHURCHVILLE-CHILI (2-2-0) 1
Senior midfielder Sabrina Trapani collected two assists as Spencerport notched its fourth straight win. Alyssa Hackett, Corynna Rotoli and Aleena Solano scored the Lady Rangers' goals. Senior midfielder Elaina Johnson added an assist. Cate Burns and Kailee DiGiacco split time at goalie and combined for five saves. For Churchville-Chili, junior midfielder Alaina Reina scored the team's lone goal in the 78th minute. Sophomore midfielder Amelia Breton assisted the point. Senior goalkeeper Skylar Williams had 11 saves.
GREECE ARCADIA (0-4-0) 0
PITTSFORD MENDON (4-0-0) 5
Bridget Merkel paced a balanced Pittsford Mendon offense with two goals. The sophomore midfielder scored the second of the Lady Vikings' two points in the first half and followed up in the 78th minute. Elena Barr, Mary Kate Leon and Grace O'Hara rounded out the scoring. O'Hara added two assists and Barr one. Senior midfielder Kiran Brent assisted O'Hara's goal. Ary Lougher and Hope McGuckin combined for three saves.
PITTSFORD SUTHERLAND (3-1-0) 4
CANANDAIGUA (1-3-0) 0
Laura Bennett paced Pittsford Sutherland with a goal and an assist. The junior midfielder capped off the scoring in the 55th minute and assisted Abby Dunnigan's point. Ashley Finkbeiner and Ava O'Neil each netted a shot. Ava Allen, Allie Finkbeiner and Becky Frank were all credited assists. Senior goalkeeper Samantha Michaud only needed one save for the shutout. For Canandaigua, freshman goalkeeper Payton Malec had eight saves.
GREECE ODYSSEY (0-2-1) 2
GREECE OLYMPIA (0-2-1) 2 (2 OT)
Sienna Tyo and Ekemini Udofa scored a goal apiece for Greece Odyssey. Aleah Greene and Isabella Nuciolo were each credited an assist. Junior goalkeeper McKinley Madsen recorded eight saves. For Greece Olympia, Kuditra Derosa had a goal and an assist. The junior forward gave the Lady Spartans a 2-1 lead in the 36th minute and assisted Jordan Walker's point. Senior goalkeeper Giana Dimora posted 12 saves.
IRONDEQUOIT (0-3-1) 2
BRIGHTON (3-0-1) 3
Maggie Cregan and Pauny Khounpachamsy led Brighton with a goal and an assist apiece as the Lady Barons netted three shots in the second half. Khounpachamsy got the scoring started in the 60th minute and Cregan followed up two minutes later. Senior midfielder Virginia Burkhart scored in the 63rd minute with the help of Amelia Adiutori. Alice Yawman had a save.
FAIRPORT (2-2-0) 2
RUSH-HENRIETTA (1-2-0) 1 (OT)
Junior midfielder Katie Diem scored two goals, including the game-winner in the 87th minute to lift Fairport. Senior defender Lilian Hicks assisted the go-ahead shot. Sophomore goalkeeper Brigid Mulholland compiled 15 saves. For Rush-Henrietta, senior forward Oumou Donzo tied the game at one apiece in the 72nd minute. Eva DiDomenico and Michaela Neelin combined for nine saves in goal.
EASTRIDGE (2-1-0) 1
HONEOYE FALLS-LIMA (4-0-0) 3
Paige Brent paced Honeoye Falls-Lima to its fourth straight win with a goal and assist. The senior midfielder scored the last of the Lady Cougars' three first-half goals in the 26th minute. Brent assisted Liana Torpey's shot as well. Sophomore midfielder Maria Karipidis rounded out the scoring. Izabela Woloszuk and Abby Zolo were credited assists. Mari Spitz and Natalie Ventura split time at goalie and combined for four saves.
GATES-CHILI (0-2-2) 2
WEBSTER THOMAS (0-2-2) 2 (2 OT)
Abby Audin and Ashley O'Hara scored a goal apiece for Gates-Chili. Senior midfielder Kiki Hollis assisted both points.
PENFIELD (2-2-0) 3
VICTOR (1-2-1) 1
Anna Carpenter scored back-to-back goals for Penfield to lead the Lady Patriots to their second straight win. Junior midfielder Natalie Giunta rounded out the scoring. Emily Fordham and Delaney Tellex both helped Carpenter's shots. Junior goalkeeper Paytyn Crane had four saves. For Victor, senior defender Abby Samson scored the team's lone goal in the 58th minute. Sophomore goalkeeper Ava Lattimer posted four saves.
BLOOMFIELD (3-2-0) 0
HONEOYE (4-1-0) 3
MYNDERSE (0-5-0) 1
WATERLOO (2-4-0) 2 (OT)
BOYS
MCQUAID (3-0-0) 2
AQUINAS (1-3-1) 1 (OT)
Elliot Aguirre scored twice including a golden goal in the first overtime as the McQuaid Jesuit Knights came from behind to beat Aquinas, 2-1 in non-league action Saturday night. READ MORE.
WAYNE (5-0-0) 9
MIDLAKES/RED JACKET (0-5-0) 0
With three goals apiece, Josh Bolt and Ryan Wilson led Wayne to its fifth straight win to start the year. On top of his hat-trick, Bolt added three assists in the match. The match was lopsided from the start as Wayne possessed a 5-goal lead by the 17th minute. Alex Cook, Tyler Reynolds and CJ Salatino each found the back of the net once. Reynolds also contributed two helpers while Salatino finished with one. Billy Hill, Dylan Cook and Eli Schichtel each picked up an assist as well.
PENN YAN (2-2-0) 2
NEWARK (1-3-1) 1
Gabriel Caraballo scored Newark's lone goal on a feed from Brian Estrada in the 35th minute.
GENEVA (3-2-0) 2
PALMYRA-MACEDON (1-2-1) 1
Mason Rusinko scored once in each half to push Geneva past Pal-Mac for its first win in three games. Rusinko is now up to nine goals and three assists this season. Jordan Myer and Aiden Eighmey picked up an assist each for Geneva. Jay Huddleston scored Pal-Mac's lone goal on a penalty kick.

BYRON-BERGEN/ELBA (2-3-0) 2
ATTICA (4-1-0) 3
After assisting on Attica's first two tallies, Evan Dickhut buried the game-winner in double-overtime to give the Blue Devils their third straight win. Simon Lamparelli scored in the game's opening minute and again in the 27th. The sophomore now has seven tallies on the year, five of them coming off feeds from Dickhut. Nick Perl made 7 saves in the match.

PEMBROKE (0-5-0) 2
KENDALL (2-3-0) 3
Michael McCue scored twice including the game-winner in the second half to give Kendall its first win in three games. Jacob Esposito and McCue both found the back of the net in the first half to put the Eagles ahead 2-1 by half. Hayden VanDusen assisted  on both of McCue's goals. Danny Curtis registered Pembroke's second goal of the evening on an assist from Jacob Dulski. Sean Pustulka tallied Pembroke's first with the help of Matthew Curtis.
MOUNT MORRIS (1-4-0) 1
PERRY (0-5-0) 0
Sophomore midfielder Payton Bownds scored Mount Morris' first goal of the year to push past Perry, 1-0. The unassisted tally came in the closing minute of the first half. Logan Brooks was tasked with 13 saves in his first shutout of the season.

HORNELL (2-2-0) 1
LIVONIA (5-1-0) 2
Liam Khork scored Hornell's only tally of the game, his fourth of the year. Shawn Rose earned the assist on the play.

WAYLAND-COHOCTON (1-4-0) 5
DANSVILLE (0-4-0) 1
Brogan Cotter collected a hat-trick in the first half and finished with four tallies to lead Way-Co to its first win of the season. Caleb Kendall opened scoring in the third minute to give Dansville an early 1-0 lead. Cotter followed with three unanswered in less than 30 minutes. Titan Rocha scored in the opening minute after halftime on a setup from Dillin Quackenbush. Rocha added two assists while Markus Brehm and Michael Gammell both had one.
AVON (4-1-0) 3
PAVILION/YORK (2-3-0) 2
Cam Salvati found the back of the net twice as Avon held on for its fourth straight win. Salvati registered Avon's first tally of the game in the 15th minute and its third in the 64th. Carson Williams netted the Braves' second goal on a penalty kick. The two have combined for 14 goals this season.

KESHEQUA (6-0-0) 8
CALEDONIA-MUMFORD (4-1-0) 0
Riley Rease collected a hat-trick and two assists to keep Keshequa undefeated and hand Cal-Mum its first loss of the year. Rease now leads all of Section V with 14 goals and eight assists. Reese Powers and Aidan Wood both found the back of the net twice while Jordan Luther scored once but assisted twice. The Indians possessed a 4-0 lead by the 10th minute. Sterling Strain, Jacob Schiano and Avery Strobel each picked up a helper. Keshequa has now won five of its six games by five goals or more.

GREECE ATHENA (4-0-0) 7
BROCKPORT (0-4-0) 0
Six different players acquired points in Athena's seven-goal first half to stay perfect in this year's campaign. Dylan Rice led the offensive outburst with two goals and two assists. Gavin Rice followed with a goal and two assists while Nate Masucci contributed two tallies. Ryan Fitzgerald scored once and added a helper. Brian Piendel scored and Joe Fazio had an assist in the match as well.

WEBSTER THOMAS (3-1-0) 5
GATES-CHILI (0-4-0) 2
Zach Wolfe and Taner Goren split four goals to lead Webster Thomas over Gates-Chili. Brendan Hill tallied the other Titan goal and assisted on Wolfe's to break-open the match. Bryce Halsdorfer added an assist for Webster Thomas as well.

CHURCHVILLE-CHILI (2-2-0) 2
SPENCERPORT (2-2-0) 1
Late in the second half, Caleb Bailey scored his fourth of the year to break a 1-1 tie and down Spencerport on the road. Gavin Egan contributed a goal and assist. Joey Oliver had an assist as well.

EASTRIDGE (1-3-0) 0
HONEOYE FALLS-LIMA (3-0-0) 4
David Brassie opened scoring with HFL's only goal of the first half. Ian Kane picked up the assist. Gunnar Wetzel followed with an unassisted tally, for his team-leading fourth goal of the year. Freshman Madut Mathuc scored his first varsity goal in the contest to make it 3-0. Nick Burch capped off the match using Kane's second assist of the night. Cade Ratliff collected his second shutout of the season.
BRIGHTON (2-1-1) 0
IRONDEQUOIT (2-1-1) 0
Josh Ludolph made four saves in his third shutout of the year for Irondequoit.

CANANDAIGUA (1-2-1) 1
PITTSFORD SUTHERLAND (3-1-0) 4
Sutherland used four different goal scorers in the first half to overtake Canandaigua in its third straight victory. Jack Leahy and Dylan Kladstrup gave the Knights a 2-0 lead by the ninth minute, both coming off feeds from Will Field. Six minutes later, Nate Wondrack made it 3-0 and Ahkil Damani added another before halftime. Harry Vought picked up assists on both tallies.

VICTOR (2-2-0) 1
PENFIELD (4-0-0) 2
With 15 minutes left in regulation, Cristiano Mounnarat bent in a free kick to seal the victory for Penfield. Victor jumped out to a 1-0 lead with a goal and assist from Max Fiorica and Tristan Gilbert. Gibson Spector answered for Penfield using a helper from Shane McMillan.

HILTON (2-2-0) 3
WEBSTER SCHROEDER (0-4-0) 0
Cody Cavuoto completed a first half hat-trick to best Webster Schroeder on the road. Dean Shaibi collected two assists while Brandon Andracki helped on the other tally.
WELLSVILLE (4-0-1) 4
ANDOVER/WHITESVILLE (0-4-1) 2
Spencer Cook scored twice for Andover/Whitesville but Wellsville's timely responses kept the Lions in control of the game. Aidan Riley scored the only goal in the first half on a feed from Ethan Bailey for a 1-0 Wellsville lead. Six minutes preceding halftime, Cook notched his first of the game to tie it at one. Cody Costello put Wellsville ahead eight minutes later on an unassisted tally. The Lions doubled their lead on a header by Cooper Brockway sent in by Costello. Cook managed to bring Andover one goal closer but Sam Schmidt ended its chance at a comeback with a direct kick assist from Jake Schrlau.
WILLIAMSON (4-2-0) 2
NORTH ROSE-WOLCOTT (4-1-0) 0
Troy Ingham and John Niles both found the back of the net in the second half to hand North Rose-Wolcott its first loss of the season. Niles setup Ingham's tally to break-open scoring. Tyrone Walker assisted on the second Williamson goal. Patsy Catalano earned his second shutout victory of 2020.
LEROY (3-2-0) 0
BATH-HAVERLING (3-1-0) 3
After a scoreless first half, Bath-Haverling scored three unanswered to down LeRoy for its third consecutive win. Tony Orfanidis gave Bath the lead five minutes after halftime on an assist from Braden Yartym. Eight minutes later Yartym found Zach Musso for his fourth tally of the season to double the score. Jose Englert capped off the game on defenseman Brendan Strong's assist.
BISHOP KEARNEY (3-1-1) 3
MYNDERSE (3-2-0) 1
Trailing 1-0 entering the second half, Bishop Kearney scored three times in the final 13 minutes of regulation to steal a win from Mynderse. Evan Stevely scored twice to tie and take the lead within a seven minute span. Casey O'Gara and Luke Tyler picked up an assist apiece. Stevely has nine goals in five games this season. O'Gara added an insurance goal with a helper from Calvin Kron. Jared Hartwell scored Mynderse's only goal of the match two minutes before halftime. 

SODUS (3-3-0) 2
RED CREEK (0-4-0) 0
GREECE OLYMPIA (2-1-0) 3
GREECE ODYSSEY (1-3-0) 2
Muqtada Alafari scored two goals to lead Olympia while Dennis Banahene accounted for the game winner.  William Buttino added two assists for the Spartans. Michael Gould made eight for the win.
HOLLEY (5-0-0) 2
WHEATLAND-CHILI (2-3-0) 1
FAIRPORT (3-1-0) 2
RUSH-HENRIETTA (1-3-0) 0