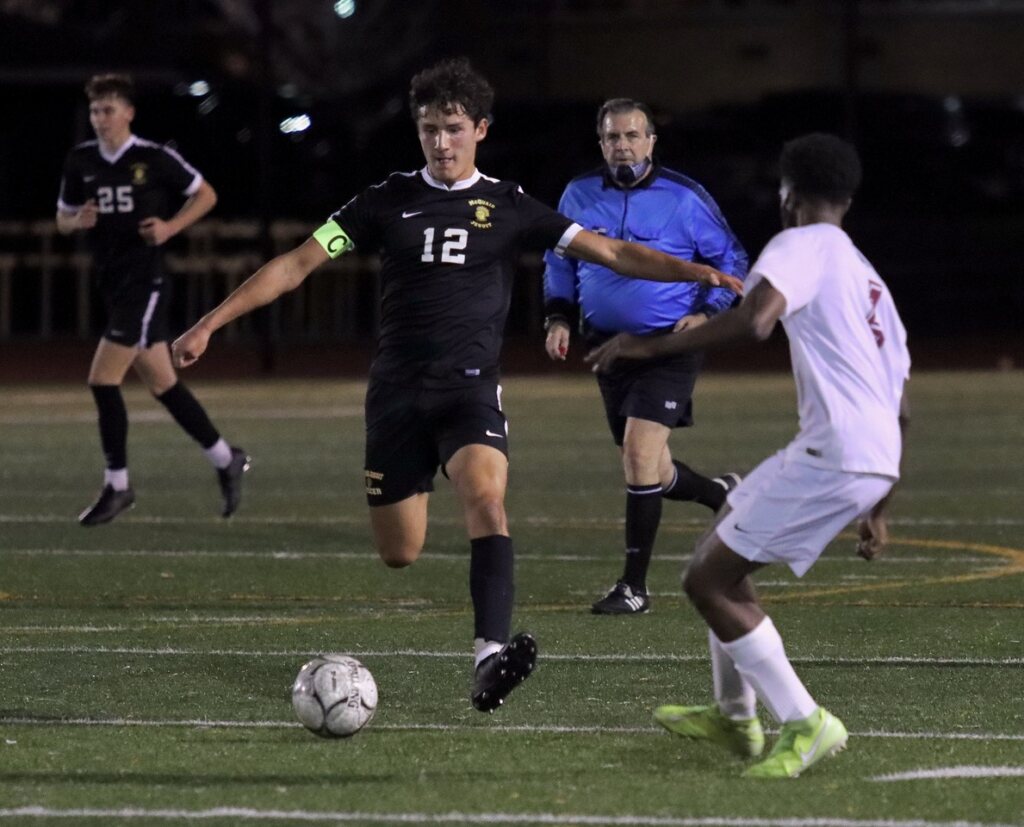 By PAUL GOTHAM
ROCHESTER, N.Y. — Elliot Aguirre scored twice including a golden goal in the first overtime as the McQuaid Jesuit Knights came from behind to beat Aquinas, 2-1 in non-league action Saturday night.
Aguirre found a rare seam in the Aquinas backline and went near post off the dribble for his team-leading fifth marker of the season.
"I saw Andrew (O'Hern) was on the wing," Aguirre explained. "I could have played it out, but they had eight in the back the whole game, and I had the opening in the middle, and I just took it."
McQuaid improved to 3-0-0 on the season with their second win over the long-time rival.
"It was a tough one," McQuaid head coach Nino Pilato said. "Tactically, we changed it up the last few minutes of regulation and overtime. They packed it in. They had eight, nine guys back. We just added an extra attacker."

Adam Holt started the scoring in the opening minute. The Aquinas senior took advantage of give away in the McQuaid end to score his second goal of the season. Holt has collected a marker in each of the last six head-to-head meetings between the two schools.
Aguirre leveled the match 15 minutes later with an assist from Justin Carl.
Less than 24 hours after falling to Livonia in a game where they gave up three goals in the final 13 minutes of action in a 4-0 loss, the Li'l Irish were looking for revenge for a 6-1 setback earlier in the month.
Aquinas missed its chance for the game-winner when freshman Ali Shabani sent a rocket from 30 yards out that hit the cross bar.
Ali Shabani came this close. pic.twitter.com/tysxv3Kkkh

— Paul Gotham (@PickinSplinters) October 18, 2020
"We had a game plan and the kids really bought into it," said Aquinas coach Josh Gleason explaining the 5-3-2 alignment his squad started with and used for much of the game. "Our idea was to establish defense early and slowly inch our way out of it. We had our chances. It was working."
McQuaid was denied a chance to take the lead in overtime when AQ's Alfonso Vito headed a ball off the goal line.
49' Alfonso Vito on the goal line keeps the game level at 1. pic.twitter.com/xpDu407ujT

— Paul Gotham (@PickinSplinters) October 17, 2020
Henry McDonald assisted on Aguirre's game winner.