By PAUL GOTHAM
ROCHESTER, N.Y. — Less than 15 minutes remained in what was then a one-goal game when the Aquinas boys' soccer team earned a penalty kick. The Li'l Irish had been building momentum and it appeared they would be rewarded for their efforts.
Livonia goalkeeper Brendan Meyers had other plans.
The senior goalkeeper turned away the attempt, and three minutes later the Bulldogs started adding tallies to the scoreboard on their way to a 4-0 victory.
"If he doesn't save that penalty kick, we probably would have lost that game," Livonia head coach Ray Maxwell said. "We got outplayed for 20 minutes. They were doing what I thought we would do."
For the second time this season, Meyers stopped a PK. Both going in the same direction.

"I was fairly sure I was going to my left the entire time," Meyers said. "When he lined up straight with that ball, I was like he's definitely going (to my) left."
64' Brendan Meyers denies Aquinas PK. @AthleticsLCS leads 1-0 pic.twitter.com/QtgvbItJBW

— Paul Gotham (@PickinSplinters) October 16, 2020
Ewan Maxwell made good on his teammate's effort converting a pair of free kicks. The first coming with 12:33 left in the game. He scored :92 seconds later for a commanding lead.
"That completely changed the momentum," the senior midfielder said of his teammate's save. "If that penalty went it, this definitely would have been a very different game. Brendan came up absolutely huge for us. He's the real MVP. He completely changed that game for us. That was a huge for us."
Maxwell connected on his second and third goals of the season. The first coming from the left side just outside the 18-yard box. The second he took from 20 yards away at the top of the box.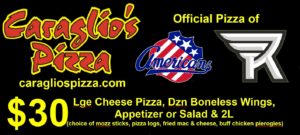 "I'm really happy with the two goals," the younger Maxwell said. "At the end of the day all that matters to me, all that matters to us is that we leave here with the win. That's a huge win for us because they're Class A and we're Class B, so we do get a lot of points for that win. Aquinas is always a tough game. We've been here a few times in the past. It's always a tough battle. We're really happy that we came out of here with a win."
Shane Melead found the back of the net with 27:04 remaining in the first half to give Livonia the lead. The score stayed that way well into the second half.
When a teammate was taken down along the left side of the penalty area, Iesa Mohammed didn't hesitate.
"I'm glad that he grabbed the ball and put it down to take it, but their goalie made a couple big saves to his left, already," Aquinas head coach Josh Gleason said. "I think he was up for it more so than Iesa.
"Livonia was much more physical than we were which were going to lose some of those challenges because were so young. I thought in the second half we figured it out and were pinging it all over."
The Li'l Irish fell to 1-2-1 with the loss.
"I'm not so much results-oriented because were so young," Gleason added. "I know we played really well. I love this team."
Brady Bishop headed in a corner kick for Livonia's final goal with 7:53 on the clock. The win was the fourth straight for the Bulldogs (4-1-0).
"Any win is a good win; this was a good win," the elder Maxwell stated. "We got some luck tonight, and we don't usually get good luck. We're going to ride our luck. We got to get up and play Hornell tomorrow at 11 (AM).