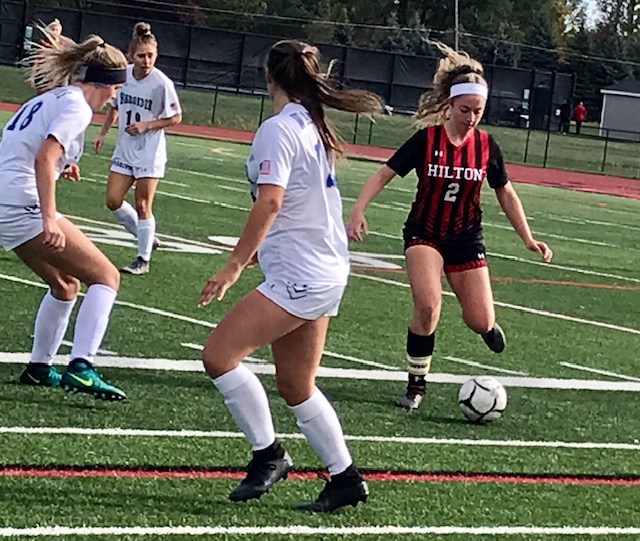 By PAUL GOTHAM
HILTON, N.Y. — If early returns mean anything, the balance of power may be shifting in Monroe County Division I and Class AA girls soccer.
In less than one week, the Hilton Cadets have upended both of the 2019 Section V Co-Champs.
On Saturday afternoon, senior captain Sydney Hayward highlighted a strong second half as Hilton downed Webster Schroeder, 1-0.
"The team's been working hard," first-year head coach Rick Trabold said. "I think we're a team to be reckoned with. I really do."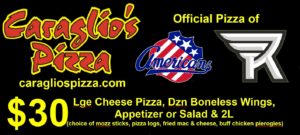 Hayward connected from inside the 18-yard box in the 63rd minute. A play that started with a cross from the left wing, continued when Brynn Sidebotham challenged for a ball near the end line. Possession won, Hayward took over from there.
"It kinda was bobbled, and Brynn played it up in the air," Hayward said. "I remember heading it and just kinda volleying it in the direction of the goal. It happened to go in."
The Cadets made the lead stick.
"Being up 1-nothing is a scary lead because it can turnaround really quickly," Hayward added. "We played with confidence and just tried to keep possessing it and playing it forward. It ended up working for us."
After a first-half which saw Schroeder take the play to Hilton, Trabold's squad changed the momentum for the latter 40 minutes of the game.
"At halftime, we told the girls 'we got to settle it down. The quality of our team is the possession. We rarely do long balls. We don't teach long balls. We like to hold possession and move off the ball, and I think it wore them down at the end. In the second half, we got the better of the play. We had more going in their half (of the field). I think it worked."

Victoria Cangialosi made six saves for the clean sheet. It was the second shutout this season for Cangialosi who shares the goalkeeping responsibilities with fellow senior Hannah Robinson.
"She's fantastic," Trabold said of his keeper. "It all comes down to work ethic. Along with Hannah, we have two very strong goalies. She (Cangialosi) is very commanding. She's aggressive off the line and she did a nice job. She made a couple nice saves in the beginning when we had the wind in our face."
Hilton (3-0-1) downed Penfield 2-0 on Monday. The Patriots and Schroeder shared the Class AA title last season with Penfield advancing to the New York State Far West Regionals on PKs.
Schroeder (1-2-0) finished 15-0-4 a year ago. Kent Brown's Lady Warriors beat Hilton twice in 2019 and played to a draw on another occasion. Prior to Saturday afternoon's, Hilton most recent win over Schroeder came in 2017.
"I coach against Kent in the summer too, so I know he's a quality coach. He's got a quality team. It's a good result against a really good team, a historically-strong team in Section V. It's nice for the program."