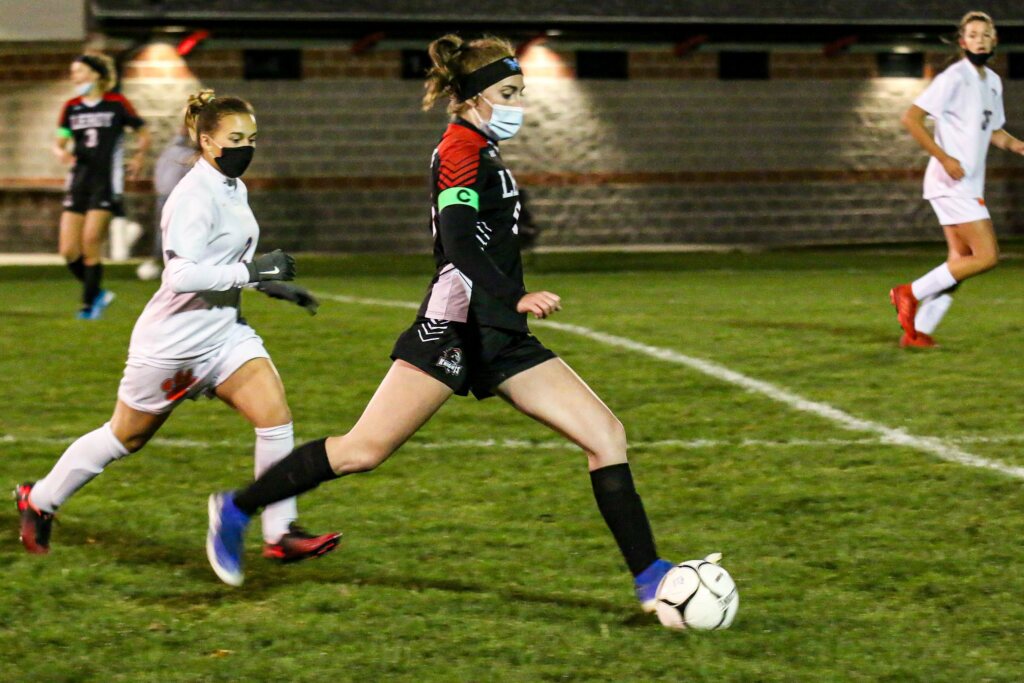 GIRLS
GENEVA (1-4-0) 1
WAYNE (2-2-1) 6
Kaitlyn Wright scored a second-half goal for Geneva.
NEWARK (4-1-0) 1
PALMYRA-MACEDON (5-0-0) 7
Freshman Maya Ikewood collected a second-half hat trick as Pal-Mac pulled away after the break. Leading 1-0, Ikewood connected 12 minutes into the second stanza with an assist from Mercedes Buckingham. Nine minutes later, Ikewood added to lead with help from Emma Robinson. Molly Seither gave Pal-Mac the halftime lead with an assist from Grace Seither. Robinson, Abby Steve and Reagan Diehl added a goal apiece in the win. Grace Seither had three assists. Molly Seither and Kylie Waeghe both had a helper. Claire Boesel made five saves. Ikewood leads Section V with 12 goals and seven assists for 31 points.
PENN YAN (5-0-0) 1
MIDLAKES (1-4-1) 0

NORTH ROSE-WOLCOTT (2-3-0) 1
RED CREEK (2-2-0) 4
Madyson Sanzotta scored twice to lead the Lady Mules. Alexandria Cleveland and Jessica Bolton added a marker apiece. Bolton also had an assist. Keeley McConkey and Mackenzie Ferguson both had an assist.
MOUNT MORRIS (0-4-0) 0
CALEDONIA-MUMFORD (1-3-0) 1
Ava Amorese scored a first-half goal with an assist from Marissa Roides to lead the Lady Raiders. Madison Wyskiel made one save for the clean sheet.
DANSVILLE (1-2-1) 0
BATH-HAVERLING (4-0-0) 3
LIVONIA (2-3-0) 1
LeROY (2-2-0) 4
Maddie Keister scored twice while Megan Benware and Bryn Luckey added a goal apiece as LeRoy won for the second time in three games. Benware and Ellie Dambra both added an assist. Keri Biggins made nine saves in the win. The Oatkan Knights scored three second-half goals.

WARSAW (3-1-0) 5
PERRY (1-3-0) 2
Mattie Heims and Makaylah Higgins collected a goal and two assists apiece to lead the Tigers. Macey Dahl, Emma Tangeman and Chloe Hubbard added a tally apiece. Hailey Degroff and Sarah Cox split goalkeeping duties. Degroff stopped six shots while Cox made three saves.
HORNELL (2-1-1) 2
WAYLAND-COHOCTON (1-3-0) 1
Jane Spitulnik broke a 1-1 tie late in the first half with an unassisted goal, and Hornell held on for the win in Livingston County action. Sophie Wilkins gave Hornell the early lead with an assist from Ayla Prior. Miranda Cartwright leveled the match with help from Hannah Fairbrother.
AVON (4-0-0) 3
LETCHWORTH (0-4-0) 0
KESHEQUA (2-1-1) 0
GENESEO (5-0-0) 5
Bridget McMaster and Lainey Scoville scored two goals apiece to lead the Blue Devils. McMaster found the back of the net twice in the opening 40 minutes as Geneseo took a 3-nil lead into halftime. Morgan Walton had a goal and an assist in the second half. Mary Claire Rollins assisted on McMaster's first goal.
PAVILION (1-3-0) 1
YORK (3-0-1) 2
Kali Markek scored for Pavilion.
ATTICA (1-4-0) 1
BATAVIA-NOTRE DAME (3-2-0) 4
Arabella Rogers, Emma Sisson and Autumn Mathisen collected a goal and an assist apiece to lead the Fighting Irish. Rogers and Sisson combined to score both Batavia-ND first-half goals. Kate Ricupito and Mathisen added second-half markers. Brenna Munn chipped in with an assist. Rebeka Nickerson made five saves.
FILLMORE (6-0-0) 8
HINSDALE (0-4-1) 0
Grace Russell and Hope Russell scored two goals apiece in the win. Zoe Beardsley, Morgan Byer, Sophia Templeton and Torann Wolfer each added a goal and an assist. Rachel Hatch added a helper. Preslee Miller made three saves for the clean sheet.
BOYS
BELFAST (2-3-0) 3
HOUGHTON (3-1-0) 1
GENESEE VALLEY (1-2-1) 1
BOLIVAR-RICHBURG (2-2-1) 0
Thai Norsethaporn connected with under two minutes left on the clock to give Genesee Valley the win.
HINSDALE (1-2-2) 2
ANDOVER/WHITESVILLE (0-3-1) 2
FILLMORE (4-0-0) 3
CUBA-RUSHFORD (0-2-1) 1
Three different players found back of the net for the reigning NYS Class D regional champions. Isaiah Voss, Mason Cool and Mitchell scored a goal apiece for Fillmore. Carter Sisson and Eben Schilke both had an assist. Ethan Rix scored an unassisted goal for Cuba-Rushford.

SCIO (2-3-1) 0
WELLSVILLE (3-0-1) 4
Aidan Riley, Sam Schmidt and Quinn Heaney scored a goal apiece for Wellsville.
LIVONIA (4-1-0) 0
AQUINAS (1-2-1) 4 
Brendan Meyers stopped a penalty kick with less than 15 minutes remaining in the game, and Ewan Maxwell followed with a pair of goals to lead Livonia to its fourth straight victory. READ MORE.
CANISTEO-GREENWOOD (0-4-0) 0
ARKPORT/CANASERAGA (1-1-0) 7
Konnor Stuckey tallied four goals to lead Arkport/Canaseraga. KJ Steiner added a goal and three assists. Josh Abraham and Mikah Hoyt chipped in a goal apiece for Arkport/Canasarega which led 5-nil at half. Joe Bauch had two assists. Wyatt Owens and Jax Roosa both had a helper.
AVOCA/PRATTSBURG (1-2-0) 0
ALFRED-ALMOND (4-0-0) 4
Dylan Coots scored once and had two assists for Alfred-Almond which broke open a tight game at halftime. Leading 1-nil going into the break, Coots connected in the 62nd minute with an assist from Aquila Cushing. Cameron Claire connected four minutes later, and Ayden Burdick capped the scoring. Jack Emo gave Alfred-Almond the lead two minutes before halftime with an assist from Coots.
ADDISON (1-1-1) 1
HAMMONDSPORT (0-1-1) 1
Nevin Davis scored the Hammondsport goal with an assist from Cooper Watson.