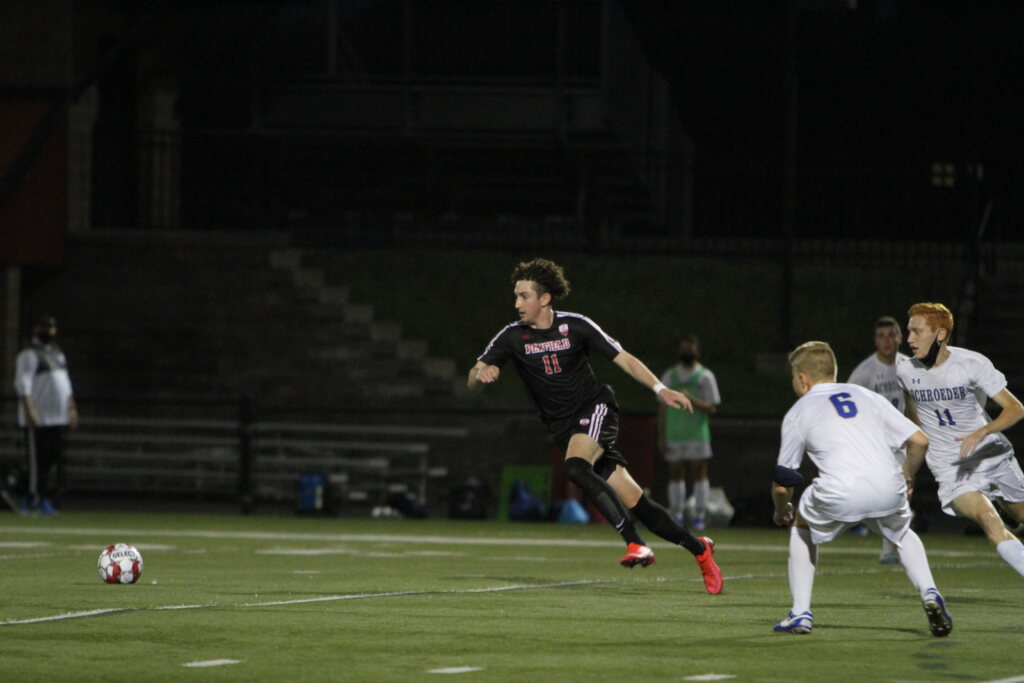 BOYS
PITTSFORD SUTHERLAND (2-1-0) 3
GREECE ARCADIA (1-2-0) 0
Will Field netted two goals to get Pittsford Sutherland out to a quick lead. Jack Leahy picked up the assist on Field's first tally. Dylan Kladstrup scored an insurance goal in the second half for the Knights.
WEBSTER SCHROEDER (0-3-0) 1
RUSH HENRIETTA (1-2-0) 2
Angelo Lebron scored the game-winning goal in the 79th minute to get Rush Henrietta its first victory of the season. Cole Santiago registered the assist on Lebron's tally. Lebron also assisted the Royal Comets' first goal of the game. Josh Catanese put away the team's first goal in the 60th minute.
IRONDEQUOIT (2-1-0) 1
GATES-CHILI (0-3-0) 0
BATAVIA (2-1-0) 3
GREECE OLYMPIA (1-1-0) 2
Carter Havens went the length of the field on a counter-attack to score the unassisted game winner for Batavia in the 75th minute. Nick Grover gave the Blue Devils their second goal just 10 minutes earlier off a feed from Jaziel Childs. Grover also buried a penalty kick in the 15th minute to get Batavia on the board.
GREECE ATHENA (3-0-0) 2
PITTSFORD MENDON (1-1-1) 1 2OT
Emmitt Rosado found the back of the net in the second overtime period to give Greece Athena the victory. Brian Piendel provided the helper on the game-winning goal. Gavin and Dylan Rice teamed up for the first goal of the game. Gavin scored on Dylan's assist in the 24th minute to give the Trojans a 1-0 lead. Dom Tabechian answered for Pittsford Mendon in the second half in the 64th minute to knot the score.
GREECE ODYSSEY (1-2-0) 0
HONEOYE FALLS-LIMA (2-0-0) 1
Gunnar Wetzel netted the only goal of the game for the Cougars in the 60th minute. His goal was assisted by David Brassie. The win was Honeoye Falls-Lima's second shutout of the season.
CANANDAIGUA (1-1-1) 1
BROCKPORT (0-3-0) 0
BRIGHTON (2-1-0) 0
CHURCHVILLE-CHILI (1-2-0) 1
Caleb Bailey found the back of the net in the 30th minute to give Churchville-Chili the game-winning goal. Bailey's shot was one of 10 for the Saints in the game. Joe Skuza picked up the assist on Bailey's tally.
PENFIELD (3-0-0) 2
FAIRPORT (2-1-0) 0
VICTOR (2-1-0) 2
HILTON (1-2-0) 1
Max Fiorica scored twice in the second half to lift Victor to its second consecutive victory. Fiorica scored in both the 45th and 70th minute. Adam Blackwell assisted on Fiorica's first goal, but his second was unassisted. Both of Victor's wins have been one-goal games.
SPENCERPORT (2-1-0) 1
WEBSTER THOMAS (2-1-0) 3
Sujan Rajamohan found the back of the net in the 25th minute for Spencerport's lone goal of the game.
BISHOP KEARNEY (2-1-1) 5
C.G. FINNEY (2-1-0) 1
Evan Stevely found the back of the net three times and helped a teammate do the same once as Bishop Kearney won its second game in its last three. Stevely scored the first, third and fifth goals of the game for the Kings. Casey O'Gara and Sam Furioso recorded one assist apiece on Stevely goals. O'Gara was also the recipient of Stevely's assist. Ya Koe aided Luke Tytler's tally for the other Bishop Kearney goal.
MARION (0-2-0) 
WILLIAMSON (3-2-0) 
NORTH ROSE WOLCOTT (4-0-0) 6
SODUS (2-3-0) 2
Caleb Murray either scored or assisted on all of North Rose Wolcott's goals. He racked up four assists and Schuyler Cole found the back of the net on all of them. Jack DeFeo and JJ Wanek assisted on Murray's goals. Murray now has six goals and six assists through four games, while Cole now sits at nine goals and four assists.
GANANDA (2-3-0) 1
EAST ROCHESTER (3-1-0) 7
Chuck and Russell Domm scored all seven of East Rochester's goals as the Bombers got back in the win column. Chuck Domm scored five times, while Russell Domm scored twice and assisted on one of Chuck's goals. Chuck now has 15 goals on the season, while Russell has six goals and seven assists. Ian Szemcsak notched two assists, while Jalen Patterson and Manuel Sepulveda also had one apiece.
NAPLES (4-0-0) 5
WATERLOO (0-5-0) 0
Owen Hulbert's hat trick capped Naples' fourth multi-goal victory of the season. Hulbert scored the Big Green's final three goals, with two coming in the second half. Cade Rathburn got the scoring started with a penalty kick just over eight minutes in, while Austin Chapman scored in the 24th minute.
NEWARK (1-2-1) 5
MIDLAKES/RED JACKET (0-4-0) 0
Brian Estrada scored two goals and also had an assist in the first half in Newark's first win of the season. Estrada's second goal was aided by Gabriel Caraballo, while Zachary Herd scored on Estrada's helper. Elijah Malach and Addison Bump both scored for the Reds in the second half. Tyler Horton got the assist on Malach's goal and Noah Kellogg assisted Bump's tally.
PENN YAN (1-2-0) 0
MYNDERSE (3-1-0) 2
Brody Herron scored both of Mynderse's goals as the Blue Devils won their third in a row. The goals were Herron's first two of the season. Jake Smith and DJ Bruni got an assist apiece during the contest.
BRADFORD/DUNDEE (0-3-0) 1
BLOOMFIELD (2-2-0) 2
HONEOYE (2-2-0) 0
MARCUS WHITMAN (3-0-0) 2
WAYNE (4-0-0) 1
GENEVA (2-2-0) 0
CJ Salatino's goal with just six minutes remaining in regulation helped keep Wayne unbeaten. Kaleb Glessing recorded the assist on the game-winning tally. The Eagles were able to notch 17 shots and eight corner kicks during the contest. This was Wayne's second 1-0 victory of the season.
CALEDONIA-MUMFORD (4-0-0) 3
MOUNT MORRIS (0-4-0) 0
Mason Nusbickel assisted on Caledonia-Mumford's first two goals as the Raiders remained undefeated. Garrett Thompson and Zachary Kuhn scored the two goals from Nusbickel. Thompson also assisted on Caledonia-Mumford's third goal, with Sebastian Kresge scoring the goal.
PERRY (0-4-0) 0
AVON (3-1-0) 7
Cam Salvati's hat trick led Avon to its third straight win. Salvati scored twice in the first half and netted a PK in the second period. Carson Williams aided both of Salvati's first half goals, while also picking up two more assists. Lee Hartke and Hudson Volpe were the recipients of Williams' other helpers. Williams also scored a goal, with Salvati assisting the tally. Max Bishop found the back of the net for the Braves' final goal of the game.
DANSVILLE (0-3-0) 0
HORNELL (2-1-0) 2
Liam Khork scored in the second half to break a tie and give Hornell a lead it didn't surrender. Jonas Sciotti provided the helper on Khork's game-winner. Sciotti netted an insurance goal later in the frame, with Ian Ashworth's assist giving Sciotti some help.
LETCHWORTH/WARSAW (3-2-0) 1
LEROY (3-1-0) 2
BATH-HAVERLING (2-1-0) 6
WAYLAND-COHOCTON (0-4-0) 1
GENESEO (1-4-0) 0
KESHEQUA (5-0-0) 11
Riley Rease netted three goals and racked up two assists as Keshequa scored double digit goals for the third time this season. Aidan Wood assisted on Rease's second goal and also assisted on a tally from Jordon Luther. Rease provided an assist for both Jacob Schiano and Reese Powers. Schiano scored a second goal in the game, which was unassisted. Powers also scored twice, which was assisted by Cesar Batlle. Powers also dished out a helper for Ryan Thayer's only goal of the day. Nathan Thayer picked up an assist on each of Keshequa's final two goals, which were scored by Adam Hunt and Avery Strobel.
FRIENDSHIP (0-1-0) 0
HINSDALE (1-2-1) 6
GIRLS 
C.G. FINNEY (2-1-0) 1
BISHOP KEARNEY/CHESTERTON ACADEMY (4-1-1) 4
"Kaia!" they yelled on multiple occasions, before they even kicked the ball. The plan was simple, even if Finney knew what was coming: get the ball to Kaia Goode.
The junior validated her teammates' trust once again, scoring two goals in just 35 seconds in Kearney's 4-1 home victory. READ MORE
FILLMORE (5-0-0) 4
WELLSVILLE (1-3-1) 2
Hope Russell scored a goals and tallied two assists to keep Fillmore unbeaten. She netted Fillmore's final goal of the game and assisted on the Eagles' first and third. Sophia Templeton opened the scoring in the third minute of the game, while Grace Russell buried home Hope's second assist. Grace also picked up an assist on Mallory DeRock's goal.
LIMA CHRISTIAN (0-4-0) 0
NORTHSTAR (1-2-0) 4
Four different players scored for Northstar in its first win of the season. Breona Jones and Sydney King got their team out to a 2-0 lead in the first half. Katelyn Demarest and Mia Cialdella scored once apiece in the second half to help the Knights extend their lead.
BYRON-BERGEN (3-2-0) 2
ALEXANDER (2-3-0) 0
Mackenzie Hagen scored both of Byron-Bergen's goals as the Bees got back in the win column. Hagen found the back of the net once in each half. Sasha Schramm assisted the first-half goal, while Mia Gray provided the helper in the second. Hope Hersom made 12 saves to pick up her second shutout of the season.
OAKFIELD-ALABAMA/ELBA (2-2-0) 0
HOLLEY (4-1-0) 3
Halee Passarell netted two of Holley's three goals in the Hawks' third straight win. Passarell's first goal was assisted by Allison Lyndaker, while Kayleigh Neale got the second assist. Neale also scored in the first half for Holley, as the second half yielded no goals for either team. Emma Brady registered her second consecutive clean sheet with her five-save performance.
PEMBROKE (2-3-0) 3
LYNDONVILLE (2-3-0) 4
Ella Lewis scored the game-winning goal in the 75th minute to help Lyndonville snap a three-game skid. Montana Dieter scored twice for Pembroke to get the Dragons out to a 2-0 lead. Lewis responded with three unanswered goals for the Tigers to get them the lead. Serena Calderon found the back of the net for Pembroke in the 69th minute to knot the score, leading to Lewis' decider. Karli Houseknecht and Dieter tallied assists for Pembroke, while Kaylee Nesbitt and Maddy Satkowski had helpers for Lyndonville.
WHEATLAND-CHILI (4-1-0) 4
KENDALL (1-3-0) 2
Emily Parker had three goals and an assist for Wheatland-Chili to get the Wildcats back into the win column. Parker scored all her goals in the first 10 minutes of the game. Niyah Rosado provided helpers on the first two goals and Ella Chitaphong assisted on the third. Chitaphong scored Wheatland-Chili's insurance goal 25 minutes into the second half with some help from Parker. Brianna Wakefield responded with two unanswered goals for Kendall, but the Eagles ran out of time for the comeback.
HINSDALE (0-3-1) 0
GENESEE VALLEY (3-1-0) 4
Emera Aquila scored twice and dished out two assists in Genesee Valley's third consecutive win. Both of Aquila's goals were in the first half, with the second being assisted by Sophia Gugino. Adison Grusendorf and Sierra Burrows were the recipients of Aquila's two assists.
FRIENDSHIP (1-2-0) 3
SCIO (0-3-0) 0
CUBA-RUSHFORD (1-3-0) 0
BOLIVAR-RICHBURG (3-2-0) 3
McKinlee Harris netted two of Bolivar-Richburg's goals as the Wolverines won their third game by shutout this season. Harris scored both goals over an eight-minute span in the second half. Aliyah Cole provided a helper on Harris' first tally. Madigan Harris scored Bolivar-Richburg's first goal with an assist coming from McKinlee.
ANDOVER/WHITESVILLE (2-1-0) 1
BELFAST (3-1-0) 2
Cierra Wallace netted the game-winning goal for Belfast in the 53rd minute after Andover/Whitesville took a 1-0 lead. All scoring in the game happened in six minutes of play, as Kate Pensyl opened the scoring for the Panthers in the 48th minute. Hannah Southwick-Powers knotted the game for Belfast just two minutes after Pensyl's tally, with the help of Anna Drozdowski. Katlin Sadler recorded nine saves for the Bulldogs in victory, while Livia Simon had five stops for Andover/Whitesville.
HAMMONDSPORT (0-2-0) 1
ADDISON (2-0-0) 6
Six different players scored for Addison to help the Knights to their second straight multi-goal victory. Kerrigan Driskell scored once and notched two assists, while Gabby Coletta had a goal and assist. Kendra McLean, Kihara Gotshall, Makayla Miller and Amaya Stratton-Stephens scored Addison's other four goals. Jillian Ames and Martine Buijs also registered assists for the Knights.
ARKPORT-CANASERAGA (1-0-0) 
CANISTEO-GREENWOOD (2-1-0) 
ALFRED-ALMOND (3-1-0) 5
AVOCA/PRATTSBURGH (0-3-0) 3