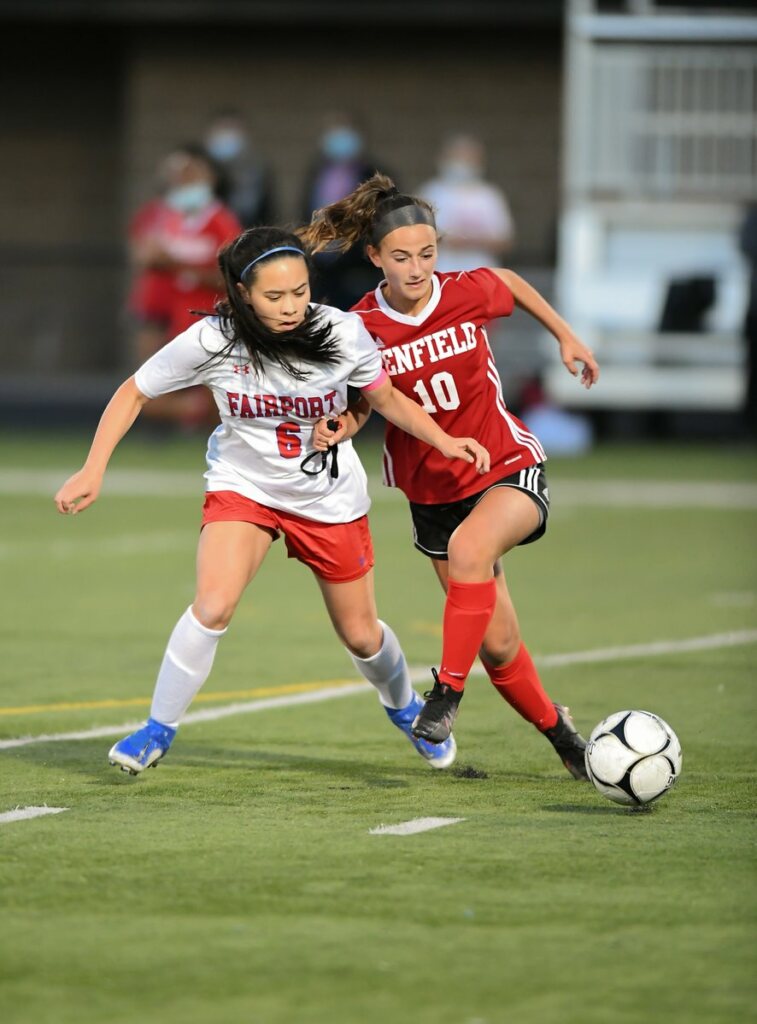 GIRLS
GREECE ATHENA (2-1-0) 1
PITTSFORD MENDON (3-0-0) 2
Grace O'Hara accounted for two girls in Pittsford Mendon's third win to start the season. Kiran Brent got the scoring started early as she put one in the net on a pass from O'Hara. O'Hara scored her own goal in the 39th minute when Elena Barr set her up for the final goal for Mendon. Ary Lougher recorded 13 saves in her work in goal.
PITTSFORD SUTHERLAND (2-1-0) 4
GREECE ARCADIA (0-3-0) 0
Ashley Finkbeiner and Laura Bennett combine for all four goals as both of them netted two goals. Emma Kaczorowski had four saves. Ava O'Neil, Aaron Ricketts, and Callie Johnson all had an assist in the win.
VICTOR (1-1-1) 1
HILTON (2-0-1) 1
BRIGHTON (2-0-1) 2
CHURCHVILLE-CHILI (2-1-0) 1
Sutsadah Khounpachasmy and Maggie Cregan each score a second-half goal to power Brighton to its second win. Khounpachasmy scored in the 51st minute and Cregan scored hers in the 70th minute. Khounpachasmy picked up an assist alongside Virginia Burkhart.
IRONDEQUOIT (0-2-1) 1
GATES-CHILI (0-2-1) 1
CANANDAIGUA (1-2-0) 0
BROCKPORT (1-2-0) 4
Nadia Nealon and Maija Young each netted two goals as Brockport picks up its first win. Nealon scored the first and last goal in the 60th and 75th minute while Young's goals were sandwiched in between in the 63rd and 71st minutes. Emma Sodoma and Ava Velletri combine for the shutout in goal each playing one half.
VIEW MORE DENNIS JOYCE PHOTOS HERE.
SPENCERPORT (3-0-0) 1
WEBSTER THOMAS (0-2-1) 0
PENFIELD (1-2-0) 2
FAIRPORT (1-2-0) 1
Delaney Tellex scored a goal on a Natalie Giunta cross with 2:26 remaining in the second overtime to lift Penfield to its first win of the season. Eva Elliot scored in the 2nd minute on a second chance to give Penfield a 1-0 lead early. With 11.3 seconds remaining, Lillian Hicks netted a free kick from 30 yards to send the game into overtime. Penfield Goal Keeper Paytyn Crane had eight saves in her 100 minutes of work in goal.
DANSVILLE (1-1-1) 2
LEROY (1-2-0) 1
Madison Lee scored two goals in Dansville's first win of the season.
GENEVA (1-3-0) 1
MYNDERSE (0-4-0) 0
Kaitlyn Wright netted a goal in the 64th minute on an assist from Fabiola Santiago to lift Geneva to its first win of the season.
AVON (3-0-0) 8
WAYLAND-COHOCTON (1-2-0) 1
Ellie Cochrane netted a hat trick to continue the undefeated start for Avon. Natalie Masten, Haley Trewer, Maddy Ruter, Zoe Church, and Emma Clarke all added a goal in the blowout win. Ruter, Cochrane, Masten, Lauren Bondgren, and Alicia Faville all had assists in the game. Courtney Yencer racked up four saves in the win.
BLOOMFIELD (3-1-0) 5
DUNDEE/BRADFORD (0-3-0) 0
Cam Lewis and Ava Hawkins scored two goals apiece in Bloomfield's third straight win. Cam Lewis scored the game's first two goals in the 1st and 9th minute. Maddie Johnston scored the bridge goal in the 14th minute as Hawkins scored the final two goals in the 58th and 65th minute. Kailee Lewis assisted two goals on the night. Live Caspersson threw the shutout as she collected three saves.
GENESEO (3-0-0) 6
CAL-MUM (0-3-0) 0
Faith Hainsworth shutout Cal-Mum to win a third straight game to begin the season. Geneseo has yet to allow a goal this season. Lainey Scoville scored four goals on the night with three of them coming in the second half. Morgan Walton and Brogan Henderson each scored a goal in the first half of the game. Walton, Scoville, Bridget McMaster, and Abby Kreher all received credit with an assist.
KESHEQUA (2-0-1) 1
YORK (2-0-1) 1
PAVILION (1-2-0) 6
MOUNT MORRIS (0-3-0) 0
Clare Campbell and Ashley Carli each netted two goals in Pavillion's first win of the season. Karlee Zinkievich and Kali Markek added the other two goals. Lauren Kingley collected six saves in the shutout.
PAL-MAC (4-0-0) 7
WATERLOO (0-4-0) 1
Emma Robinson scored four goals and Maya Ikewood added two more as Pal-Mac extends the winning streak. Molly Seither scored the final goal, Seither was credited with two assists. Mercedes Buckingham also had two assists in the win. Clare Boesel collected 10 saves in her 80 minutes of work.
PENN YAN (4-0-0) 3
WAYNE (1-2-1) 1
WHITMAN (1-3-0) 0
HONEYOE (3-1-0) 1
ODYSSEY (0-2-0) 2
HONEOYE FALLS-LIMA (3-0-0) 6
Maria Karipidis had a hat trick in the third straight win for Honeoye Falls-Lima. Karipidis scored the first goal of the game in the 6th minute on an assist from Mari Spitz. Izabela Woloszuk, Karipidis, and Abby Zollo scored three straight goals after Odyssey tied the game at one. Karipidis and Greta Recktenwald scored the games only two second-half goals to seal the victory. For Odyssey, Ekenini Udofa and Sienna Tyo scored a goal. Tyo picked up an assist on top of her goal.
GANANDA (4-0-0) 2
RED CREEK (1-2-0) 0
Lyndsey Valetta shutout Red Creek as Gananda picked up its fourth straight win. Valetta and Gananda have not allowed a goal all season; Gananda is outscoring its opponents 15-0 on the season. Ella Lathrop and Elaina Ginsberg netted the two goals. Natalie McLoud and Aberlyn Parulski each had an assist.
NORTH ROSE (2-2-0) 1
WILLIAMSON (2-1-2) 3
Sophia Konstantinou scored two goals in the second half elevating Williamson to its second win. Cadie Newby netted the other goal. Paige Jordan received credit for two assists and Andrea Hurtado also was credited with an assist. Chloe Jordan collected four saves in goal.
BATAVIA (1-3-0) 1
OLYMPIA (0-2-0) 0
Ava Reinhart scored in the 76th minute to lift Batavia past Olympia for its first win. Maddie Barone had five saves keeping Olympia out of the goal.
LIVONIA (2-1-0)
HORNELL (0-1-1)
PERRY (1-1-0)
HARVELING (2-0-0)
WARSAW (2-1-0) 5
LETCHWORTH (0-3-0) 1
Chloe Hubbard, Mattie Heim, and Emma Tangeman all scored in Warsaw's second win of the season. Makaylah Higgins accounted for two goals with assists.
NEWARK (4-0-0) 4
MIDLAKES (1-3-1) 0
RED JACKET (0-4-0) 1
NAPLES (4-0-0) 2
Boys
HOUGHTON (2-1-0) 3
ANDOVER/WHITESVILLE (0-3-0) 2
CUBA-RUSHFORD (1-1-1) 3
GENESEE VALLEY (0-3-1) 2
Trent Scott and Thai Norasethaporn both scored in the first half to push Cuba-Rushford to their first win.
SCIO (2-2-1) 0
FILLMORE (4-0-0) 8
ATTICA (3-1-0) 3
KENDALL (1-3-0) 1
Simon Lamparelli scored two goals including one in the first minute of the game. Lamparelli scored his other goal in the 62nd minute. Travis Kauffman cashed in a goal on an assist from Daniel Biniazewski in the 48th minute.
PEMBROKE (0-4-0) 1
WHEATLAND-CHILI (2-2-0) 2
BYRON-BERGEN/ELBA
HOLLEY
AQUINAS (1-1-1) 1
EASTRIDGE (1-2-0) 0
ROCHESTER ACADEMY CHARTER
C.G. FINNEY
AVOCA/PRATTSBURGH (1-1-0) 1
ADDISON (1-1-0) 2
CAMPBELL-SAVONA
ARKPORT/CANASERGA
ALFRED-ALMOND (3-0-0) 2
HAMMONDSPORT (0-1-0) 0