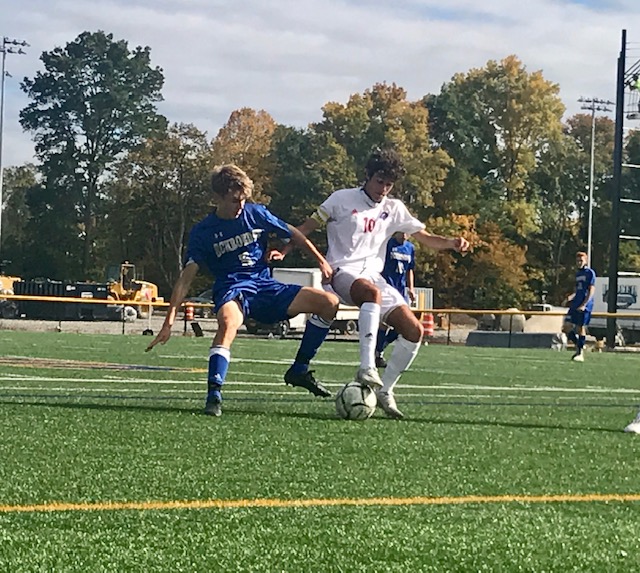 By PAUL GOTHAM
WEBSTER, N.Y. — Anyone waiting for the Fairport boys' soccer team to crumble under the circumstances better have time on his or her hands.
The program has made a smooth transition under first-year head coach Bill Teasdale. This coming amid a pandemic. Saturday night in their opener, the Red Raiders lost senior starter Alec Petocchi to an ACL injury.
Monday afternoon on the road it was all eyes forward.
Seniors Caden Brunken and Jude Rouhana notched a brace apiece, and Fairport defeated Webster Schroeder, 4-1 in Monroe County Division I action.
"We've got a lot of returners," said Rouhana. "We didn't have a chance to do any of the team-building in the pre-season because of COVID-19. The senior leadership is coming in handy with on-the-field and off-the-field training."
Rouhana connected on a free kick to start the scoring in the 14th minute. The senior midfielder doubled the lead with less than seven minutes remaining in the half.
"Every day we're trying to get better in practice, always competing. It's really showing on the field."
A two-time First-Team All-County performer, Rouhana went near post from 20 yards out for the first score. He cut from the right flank and finished a left-footed blast for his second marker.

"Nobody is better with the ball on their foot than Jude," Teasdale said. "He's got the quickest feet. He can take a game over."
With Monday's production, Rouhana has three goals and an assist in two games.
"He surprised all of us where he put it," Teasdale said of the near-post strike on the first goal. "I didn't think he was going there with it. He's a gifted player, and he works hard. He's our captain. He's our leader. He stepped up and did what he's supposed to do."
14' Jude Rouhana goes inside post to give @FCSDSports an early 1-nil lead. pic.twitter.com/8w8IU3II0j

— Paul Gotham (@PickinSplinters) October 12, 2020
From 20 yards with a wall of opposing players in front of him, Rouhana had to depend upon his touch to score.
"As I was lining that one up, I saw the keeper on the right and a lot of open space on the left," he said of the first goal. "I had to get it just over the wall because it was really close to the goal. If I hit too hard, it was going to go over. I wanted to get a little bit of a dip, a little bit of topspin to get it over the wall and in. It worked for me."
What Rouhana started, Brunken finished.
The Red Raiders all but put the game away early in the second half when Brunken stole a pass in the offensive third and found the back of the net. Brunken capped the scoring with a header off a corner kick in the final 10 minutes.
71' Caden Brunken nods in the corner kick to give @FCSDSports BSOC a 4-1 lead. pic.twitter.com/Y1bpDb981F

— Paul Gotham (@PickinSplinters) October 12, 2020
"We had to make some adjustments," Teasdale said referring to the loss of Petocchi. "To the boys credit, they adjusted, and we got it done."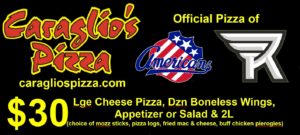 Under former varsity head coach Gianni Bussani, the Red Raiders advanced to the NYS Class AA finals last season – their fourth appearance in the state championship game since 2013. Teasdale, who has been a coach in the Fairport program for 30 years, took over when Bussani stepped down in the off-season.
20' Ethan Ellis denies Fairport on a corner kick. pic.twitter.com/M5tyvIeabL

— Paul Gotham (@PickinSplinters) October 12, 2020
Facing a 10-game regular season and the uncertainty of postseason as a result of COVID-19 precautions, the Red Raiders' have not lost sight of what is in front of them.
"We always talk about the next game is the most important game," Teasdale said. "Why? Because it's the next game. That's how we approach it. That was our approach last year, and that continues to be our approach.
"We still don't know what's happening with sectionals. Obviously, we want to be in the mix. Every game's a big game."
Danny Pasko scored the lone Webster Schroeder (0-2-0) goal.