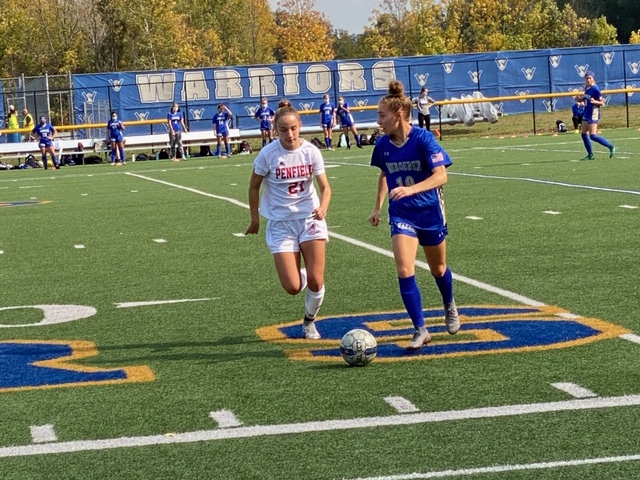 By CHUCKIE MAGGIO
When Webster Schroeder coach Kent Brown and Penfield coach Libbie Tobin met postgame on Saturday to extend congratulations on another competitive meeting, Brown noted the game was everything he expected.
In a rematch of last November's Class AA girls sectional final at Canandaigua High School, which saw Penfield eke out a trip to the state tournament on penalty kicks, extra soccer (two 10-minute overtime periods) appeared imminent again in the regular season opener. Patriots goalkeeper Paytyn Crane made nine saves while ninth grader Eliana Ockrin saved each of the three shots she faced in her varsity debut.
Crane came out of her net to thwart Annie Mulhall's breakaway chance four minutes into the second half. Ockrin sent a long-range shot away minutes later. Neither team looked susceptible to blink in regulation, even when Crane made a save with her hands outside the box and Schroeder was awarded a close free kick.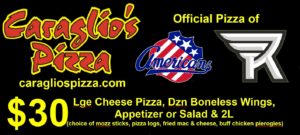 The first goal, if there was one, was going to be the winning goal on a windy day at Webster Schroeder. Mackenzie Wesley, a junior playing her first varsity game, broke through. Wesley won the ball near the penalty spot off a long deflected pass from Abby Neill and shot into the left corner, past a diving Crane, with 5:42 remaining.
"Abby (Neill) going to the other side and me coming in, we're really just all about being there and being wide and coming wide," Wesley explained. "I think it really meant a lot to me, especially since it's my first varsity goal… I'm happy that we won and ended the rivalry between us."
Schroeder claimed the 2018 Class AA final by defeating the Patriots in double overtime, while the teams were declared co-sectional champions last year before Penfield advanced. Until the teams play in Penfield on Oct. 24, the Warriors have rivalry bragging rights.
"I think we came out not as aggressive as them… they came out more aggressive," Wesley remarked. "We ended up fighting back and finding our groove, really wanting it and really being hungry. I think that really showed at the end and everything really came together."
Schroeder allowed just three goals in the last five games of the 2019 season and boasts a senior defensive back line in 2020. Brown was pleased with his squad's performance in opening with a clean sheet.
"(Ockrin)'s done a good job," Brown said. "She was limited on shots, but it goes to our senior back line. They've been together since they were freshmen; they've given up very few goals at all the last four years. With the graduation of Anna (Hewlett, the 2019 team's leading scorer) we lost a lot of goal scoring, so our back line's gonna have to come up big. They came up big a couple times today."
Soccer season was in limbo much of the summer due to the COVID-19 pandemic. The Warriors were excited to get the season started, against one of the class's best teams, on what the team called "Parent's Day" in appreciation of the players' families.
"I was just happy to get the kids to play," Brown said. "For a large part of August we weren't even sure we were gonna have a season. We start in October, the weather's pretty decent other than the wind, the kids got to play and that's the most important thing."