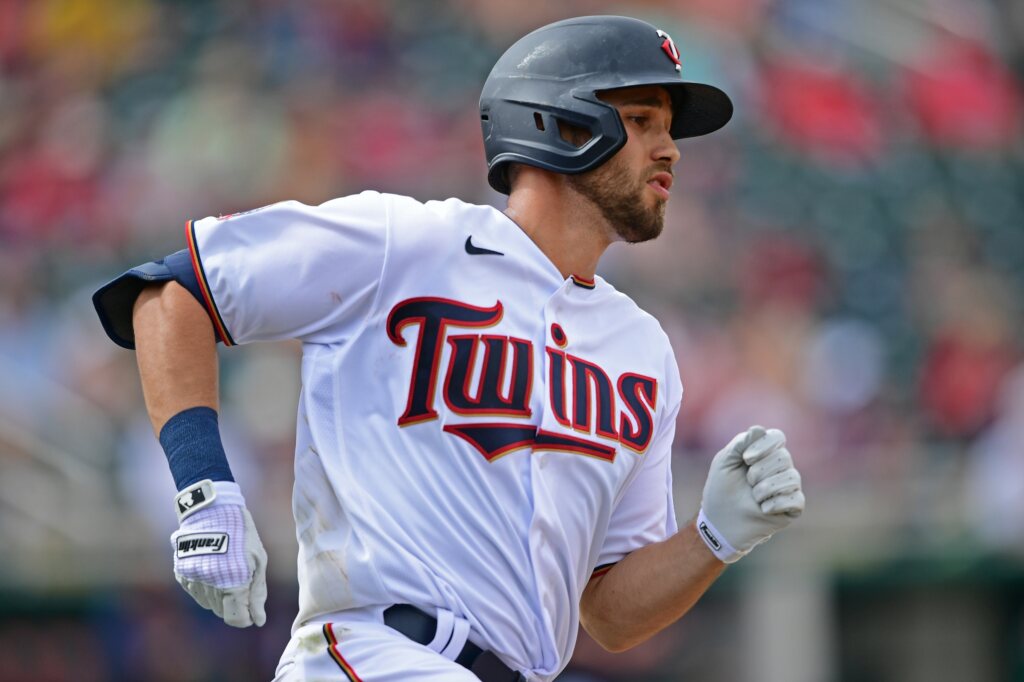 By CHUCKIE MAGGIO
Trevor May has now called both Alex Kirilloff and Joe Mauer teammates, the requisite first-hand experience to compare a green 22-year-old to one of the greatest players to don a Minnesota Twins uniform.
"Shades of Joe Mauer," May told reporters yesterday, according to MLB.com's Do-Hyoung Park. "That kind of poise and confidence in the box. Just a pure hitter."
"Alex Kirilloff is ready to play in the big leagues," Twins manager Rocco Baldelli remarked when the team added Kirilloff to its American League Wild Card series roster.
The Twins' confidence came to a head yesterday, when their second-rated prospect became the first player since 1885 to make his major league debut by starting a postseason game. Replacing an ailing Byron Buxton, who Baldelli said was "not at 100 percent" and got picked off as a pinch runner in the eighth inning, Kirilloff batted sixth and played right field in Game 2 of the best-of-three series against the Houston Astros at Target Field.
Kirilloff made more history in the fourth inning, when he ripped a line drive to right field to become the first player ever to record his first big league hit in the postseason. He batted 1-for-4 and made a sliding catch on a Josh Reddick fly ball with a runner on and no outs in the fifth.
The Twins were eliminated, but Kirilloff impressed.
"We're obviously locked in on putting our lineup out there and putting our best folks out there right now," Baldelli said before the game, according to Park, "and we think our best lineup today has Alex Kirilloff in there."
The odds the Rochester Red Wings' 2021 lineup includes Kirilloff, on the other hand, are slim. He is primed to follow Mauer as Twin prospects who made the leap from Double-A to MLB.
Mauer became Minnesota's starting catcher after A.J. Pierzynski was traded to San Francisco in winter 2003 and only appeared in Rochester as part of rehab assignments in 2004 and 2018. Mauer progressed from the Appalachian League to MLB in just three seasons.
Kirilloff played Appy League ball in 2016 and hit .283 with 43 RBI with Double-A Pensacola in 2019. He hit "roughly .800" in St. Paul alternate site camp this year, Park tweeted on Tuesday.
Twins 40-year-old designated hitter Nelson Cruz is a free agent this winter, as is utility man Marwin Gonzalez. Outfielder Eddie Rosario, who is eligible for arbitration and is scheduled to be a free agent next offseason, could be a trade candidate. If the Twins see Kirilloff contributing in 2021, as they look to three-peat as AL Central Division champions, they have the flexibility.
The Red Wings' cupboard will not be bare next year. The Twins have the seventh-ranked farm system in baseball according to MLB.com, led by shortstop Royce Lewis, outfielder Travis Larnach and pitcher Jordan Balazovic. Rochester won 70 games in 2019, finishing 5.5 games behind first place Scranton/Wilkes-Barre.
The Red Wings could contend for the Governor's Cup next season, but they won't count on Alex Kirilloff's services.